IT & BUSINESS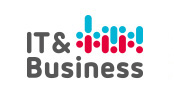 IT & BUSINESS
Germany , Stuttgart
IT & BUSINESS specializes in the market trends, advancements and innovations in the field of e-business, e-commerce and information technology. The international trade fair sees interest from the whole world with established industry giants as well as startups making their way to Stuttgart, Germany for the three-day event. You have time to get yourself a great hotel room and if you contact GETA ltd, you can get the best possible offer.
Business trips take a lot out of a company, especially if you're left to organize them on your own. GETA ltd takes away all the work and the stress that goes into finding the right IT & BUSINESS hotels for your budget. We've worked with small companies and brands with big budgets and know exactly where to look for hotels in each price category. The main theme of the trade fair circles around digital optimization and practical solutions you can start applying to your business model straight way. Don't miss out on the leading voices speaking at the L-Bank Forum!
Secure the best possible hotel accommodation for IT & BUSINESS via GETA ltd.