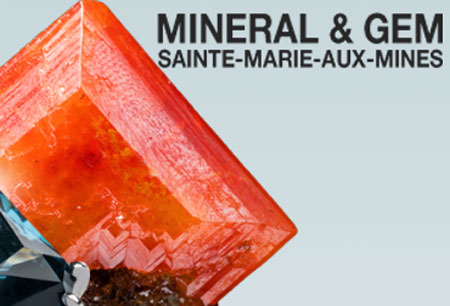 Mineral & Gem
Saint-Bonnet-de-Joux, France
Book Hotel Online for Mineral & Gem
Book Now
Event Update
Mineral & Gem's 2024 edition will be hosted as a live trade show between 26.06.2024 and 30.06.2024. It will take place in the Sainte-Marie-aux-Mines in France without implementing Covid-19 safety precautions. This is because of the country removing its pandemic-related limitations.
A Brief Overview of Mineral & Gem
Mineral & Gem concerns itself with the rich diversity of minerals and precious stones. Despite a humble location in the French village of Sainte Marie-Aux-Mines, the international trade fair ranks as one of the leading events for the sector. Editions celebrate successes and offer an in-depth view of the entire value chain with multiple presentations. This highly specialist event trade fair is now widely available to the public, which opens doors to exhibitors to reach a wide audience.
GETA ltd understands what you need when looking for hotel accommodation for trade fairs and gives you options that both meet your needs and exceed your expectations. You book a hotel room that spares your budget and offers you good access to public transport. Tell us a price range, and we will send you a list of suitable hotels close to the Sainte Marie-Aux-Mines Dans La Ville. All you have to do is make your pick. We're comfortable working with large groups of twenty people and counting.
In addition to hotel reservations for Mineral & Gem, GETA ltd provides a variety of bonus services such as airport transfers, stand construction and rent-a-cars.
Why Is Your Visit Worth It?
Mineral & Gem commands international power as a meeting point between supply and demand in the mineral and precious stone market. The soaring popularity of collecting crystals and fossils translates to an increase in sales leads. Exhibitors come face to face with qualified buyers and amateur collectors, so they are able to earn back all travel expenses.
If you're looking to increase sales numbers, this is where you have to come!
Industry Relevance
Founded in 1965, Mineral & Gem has been a leading exhibition for minerals and precious stones with a global appeal. The annual event takes place in the picturesque town of Sainte-Marie-aux-Mines and started out as a meeting place solely for professionals. Today, it has opened its doors to the public, allowing enthusiasts and curious visitors alike to explore the fascinating world of minerals and gems.
Exhibitors at Mineral & Gem showcase a diverse range of minerals, gems, fossils, meteorites, and jewellery crafted from various materials. The exhibition serves as a platform for professionals and enthusiasts to gain in-depth and comprehensive information about the latest developments, trends, services, and products from diverse areas within the industry. As such, it is the ideal platform for exhibitors to find their target audience and foster strong relationships.
The main selling point for everyone involved is the appreciation of beauty and passion. This, of course, starts with the location in the small Gallic village tucked away into the heart of eastern France. The exhibition celebrates the passion for mineralogy, which is both a science and a hobby for enthusiasts. From collecting samples as a purist attachment to appreciating the unique colours and forms of minerals, the passion for collecting manifests itself in many ways among individuals.
The exhibition provides an opportunity for collectors to showcase their prized minerals in their own unique ways. Whether through carefully arranged boxes and showcases, utilising warm or cold lighting, or sharing photos on enthusiast forums and social media, each collector has their preferred method of displaying their favourite specimens. The advent of new technologies has further expanded avenues for showcasing minerals, including breathtaking photos published in books and online platforms.
Mineral & Gem not only showcases private collectors but also highlights the passion found within institutional collections. Esteemed institutions such as the National Museum of Natural History, the Natural Museum of Luxembourg, and the Museum of the University of Strasbourg/EOST contribute to the event, unveiling their own captivating collections and sharing their insights and secrets with visitors.
Who Are You Going to Meet?
Organisers have made sure to make the event inclusive of everyone passionate about minerals and gems. They maintain that the passion for mineralogy expands to workers, CEOs of multinational companies, medical professionals, and people from all walks of life participating in this timeless fascination. You're also going to see visitors from all ages. Older generations pass down the love for collecting minerals to their children and grandchildren.
Additional Value of Attending
It's one thing to collect and see exhibits behind glass, but an entirely different story to dive deep into the Earth to see where they're dug out from. Visitors can sign up for a free tour of the Gabe Gottes Mine, generously offered by the Archéomine Association. Led by knowledgeable guides, visitors have the opportunity to explore the historic mine located in the scenic Rauenthal valley. This mine, which operated from the second half of the 16th century until 1940, was known for its extraction of silver and later arsenic veins.
You have a chance to sign up for one of the six free tours scheduled on Saturdays and Sundays at 12 p.m., 2 p.m., and 4 p.m. Due to high interest, it's best to reserve seats as early as possible before there are no more seats left. The meeting point for the tour is Rue des Prés, below Parc Jules Simon, where a free shuttle service delivers you to the mine site. Once there, all necessary equipment, including boots, helmets, and oilskins will be provided to ensure your safety and comfort during the tour. Keep in mind that the mine maintains a constant temperature of 12°C (54°F), so warm clothes are a must.
But that's only one of the highlights of the support programme. The Mineral & Gem Conference is packed with insightful lectures and presentations from experts and industry leaders who touch upon a variety of topics. Most recently the conference held presentations on the history of diamond cutting, the art of mining, synthetic diamonds, and the profession of lapidary glyptic and tourmalines.
Or you can sign up for the practical workshops. There's the Micro-Lab Workshop led by the French Association of Micro-mineralogy (AFM). Attendees will use magnifying glasses to get a deep understanding of micro-minerals under the guidance of experts in the field of micro-mineralogy.
Past editions
Mineral & Gem 2023
21.06.2023 - 25.06.2023
5 900+
Presented mineral specimens
Mineral & Gem 2022
22.06.2022 - 26.06.2022
How to get to Mineral & Gem

On Foot
Lyon St Exupéry Airport - not advisable
Mâcon TGV station - not advisable

By Car
Lyon St Exupéry Airport - 1hr35mins via A6
Mâcon TGV station - 40 mins via N79

By Public Transport
Lyon St Exupéry Airport - not available
Mâcon TGV station - not available