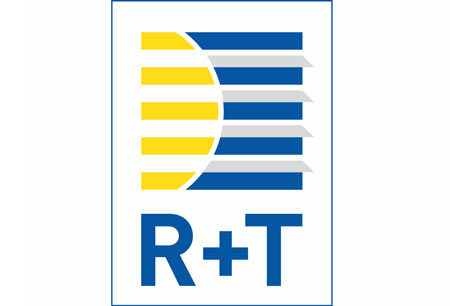 R + T
Stuttgart, Germany
Date changes for R+T
The event will occur between 19.02.2024 - 23.02.2024 in Messe Stuttgart. The latest Covid-19 safety measures will not be put in place at Messe Stuttgart. This is due to the Bundestag removing the pandemic-related restrictions in April and June 2022.
Presentation of Messe Stuttgart
Messe Stuttgart is Germany's eighth-largest trade fair venue. It has a total area of 120,000 square metres and a total capacity is 139,823 participants. It received during 2019 a total of 1,167,000 visitors and 22,091 exhibitors. The year furthermore featured 58 events taking place at the site. Messe Stuttgart has around 11 exhibition halls. It was inaugurated in 2007.
Brief description of R+T
R + T is the leading trade fair for the door, window, and gate manufacturing industry. The event acts as an essential networking and meeting location for the sector's professionals. It is additionally the meeting platform for several other related industries and sectors. Among them are architecture, construction, urban development and equipment, textiles and building. Messe Stuttgart serves as the event site for the triennial event. It attracts over 66,000 renowned companies, start-ups, and industry experts. R+T is a trade fair with an extensive history, with its inauguration taking place in 1965. The event showcases the latest market trends, innovations, and developments in the sector. This includes new roller blinds, coated textiles, alarm systems, manufacturing machines and others. The event is also among the central trade fairs for gaining recognition and expanding one's business network. This is due to its extensive and diverse event schedule.
Event highlights and changes for R+T 2024
R+T's 2024 edition will be hosted in a hybrid format. The event will consist of a face-to-face trade fair held at Messe Stuttgart for five days. A digital platform providing a variety of services will complement the in-person aspect. It will include services such as online exhibitor presentations and conference sessions.
What Can Participants Expect from the Programme?
R+T enables professionals to complete five essential goals. These include expanding their specialist knowledge. Additionally, attendees can create new business contacts. Also, R+T permits gaining recognition. For the task, attendees can present new developments or innovations. Attendants can also conduct business on-site. Examining the attending industries is also an achievable goal. For instance, participants can assess potential new markets and competitors.
R+T has an extensive support programme. It includes sub-events such as the R+T Innovation Award and the ARCHIKON. It also features the Doors/Gates Forum, the exhibition and the ES-SO seminar. Further, the event often coincides with other industry-related fairs. For example, the 2024 rendition co-occurs with INTERGASTRA 2024. This is because of INTERGASTRA's special show OUTDOOR.AMBIENCE.LIVING.
As mentioned, R+T provides ample opportunities to achieve recognition while attending. Among the central means to complete this goal is the R+T Innovation Award competition. It is an international competition that lauds exceptional innovations. This includes ones presented by start-ups and by leading companies. The sub-event is available for all exhibitors. The competition takes place during Innovation Day and serves as its central sub-event. It consists of a jury of leading industry experts assessing submitted innovations. The judging panel then grants the submissions with the highest mark an award. The prize enables innovators to raise awareness by showing the title as a featured logo. Renowned specialists comprise the jury which analyses the submissions. These vary from association representatives, journalists, architects, and industry experts. For example, the 2021 edition featured leading specialists like:
Lars Rippstein
Ulrike Goetz
Olaf Vogele
Professor Jörn Peter Lass
Peter Petz
Heinrich Abletshauser
Yvonne Schneider
Marcus Baumeister
Dr.-Ing. Christoph Meyer
Sebastian Schott
Kai-Uwe Grögor
Dr Claus Schwenzer
Martin Auerbach
Bernd Seybold
Maren Meyerling
Stephan Engert
Stefan Elgass
Gerd Joachim Müller
The winners receive their awards in the trade fair's conference area. The victorious nominations also receive a special show location in the Innovation Hall. In general, each category can have one winner. Yet, the rule can have its exceptions. For instance, the 2021 rendition featured up to three prizewinners per category. Attendees should note that they can also receive a special reward as per the jury's discretion. To attend the competition, participants need to register in advance. They must also follow two standards when providing the product description and name. The two standards are EN 12216 and EN 12433-1.
The Innovation Award features around 11 prize categories. Products can enter only one category. The categories featured in the competition are:
Outdoor wares
Drive/control systems for doors/gates
Technical textiles
Interior protection systems against the sun
Gathering/Roman blinds
Building automation
Drive/control systems for sun protection systems and roller shutters
Doors/gates
Textile sun protection
Roller shutters
Special solutions
Each category permits only certain products to be nominated. For instance, the Textile Sun Protection category can grant recognition to products like:
Scissor-arm awning
Cassette awning
Roof window awning
Drop-arm awning
Vertical with ZIP awning
Basketware awning
Articulated arm awning
Awning blinds
The Outdoor category likewise can provide recognition for products like:
Conservatory/terrace roofing and awnings
Sunshades and sun sails
Accessories
Pergola awnings
The Special Solutions category lauds innovations related to products like:
Window shutters and windows
Insect repellent systems,
Screens
Fences
Textile construction
Electrical security equipment
Business services, furnishings and/or fittings
Participants should note that they can receive the Award for exceptionable accomplishments. The acknowledgement can occur even when their product has earned the category prize. The outstanding achievements that can earn such a mark are exemplary design solutions. Sustainability and craftsmanship innovations can also receive such a mark. Energy efficiency or young youth talent accomplishments can also earn the special prize. All submissions receive a grade based on four evaluation criteria. Each criterion influences, to a different degree, the nominated product's final mark. The standards that determine the final assessment mark are:
Product safety
User-friendliness
Market potential
Innovation quality
Product Safety focuses on estimating the safety of the innovative product. This includes when the product is used, produced, transported and other such aspects. For instance, it analyses how safe it is to manufacture the nominated ware's components. User-Friendliness determines the level of ease the innovative product has. This includes the clarity of the provided instructions. It also determines how easy it is to operate the submission. Market Potential determines the product's market potential, including the target reach strategy efficiency. Innovation Quality has the most influence. It determines how innovative the product is in providing a solution.
The Regional Congress of Architecture and Urban Development (ARCHIKON) is also a vital sub-event. It aids in providing recognition, networking and expanding one's specialist knowledge. This is due to the micro-event providing a meeting location for business and political representatives. It also attracts architects and urban developers. The Congress consists of lectures and debates. The sessions allow attendees to discuss the revitalising of the Baden-Württemberg state. For instance, one of the discussed topics is how urban developers can aid in creating appealing small/medium-sized rural towns. The edition also debated the subject of creating solutions for completing the goal. Attendees can learn about the topics by taking part in information exchanges. They can further examine the newest urban development challenges and innovations.
The Doors/Gates Forum is a must-attend sub-event for manufacturers, architects, and association representatives. It aids them in exchanging ideas and information. In particular, it enables them to study the latest developments related to the door manufacturing industry. The Door/Gate Forum comprises discussions and brief talks. Expert representatives from different German associations attend as lecturers. One organisation that takes part as guest lecturers is the Federal Association for Drives and Control Systems.Doors (BAS.T). The National Federation of Door and Gate Manufacturers also attend as guest speakers. Another organisation that participates as a lecturer is the Ift Rosenheim association. The Forum discusses topics related to the industry. Among them are the challenges created by the latest manufacturing standards revisions. Another discussed subject is the essentials of CE labelling. They also include debating the effects of Industry 4.0.
The exhibition also showcases the latest innovative concepts and designs. This is due to the sub-event presenting the latest wares from all value chain sections. The exposition includes around 11 product groups, with each containing at least six product types. Often, the presented wares are featured in more than one product group. The exhibition is among the central sub-events featured in the R+T support programme. This is due to the micro-event allowing attendees to gain recognition. It furthermore allows them to learn about innovations and overview the visiting industries. They can also conduct on-site business. The exhibition includes the following product groups and types:
Textile construction and technical textiles
Machines for manufacturing technical textiles
Tents
Swimming pool covers
Tarpaulins
Carports made of textiles
Sewing thread
Fabrics (awnings, blinds, roller blinds)
Cords
Textile patio roofs
Awnings
Mechanical drives
Accessories
Umbrellas
Blackout systems
Components
Privacy protection systems
Sun protection systems
Blind slats
Fittings
Machines for blind production
Blind accessories
Slat connection systems
Venetian/external blinds
Operating equipment
Research and development
Specialist literature/publishers
EDP
Associations
Services
Roller shutters and roller shutter accessories
Roller shutters with front mounting
Skylight roller shutters
Roller shutter window constructions
Aluminium profiles folded and roll-formed
(Mini) top-mounted roller shutters
Guide rails
Irregular window shape roller shutters
Machines for roller shutter production
Metal profiles
Manual drives/cranks
Fuses and locks
Roller shutters for conservatories
Roller shutter systems
Security roller shutters
Aluminium-extruded profiles
Plastic profiles
Roller shutter rods
Fittings for roller shutters
Fall protection for roller shutters
Swimming pool covers
Belts
Insulation and sealants
Roller shutter boxes
Roller shutter accessories
Awning accessories
Machines for awning production
Insect protection
Frames
Manual drives for awnings
Awnings
Electrical safety devices
Fire alarm systems
Intruder alarm systems
Access control systems
Pedestrian barriers (turnstiles)
Light barriers/grids
Security systems
Smoke alarm systems
Closing edge and draw-in security systems
BUS systems
Sensors/light controls for gates
Accessories for drive and control systems
Central controls
Electric drives
Doors and similar closures
Motors and electrical accessories
Radio remote controls
Other drive systems (e.g. hydraulic, pneumatic)
Command and signalling devices
Controls
Door accessories
Light shaft covers
Smoke protection doors
Patio roofs/cold roofs
Door locks
Aluminium shutters/rotary shutters
Window systems
Door systems
Door locks and fittings
Machines for manufacturing shutters
External doors
Interior doors
Strip curtains
Window sills
Machines for window production
Folding sliding shutters
Revolving doors
Automatic doors
Fire protection doors
Fittings for windows
Swing doors made of plastic
Window profiles
Security doors
Skylights
Machines for door production
Wooden shutters/rotary shutters
Window frames
Accessories for shutters
Door profiles made of plastic
Windows/shutters
Escape and rescue route doors
Fittings for shutters
Sliding shutters
Door profiles made of light metal
Special doors
Conservatories
Window accessories
Door frames
Plastic shutters/rotary shutters
Panel blinds
Accessories for blinds
Pleated blinds
Internal sun protection production machines
Interior blinds
Roller blinds
Vertical blinds
Slats for vertical blinds
Vertical blinds
Fence gates
Grids
Grid accessories
Fence fittings
Fences
Pergolas and climbing aids
Fence doors
Fence accessories for parking space security
Fittings
Garage doors
Gate barriers
Transparent doors
Industrial doors/commercial doors
Noise and heat protection doors
Rotary doors/side sectional doors
Rolling grille doors
Lifting/lowering doors
Hangar doors
Gate systems
Swing doors
Folding doors and folding sliding doors
Gate fittings
Sliding doors
Sectional gates
Gate panels made of steel or light metals
Tilting doors
Smoke protection curtains
Fire protection curtains
Gate manufacturing machines
Fire protection doors
Overhead sectional doors
Gate profiles made of steel or light metals
Gate accessories
High-speed doors
Revolving doors
Date profiles made of plastic
Roller shutter curtains
Smoke protection doors
Roller doors
Fall protection for gates
The ES-SO seminar is also a leading sub-event within the support programme. The seminar discusses topics related to solar shading, energy efficiency, and innovations. An example of the subjects discussed during the sub-event is intelligent solar shading as an energy-saving method. The ES-SO seminar is the hosting effort of two organising companies. These are the ES-SO vzw organisation and Messe Stuttgart. The organisation is a non-profit established in Belgium and serves as the governing organisation for the EU and several non-EU solar shading associations.
As mentioned, R+T tends to coincide with other industry-related trade fairs. For instance, the 2024 rendition occurs alongside INTERGASTRA 2024. This is due to the special show known as "OUTDOOR.AMBIENCE.LIVING." The specialised show presents wares that improve the comfort and safety of catering, hotel, and restaurant locations in all weather. This includes during snow or rainfall, in the summer, and other such instances. The special show is the central meeting platform for sun protection manufacturers, distributors, providers, and installers. It is also the meeting platform for representatives like hoteliers, caterers, and others. The presented wares available at the special show include novel awnings, parasols, sails, and other such products. The "OUTDOOR.AMBIENCE.LIVING" micro-event permits attendees to network and conduct business on-site.
R+T is a must-attend event for many industries and sectors. For instance, it can help specialists like:
Insurance brokers related to the construction industry
General planners
Urban developers
Architects
Builders
Manufacturers
Industry associations
Public institutions
Municipality representatives
Tax consultants
Lawyers
Auditors
Notaries
Restaurant managers and owners
Hotel managers and owners
Catering company owners and managers

Building trade union representatives
Facility management staff
Cafe management and owners
Construction and building companies
Real estate developers
Contractors and specialist trade experts
Investors
Architects
Civil engineers
Project contracting companies
Direct-sale store owners or managers
Retailers
Education institutions
Interior design or decoration companies and specialists
Installation, maintenance, and service companies
General contractors and dealers
Why should you think about attending R+T?
The turnout rate of R+T tends to be high due to its importance in various industries. For instance, the 2018 rendition of the event included over 64,000 trade visitors. It also featured 1,027 exhibitors, with 773 of them being from abroad. A total of 140 countries attend the editions, with examples including:
Romania
Finland
Sweden
Austria
Canada
Indonesia
Hungary
Australia
Denmark
Bosnia-Herzegovina
India
Belgium
Croatia
Latvia

UAE
New Zealand
Slovakia
China
Portugal
Kuwait
Poland
Japan
Norway
Bulgaria
Belarus
Spain
Russia
Lithuania

Germany
Brazil
Czech Republic
Italy
UK
Greece
Turkey
South Korea
the Netherlands
Taiwan
Ukraine
Bahrain
Slovenia
France
R+T receives representatives from around 11 industries and sectors. These include:
HoReCa
Construction
Retail
Commerce
Wholesale
Education
Media

Real estate
Civil engineering
Insurance and services
Interior design
Distribution
Banking
Manufacturing
Further, many of the post-show statistics show why R+T is a must-attend. These include 75% of the attending exhibitors and 59% of the participating visiting representing foreign countries. This presents many opportunities to reach new markets. Additionally, 90% of the attendees would recommend the trade fair to other industry members. 87% of the visitors who attend R+T have a significant influence on the procurement decisions made by participating companies. This includes C-Suite executives, facility management staff and other such participants.
What types of participants visit R+T?
R+T receives many leading companies as exhibitors and visitors. It also has leading enterprises as its partners and guest lecturers. Leading companies that attend the trade show include:
Oskar Widmer GmbH, Nice S.p.A.
Activa Awning Inc.
Kadeco Sonnenschutzsysteme GmbH
Robert Schweiker GmbH
Alukon KG
Linzmeier
Bundesverband Rollladen + Sonnenschutz e.V. BVRS
Pratic f.lli Orioli S.p.A
Exali.de
PALMIYE Global A.Ş.
Meißner GmbH Toranlagen
Parà S.p.a.
BWGV (Baden-Württemberg Cooperation Association eV)
BVT – Verband Tore
ift Rosenheim
erwilo Markisen GmbH
ACMI
Logistics details to note when preparing your visit
Landesmesse Stuttgart GmbH hosts R+T once every three years for five days. Messe Stuttgart is the hosting location of the event. The event occurs at this venue due to the host site's convenient location within Stuttgart. Messe Stuttgart is easy to reach from the main transport hub such as the central railway station and the Stuttgart International airport. For instance, You can reach the venue from the central train station (Stuttgart Hauptbahnhof) in 40 minutes by metro or in 21 minutes by car. Likewise, the venue is a 7-minutes walk from the International airport (Stuttgart Flughafen). Messe Stuttgart is also within travelling distance from many local communities. For instance, you can reach the venue in 8 minutes by car and 11 minutes by metro from Filderstadt. Likewise, the travelling times by car and public transport from Leinfelden-Echterdinfen are 9 and 11 minutes, respectively. You can also access Messe Stuttgart from Esslingen in 21 minutes by car or 43 minutes by bus. Reutlingen is similarly within travelling distance as you can access the venue from the city in 22 (by car) or 43 minutes (by bus). Tübingen is likewise easy to reach as you can access the messe in 25 (via car) or 52 minutes (via public transport).
Stuttgart is a popular tourist and trade fair city in Germany. This is because of the metropolis' well-working public transport network. Comprising the public transportation network are a variety of trains, metro, and bus lines. These enable travellers to reach the various city districts and save time. Examples include accessing Degerloch from the city centre in 15 to 35 minutes by bus or train. Similarly, they can access Wasen from Stuttgart-Mitte in 28 minutes by public transport. Visitors can also save time when commuting between the metropolis and local communities. For example, visitors can travel to the city centre from Reutlingen in forty-six minutes. Stuttgart is a metropolis that features over 1000 accommodation and dining alternatives. For example, attendees can select between guest houses, hotels, apartments and hostels. These are available in Degerloch, Stuttgart-Mitte and communities like Esslingen. Among the dining alternatives feature cafés, bakeries, restaurants, and bars. Clubs, speciality food markets, gelaterias, and beer gardens are likewise available. These, in particular, can be found in East Stuttgart, the city centre and North Stuttgart.
What Stuttgart accommodation options can GETA Ltd provide you?
Finding suitable business travel hotel accommodation can be time-consuming and difficult. This applies to both solo travellers and large travelling groups. Because of such difficulties, you will often find that you have little time to prepare for R+T. This can be detrimental as it can lead to your visit to the fair being unsuccessful. GETA Ltd can help you in avoiding such a problem by handling all business travel accommodation tasks. This includes finding a suitable lodging based on your needs, preferences, and price range. We can help you due to our extensive list of hotel partners. This allows us to choose cost-saving and comfortable accommodation from luxury hotel brands to affordable guesthouses.
Details regarding the past editions of R+T
2021
Between February 22nd and February 25th 2021, the digital format of R + T took place. The edition received attendees from 121 nations, such as the Netherlands and Poland. The edition featured a total of 299 exhibitors and 22,000 visitors.
2018
R+T 2018 occurred as a live trade fair between 27.02.2018 and 03.03.2018. The event received more than 65,000 trade visitors and 1,027 exhibitors exceeding the turnout rate of the 2015 rendition. The event received representatives from 140 nations.
Past editions
R + T 2021
22.02.2021 - 26.02.2021
Cancelled because of COVID 19
R + T 2018
27.02.2018 - 03.03.2018
120,000
SQ M of Exhibition Area
How to get to R + T

On Foot
Stuttgart Airport - 7 mins via Flughafenstrasse
Stuttgart Hbf – not advisable

By Car
Stuttgart Airport - 1 min via Flughafenentlastungsstraße
Stuttgart Hbf – 20 mins via B27

By Public Transport
Stuttgart Airport - not available
Stuttgart Hbf - 40 mins via S-Bahn S2 or S3