VISION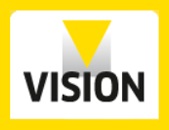 VISION
Germany , Stuttgart
The Latest News on Covid-19
A year after the first in-person VISION in 2021, Landesmesse Stuttgart GmbH has confirmed the upcoming edition in 2022. The trade fair is going to be a return to its regular scheduling in even years. You can get your tickets for October 4th – October 6th, 2022. Organisers have already gone through a live edition during the pandemic, so they have a working health and safety concept in place at Messe Stuttgart. The latest in COVID-19 protective measures will be employed. Visitors and exhibitors share their enthusiasm for VISION 2022. The events industry is slowly getting out of the hiatus caused by COVID-19!
A Brief Overview of VISION
In the field of machine vision, VISION gives you the opportunity to break into larger markets, stay ahead of the curve and generate sales leads. The international trade fair connects exhibitors to the biggest decision makers across electrical engineering, electronics and information technology. It's one of the longest running trade fairs in Europe and has the reputation as a first-class procurement platform.
Take advantage of our hotel services for VISION and make savings on your hotel stay in Stuttgart, Germany. GETA ltd offers a bespoke service suitable for every budget size. We know all the best hotels in the city. Find out affordable hotels in the vicinity of Messe Stuttgart for a fast commute. We always make sure to position you close to public transportation so you can easily get around the city. From budget hostels to high-end boutique hotels, GETA ltd has it all.
Why Your Visit Is Worth It
Machine vision is one of the fastest growing and changing markets in the technology industry. It makes perfect sense to exhibit at VISION, because the trade fair gives brands their moment to get in the spotlight. The numbers are in your favor:
• 470 + international exhibitors from 32 countries
• 11,000+ international trade visitors from 66 countries
• 80% of visitors are involved in purchasing in some way
• 12,000 sq. metres of exhibition space
Industry Relevance
VISION has been going strong since its first edition in 1987 and has been on a growth trajectory right up to the pandemic. This is a sign of great potential to push your product to a wide network of buyers. Editions are organised in Messe Stuttgart every two years. In terms of products, you can see the latest in vision sensors, optical filters, application-specific machine vision systems, lasers, measuring systems for machine vision, area scan cameras, high-speed cameras, smart cameras and configurable machine vision systems. VISION also runs a stellar support program. You shouldn't miss the Start-Up Village, where the future of machine vision and image processing is made, or the high-profile lectures at the Industrial VISION Days forum.
Who Are You Going to Meet?
Nearly half of all visitors are traveling from overseas to Germany, which greatly improves your chances at penetrating foreign markets. Most are based in Europe like Switzerland, France, Italy, Austria, the Netherlands, Belgium, Spain, the United Kingdom and Sweden. However, you also get to network with buyers and investors from the USA, Korea, Japan, Taiwan and Poland. Because there are so many applications for machine vision, VISION is popular among different industries from mechanical and plant engineering, electrical engineering and electronics to the automotive industry and medical technology and pharmacy. They all come to see exciting innovations from a variety of brands. Some names include HD Vision Systems, IVISO, K|Lens, MADDOX AI, MUSASHI AI, NaturalSelection AI, Neurala Europe, TriEye, 3HL3, Deevio and Dotphoton.
Latest Past Editions
2021 Edition
VISION 2021 was held as a face-to-face exposition from October 5th to October 7th, 2021. The latest Covid-19 preventive methods were on display at the venue. This included safeguards such as the mandatory rule to wear masks. Before entering the event venue, attendees had to show documents such as negative test results. Over 5,400 trade visitors attended the event, which took place at Messe Stuttgart. The Netherlands, Poland, Belgium, Italy, and Austria were among the participating countries.
Past editions
VISION 2021
05.10.2021 - 07.10.2021
VISION 2020
10.11.2020 - 12.11.2020
Cancelled because of COVID 19
VISION 2018
06.11.2018 - 08.11.2018
VISION 2016
08.11.2016 - 10.11.2016
How to get to VISION

On Foot
Stuttgart Airport - 7 mins via Flughafenstrasse
Stuttgart Hbf – not advisable

By Car
Stuttgart Airport - 1 min via Flughafenentlastungsstraße
Stuttgart Hbf – 20 mins via B27

By Public Transport
Stuttgart Airport - not available
Stuttgart Hbf - 40 mins via S-Bahn S2 or S3
Hotels
Venue