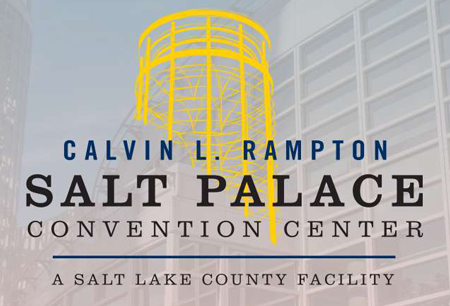 Calvin L. Rampton Salt Palace Convention Center
Address:
100 SW Temple Street, Salt Lake City, UT 84101, Salt Lake City,
USA
About The Venue
The Salt Palace Convention Centre is among Salt Lake City's premier venues. It is the third venue to be named the Salt Palace and was founded in 1995. It is an event complex with about 64896 m2 of available space and an approximate capacity of about 19090 people. It is a venue with a rather avant-garde appearance due to the use of hollow structural steel in exposed forms of application. Since its founding, the Salt Palace has been the hosting site of notable events. Such include for example the Outdoor Retailer Summer Market.
The current Salt Palace is the third venue with this name. The original venue was constructed in 1899 and received its name from the frame structure covered in rock salt pieces. The Salt Palace is alternatively known as the Calvin L Rampton Convention Centre in honour of the 11th governor of Utah. The building has 3 floors with a total of 24 meeting areas. These include a mezzanine separated into two parts, 4 foyers, 1 Grand Ballroom, 14 meeting rooms and 2 exhibition halls. Additionally, there is an outdoor area on the first floor.
How to get to Calvin L. Rampton Salt Palace Convention Center
Salt Lake City International Airport – not advisable
Intermodal Hub - Salt Lake City – 20 mins via 200 S
Salt Lake City International Airport – 12 mins via I-80 E
Intermodal Hub - Salt Lake City – 5 mins via 200 S
Salt Lake City International Airport – 30 mins via transport 454
Intermodal Hub - Salt Lake City – 6 mins via transport 2
View Nearest Hotels
Hotels
Venue
GET A FREE QUOTE
Looking for a hotel accommodation for particular trade show or exhibition.
Send us a general enquiry and we will find the best options for you