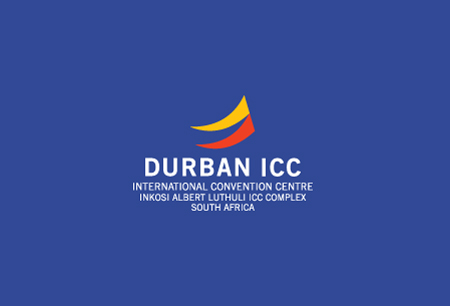 Durban ICC - Inkosi Albert Luthuli International Convention Centre
Address:
Inkosi Albert Luthuli Complex, 45 Bram Fischer Rd, Durban, 4001, South Africa, Durban,
South Africa
About The Venue
The Durban International Convention Centre is South Africa's first international convention centre. It is a spacious venue with 31 meeting areas and a total event space of 22066 m2. It can accommodate up to 17870 people during simultaneous events and is a convenient distance from King Shaka Airport. The Durban ICC opened in 1997 with the ceremony being conducted by former president Nelson Mandela. Since its opening, the venue has been a popular event location with notable events including Indaba.
The Durban ICC is a first-class convention centre. It has a total event space of 22066 m2. 20566 m2 of this space is located indoors and distributed between 9 exhibition halls and 4 meeting rooms. The conference centre also has an outdoor space of 1500 m2. All meeting areas of the venue are flexible and can be divided into more compact spaces. When all exhibition halls and meeting rooms are separated, the conference centre has 31 meeting rooms. Attendees can park on the site of the centre using the 1000 parking spaces.
How to get to Durban ICC - Inkosi Albert Luthuli International Convention Centre
King Shaka Airport – not advisable
Durban railway station – 40 mins via Masabalala Yengwa Ave/M12
King Shaka Airport – 30 mins via N2 and M4
Durban railway station – 6 mins via Masabalala Yengwa Ave/M12
King Shaka Airport – not available
Durban railway station – not available
View Nearest Hotels
Hotels
Venue
GET A FREE QUOTE
Looking for a hotel accommodation for particular trade show or exhibition.
Send us a general enquiry and we will find the best options for you