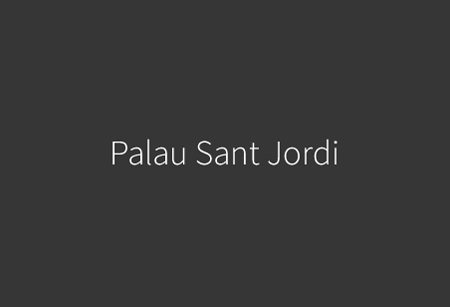 Palau Sant Jordi
Address:
Passeig Olímpic, 5-7, 08038 Barcelona, Spain, Barcelona,
Spain
About The Venue
The Palau Saint Jordi (St George Palace) is one of Barcelona's premier yet compact venues. It is multi-purpose installation and indoor arena for sports. The venue as built as part of the Olympic Ring complex in one of Spain's largest cities, Barcelona. The venue consists of two meeting areas – the arena and the more compact Sant Jordi Club. The total capacity of the Palau Saint Jordi is 20960 people. Apart from notable sporting events such as the 1992 Summer Olympics it is also the hosting site of corporate ones such as BioCultura.
The Palau Saint Jordi opened in 1990 after 4 years of construction. It was created as part pf the Olympic ring for the 1992 Summer Olympics and hosted several of the disciplines of that year. These include the artistic gymnastics and volleyball finals. The venue is quite flexible as the arena and club can be divided into smaller sections. For instance, the arena has the option of creating a compact hall of 280 m2. The venue was renovated in 2014 and has a free parking area and private entrance.
How to get to Palau Sant Jordi
Josep Tarradellas Barcelona-El Prat Airport – Not advisable
Barcelona-Sants Station – 35 mins via Carrer del Rector Triadó
Josep Tarradellas Barcelona-El Prat Airport – 10 mins via C-31 and B-10
Barcelona-Sants Station -12 mins via Av. Francesc Ferrer i Guàrdia
Josep Tarradellas Barcelona-El Prat Airport- 45 mins via A1 and 150
Barcelona-Sants Station – 25 mins via L3 and 23
View Nearest Hotels
Hotels
Venue
GET A FREE QUOTE
Looking for a hotel accommodation for particular trade show or exhibition.
Send us a general enquiry and we will find the best options for you