Take a Look at Our Blog for Latest News
and Topics About Exhibit Travel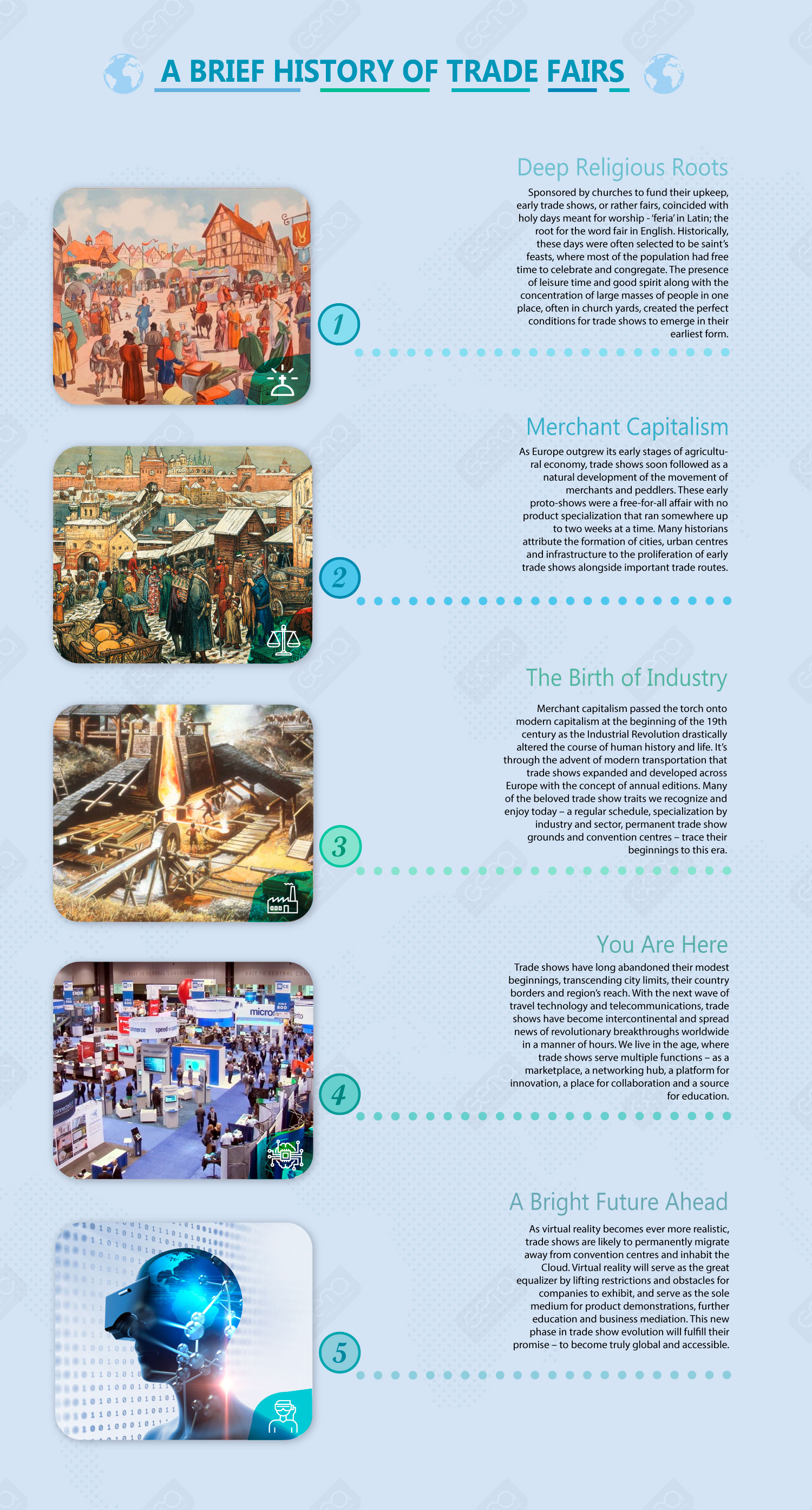 A Brief History of Trade Fairs
16 May 2019
The history of trade shows can be tracked back to the middle ages when they were holy days organised by the churches. Fast forward to today when millions of professionals gather to make valuable connections and get an overview of the industry they are interested in. We tried to summarise the history of exhibitions in the 5 main development stages. They are as follow:
Deep Religuous Roots
Sponsored by churches to fund their upkeep, early trade shows, or rather fairs, coincided with holy days meant for worship - 'feria' in Latin; the root for the word fair in English. Historically, these days were often selected to be saint's feasts, where most of the population had free time to celebrate and congregate. The presence of leisure time and good spirit along with the concentration of large masses of people in one place, often in church yards, created the perfect conditions for trade shows to emerge in their earliest form.
Merchant Capitalism
As Europe outgrew its early stages of agricultural economy, trade shows soon followed as a natural development of the movement of merchants and peddlers. These early proto-shows were a free-for-all affair with no product specialization that ran somewhere up to two weeks at a time. Many historians attribute the formation of cities, urban centres and infrastructure to the proliferation of early trade shows alongside important trade routes.
The Birth Of Industry
Merchant capitalism passed the torch onto modern capitalism at the beginning of the 19th century as the Industrial Revolution drastically altered the course of human history and life. It's through the advent of modern transportation that trade shows expanded and developed across Europe with the concept of annual editions. Many of the beloved trade show traits we recognize and enjoy today – a regular schedule, specialization by industry and sector, permanent trade show grounds and convention centres – trace their beginnings to this era.
You Are Here
Trade shows have long abandoned their modest beginnings, transcending city limits, their country borders and region's reach. With the next wave of travel technology and telecommunications, trade shows have become intercontinental and spread news of revolutionary breakthroughs worldwide in a manner of hours. We live in the age, where trade shows serve multiple functions – as a marketplace, a networking hub, a platform for innovation, a place for collaboration and a source for education.
A Bright Future Ahead
As virtual reality becomes ever more realistic, trade shows are likely to permanently migrate away from convention centres and inhabit the Cloud. Virtual reality will serve as the great equalizer by lifting restrictions and obstacles for companies to exhibit, and serve as the sole medium for product demonstrations, further education and business mediation. This new phase in trade show evolution will fulfill their promise – to become truly global and accessible.
GET A FREE QUOTE
Looking for a hotel accommodation for particular trade show or exhibition.
Send us a general enquiry and we will find the best options for you