Take a Look at Our Blog for Latest News
and Topics About Exhibit Travel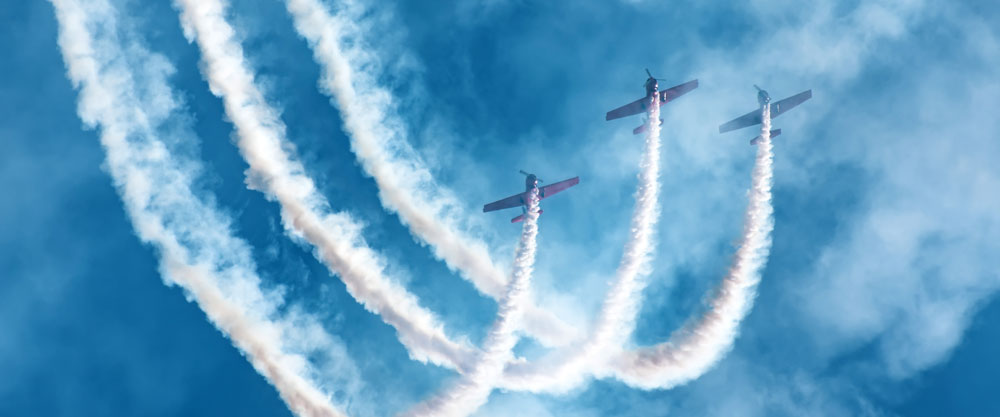 The Aviation Trade Fairs That Are Reshaping the World of Global Travel
4 Aug 2023
It's time for an exhilarating journey into the realm of aviation trade fairs that are soaring above the clouds and reshaping the world of global travel! Just like the automotive industry, aviation is experiencing a thrilling wave of constant advancements and groundbreaking innovations.
Prepare yourself to spread your wings as we uncover the most prominent and influential fairs that are propelling us towards a new era of aviation. From state-of-the-art aircraft technology to cutting-edge sustainable solutions, these events are not just shaping the way we fly; they're revolutionising the entire experience of jet-setting around the globe.
Whether you're a seasoned pilot or an avid aviation enthusiast, these fairs take you on a thrilling flight through the latest trends, futuristic designs, and unparalleled breakthroughs. So, fasten your seatbelts, stow away your tray tables, and let's embark on a high-flying adventure through the aviation trade fairs that are transforming global travel as we know it!
1. Раrіѕ Аіr Ѕhоw (Paris, France)
Prepare for a sky-high adventure as we take off to the world-renowned Paris Air Show! This century-old international exhibition is the ultimate destination for aviation enthusiasts and industry professionals alike, showcasing the latest developments and best practices in aerospace, aircraft, and airport equipment. Of course, we had to start from the very birth of aviation.
Picture the entire city of Paris coming alive with the buzz of innovation and excitement as over 2300 international exhibitors from 48 countries gather at the Paris–Le Bourget Airport. From aircraft engines to space vehicles, you'll witness the most comprehensive display of cutting-edge technology and futuristic designs.
But the excitement doesn't end there! The Paris Air Show is not just about exhibits; it's also a hub for career seekers and talent development in the aviation and aerospace industry. The Careers Plane offers the perfect opportunity for students, recent graduates, and seasoned professionals to connect with companies, explore internships, and dive into training opportunities.
With meeting areas, discussion panels, and hands-on demonstrations, the Paris Air Show is not just an event; it's an immersive experience that will leave you soaring with inspiration and future prospects. So fasten your seatbelts and join us on this thrilling journey through the skies of innovation at the Paris Air Show.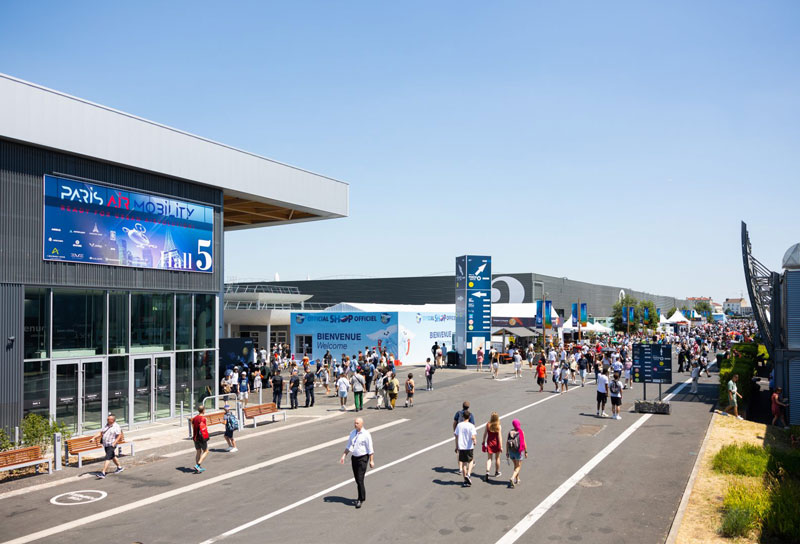 Picture: Раrіѕ Аіr Ѕhоw
2. Dubai Аіrshоw (Dubai, UAE)
Get ready to take flight into the future of aerospace and aviation at the exhilarating Dubai Airshow! This international trade show has been soaring high since the late '80s, riding the waves of modernization with over 1700 exhibitors showcasing their cutting-edge innovations in Dubai, for five action-packed days. The professional community reaches well over 60,000 trade visitors at any given edition, so you definitely want to stay on top of major technological innovations!
Dubai Airshow promises an experience like no other! Picture this: 104,000 attendees, 387 civil and military delegations, and 175 planes on display. What's more, Dubai Airshow knows how to nurture innovation! Over 80 start-ups will take center stage, rubbing shoulders with investors, accelerators, and mentors at the co-located STARTUP-VISTA event.
If you're hungry for knowledge, prepare to be amazed! The Dubai Airshow conference features nine tracks and 250+ speakers, presenting the most renowned names and companies in the aviation industry across four stages. And for all you space enthusiasts out there, buckle up for the Space Experience Zone! The space content program will leave you starstruck, featuring thrilling displays of space technology, an epic Space pavilion, and even a space start-up competition!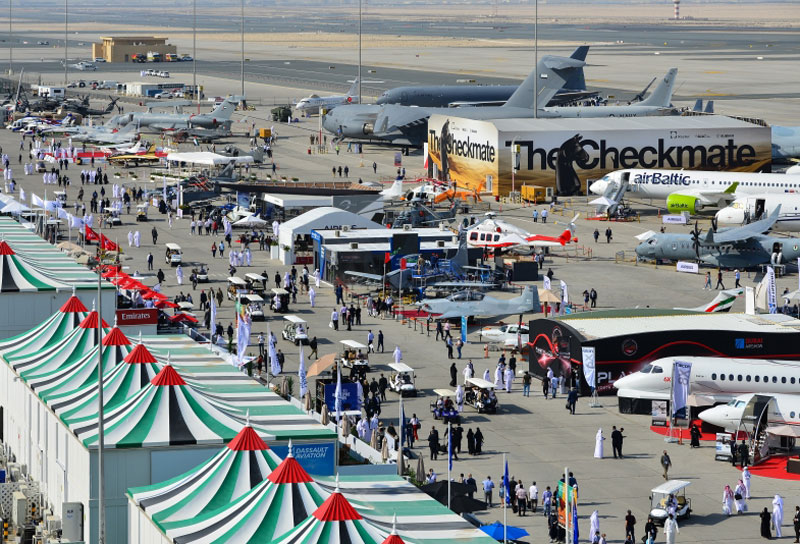 Picture: Dubai Аіrshоw
3. EBACE (Geneva, Switzerland)
EBACE is all about achievements, innovations and groundbreaking designs in the sky-high world of flight. As global travel becomes more accessible and efficient, the business aviation sector is experiencing a surge in technological advancements. With over 400 international exhibitors and a mind-boggling 50+ state-of-the-art business aircraft on display, you'll be surrounded by cutting-edge technologies and aviation wonders that will leave you in awe. And you're sure to connect with 13,000 aviation professionals at PalExpo in Geneva, Switzerland!
Networking is only one dimension of EBACE. The fair is a hub of innovation and knowledge sharing. From avionics, cabin and cockpit AV equipment to flight training simulators and fuel suppliers, you explore a vast range of products and groundbreaking solutions shaping the future of aviation. Looking to embrace a sustainable future? EBACE has you covered! The Business Aviation Sustainability Summit is all about reinventing and reimagining the aerospace industry for a zero-carbon future. Get inspired by cutting-edge solutions and pioneering advancements in carbon reduction and other sustainability initiatives.
And if you're eager to launch your aviation career, the Careers in Business Aviation Day is the place to be! Open to high school, technical school, and university students, this event encourages first-time job seekers to explore the exciting opportunities in business aviation and gain valuable insights into what it takes to succeed.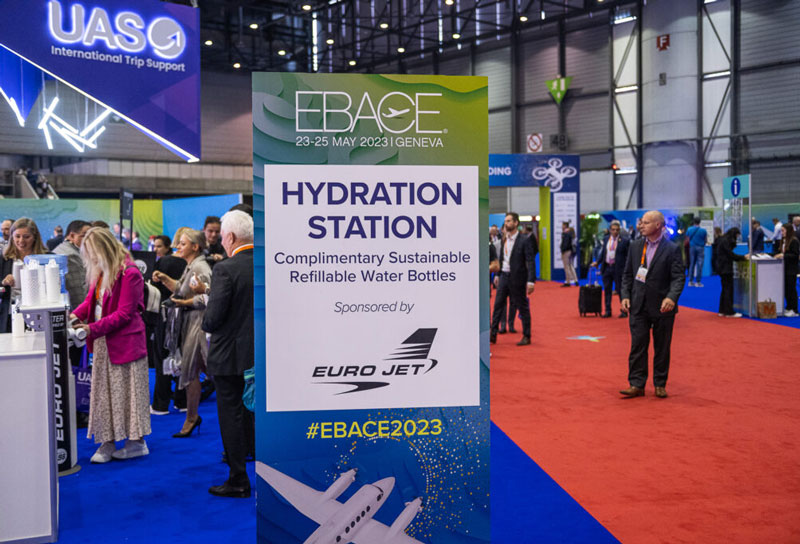 Picture: EBACE
4. air cargo Europe (Munich, Germany)
If you're itching to witness the latest and greatest in aviation technology, machinery, services, and products, air cargo Europe is the place to be. Brace yourself for an action-packed event that serves as the epic connector between global supply and demand in the world of air freight.
Get ready to be blown away by a staggering 2374 international exhibitors hailing from 63 countries and regions. With over 64,000 international trade visitors from 125 countries soaring in, you'll be surrounded by like-minded professionals eager to explore the cutting-edge innovations shaping the air cargo industry. Held alongside Transport Logistic every two years at Messe München, this exhibition gathers the brightest minds and boldest pioneers to present aircraft, air-freight solutions, airport equipment, RFID technology, utility vehicles, navigation aids, handling services, communication systems, and information systems.
And let's not forget about the Air Cargo Europe conference. This remarkable conference invites top industry names to tackle today's challenges and discuss policy changes, setting the stage for a brighter future in the air logistics world.
You won't believe the incredible lineup of established brands and industry giants you'll meet at the exhibition. From Etihad Cargo, Kato Airport GTL SA, Kale Airlines Services, ULS Airlines Cargo, OceanX AG, and more, the event attracts top players from all over the globe.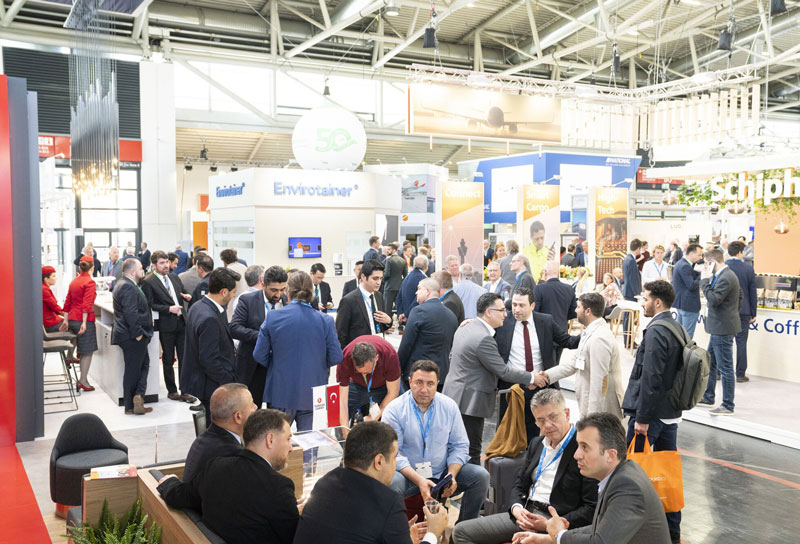 Picture: air cargo Europe
GET A FREE QUOTE
Looking for a hotel accommodation for particular trade show or exhibition.
Send us a general enquiry and we will find the best options for you