Take a Look at Our Blog for Latest News
and Topics About Exhibit Travel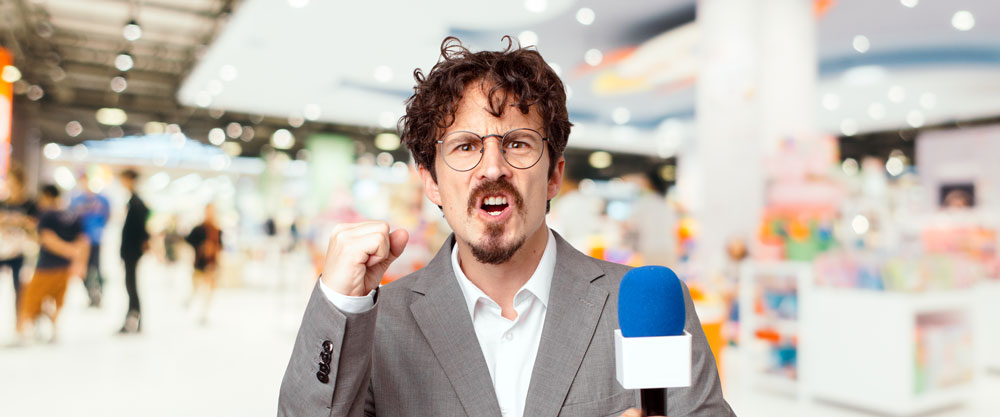 This Absolute Biggest and Most Exciting Trade Fairs this September
13 Sep 2023
Get ready to mark your calendars and clear your schedules because this September, the world of trade fairs is about to explode with several jam-packed, international events across. From cutting-edge technology to innovative trends, these fairs are the heartbeat of innovation.
As the summer season is in its decline, the trade fair season kicks into high gear. It's that magical time when convention centres and exhibition halls transform into bustling hubs of creativity and commerce after long months of rest and relaxation. So fasten your seatbelts and pack your business cards because we're embarking on a tour of the best fairs the world has to offer this September!
PLAST 2023: September 05th – 08th; Milan, Italy
Imagine a place where the European rubber and plastics elite meets under one roof and innovation comes first! PLAST is all about forging new connections that could change the game for your business and the industry as a whole. It's not just a trade show; it's the thriving epicentre of the industry. Over 1,500 international exhibitors from 55 countries showcase everything from raw materials to cutting-edge processes.
It's a spectrum of acrylonitrile-butadiene-styrene (ABS), polyolefins, thermoplastics, elastomers and so much more! With a whopping 63,000 international trade visitors from 117 countries, PLAST is where you rub elbows with the who's who of the plastics and rubber universe.
PLAST is a part of The Innovation Alliance, a powerhouse coalition of international trade fairs. Together, they create an explosive synergy that attracts decision makers from Europe and beyond. PLAST has been impressing crowds since 1960, making it the go-to source for groundbreaking equipment and processes. So, whether you're in the market for the latest materials, itching to see revolutionary machinery in action, or simply looking to network with the best of the best, PLAST is the place to be. See you in Milan!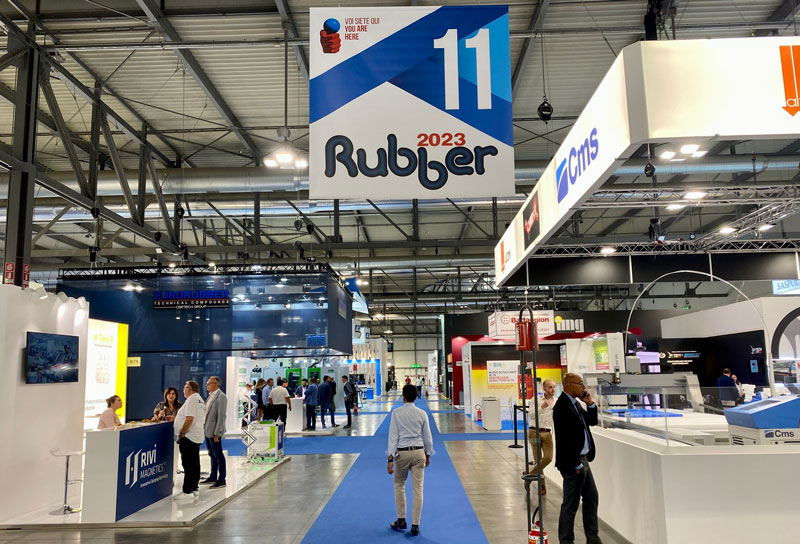 Picture: PLAST
Offshore Europe 2023: September 05th – 08th; Aberdeen, UK
This four-day event is a mix of innovation, cutting-edge technology, networking and access to the most exclusive industry insights. It's like a rock concert for the oil and gas industry, and you've got a front-row ticket to the show! With 950 exhibitors from around the globe launching their very latest to all to see, you'll be rubbing shoulders with the industry's crème de la crème. Over 125 new companies are joining the offshore party this year, bringing even more energy and excitement.
Offshore Europe is a knowledge goldmine with over 38,000 international trade visitors from 130 countries making the trip to soak up expertise and practical advice, witness more than 1000 live demonstrations and close high-profile deals. It has been so for the past 50 years as Offshore Europe debuted in 1973, evolving from its early days as Offshore Scotland into the global phenomenon it is today. With its move to the new and spacious Event Complex Aberdeen, it's now more epic than ever, showcasing the entire offshore value chain.
Innovation takes the spotlight at Offshore Europe. Manufacturers are ready to impress with their latest pipeline, drilling, hydraulic and offshore engineering innovations. A top-notch conference program, led by industry experts and decision-makers, tackles the burning issues of the day.
Energy transition is the talk of the town, and you'll find all the info you need at the Energy Transition Zone, exclusively for operators, service and tech companies gearing up for a lower-carbon future. There's even an Energy Transition Theatre, where a star-studded lineup of speakers will school you on cutting-edge insights, leadership strategies and technologies over three days.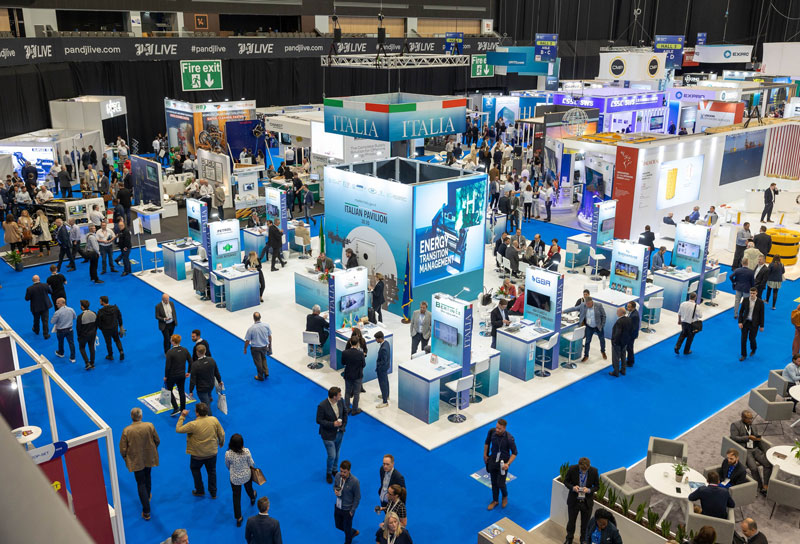 Picture: Offshore Europe
DSEI 2023: September 12th – 15th; London, UK
With a staggering 1600 international exhibitors showing off their gear and gadgets, you're in for a futuristic treat. And that's not all – 35,000 visitors from all corners of the industry are set to descend upon this quintessential meeting point for the security and defence industry. You'll rub shoulders with government officials at every level, ensuring you're at the heart of the action.
Compared to other exhibitions, DSEI is a rather new addition to the defence landscape. It burst onto the scene in 1999 and has been making waves ever since its debut. The exhibition sprawls across 60+ product categories, covering everything from the expected (weapons, tactical gear and ammo) to emergency equipment, first aid kits, infrared systems, and radar equipment. It's very much a go-to procurement platform for the entirety of Europe!
But it's not just about the tech. The support program is a star in its own right, with theatres, forums, and sessions that follow dynamic themes evolving from edition to edition. Think Industry Engagement & Acquisition, Future Operational Requirements, Obtaining & Retaining Skills, and Information Exploitation. It's where the brightest minds in defence come to brainstorm and share their vision of the future.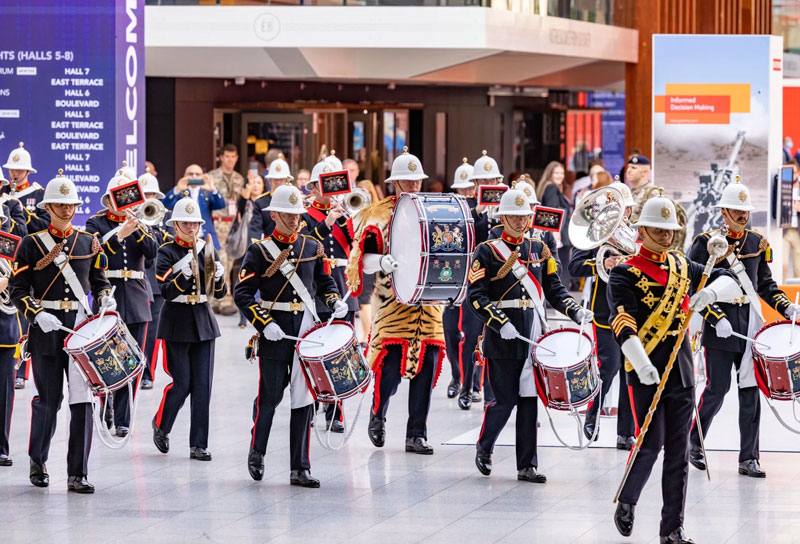 Picture: DSEI
DMEXCO 2023: September 20th – 21st; Cologne, Germany
This international trade fair in Cologne, Germany catapults visitors straight into the future of digital business, marketing and advertising. Here, you mingle with the rising stars and established industry titans who'll discuss all the hottest topics and showcase what's blazing new trails in the digiconomy.
Koelnmesse hosts 1062 international exhibitors that impress over 42,000 trade visitors with high-class product displays and presentations. The fair is a playground of innovation for advertising campaigns, digital marketing, strategic wizardry, captivating presentations and search engine optimisation. DMEXCO loves the creative thinkers, the problem solvers, and the disruptors. That's why they've carved out a special spot called the Start-up Village, where 200 trailblazing companies promise radical change. It's where revolutions in the digital realm are born!
Now, about the conference. There are themed stages tailored to different digital realms (Agencies, E-Commerce, Media, Tech), and the main stage is reserved for keynote speakers, thrilling Fireside Chats, and electrifying panel discussions. But that's not all; you'll also want to check out the lineup of hands-on masterclasses featuring presentations, case studies, and product tests that'll make you thrilled with the possibilities for the year again.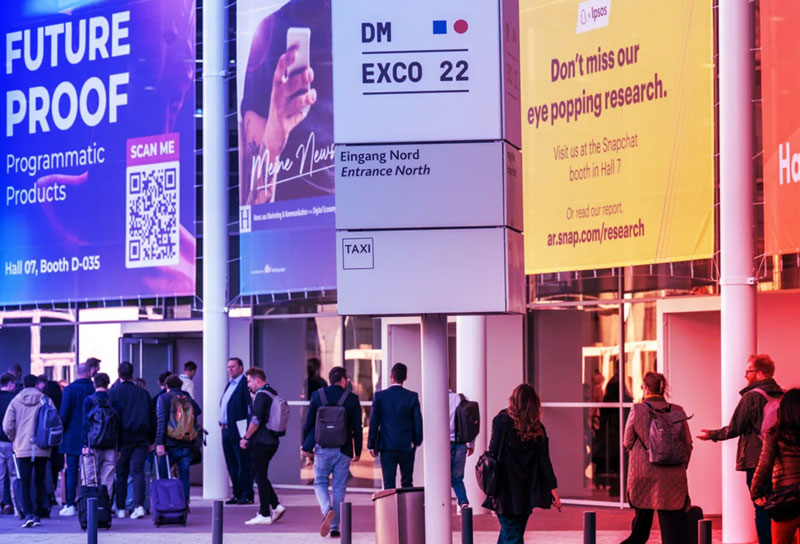 Picture: DMEXCO
GET A FREE QUOTE
Looking for a hotel accommodation for particular trade show or exhibition.
Send us a general enquiry and we will find the best options for you