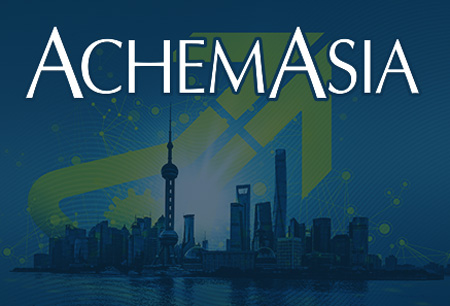 AchemAsia
Shanghai, China
The Latest News on COVID
The official dates for AchemAsia 2022 are out. The major international exhibition for chemical engineering and biotechnology returns to Shanghai, China on April 4th – April 8th, 2022. This will be the first event to be held during the coronavirus pandemic, but DECHEMA Ausstellungs-GmbH has been preparing for the live edition for a long time. Visitors should be calm in knowing all the necessary precautions have been taken to ensure the health and safety of everyone in attendance. The National Exhibition & Convention Center has been fully equipped with every COVID-19 protective measure in accordance with government regulations. There's a lot of excitement about AchemAsia 2022 and organisers are expecting a strong turnout.
A Brief Overview of AchemAsia
For over thirty years, AchemAsia has been the beating heart for the biotechnology and chemical engineering industry in China. The international exhibition serves not just as a link between the East and the West, but a cornerstone of China's evolution as a leader on a global level. It's a leader not just in its home country, but all of Asia. It's an essential meeting ground for newcomers to get to know the biggest players in the market.
Leave your hotel reservations for AchemAsia to GETA ltd. We know the city well and help you get the best hotel rates no matter your budget. You don't have to worry about the language barrier or how to travel in Shanghai, China. We always book hotels close to the National Exhibition & Convention Center and provide clients with information on public transportation. Do you need a way to get to the hotel from the airport? We're here to arrange an airport transfer. In addition to hotel accommodation for trade fairs, GETA ltd is here to book meeting facilities and put together exhibition stands.
Why Your Visit Is Worth It
Following a triennial schedule means that AchemAsia is a lower-cost investment over the long run and that makes it a more affordable option for smaller businesses. The quality of contacts available makes it worth the long flight. You'll return home with qualified sales leads. The trade fair makes it possible to grow your business and step foot in China. Here are some of the key numbers from previous editions:
330 international exhibitors from 16 countries
10,000+ international visitors
66% of all visitors work in heavy and light industry
Industry Relevance
Organised for the first time in 1989, AchemAsia has seen the entire history of modernization and investment in biotechnology and chemicals in China. Based in Shanghai, China, AchemAsia is a source of groundbreaking innovations and business opportunities not just for the Chinese market, but the whole of Asia. You're surrounded by cutting-edge advancements in process conducting systems, food engineering, storage, analysis technology, packaging, plants and machinery for the petrochemical engineering, repair and machines for the pharmaceutical industry.
AchemAsia made its debut in Shanghai at the National Exhibition & Convention Center for the first time in its history. The decision was made so that AchemAsia can be better located near some of the country's industrial centres. The change paid off with higher interest and better performance numbers. The courage to change has paid off", says Dr. Thomas Scheuring, CEO of DECHEMA Ausstellungs-GmbH. AchemAsia embraced changes in topics as well with a focus on the current Chinese five-year plan. Visitors had another major change to embrace – the change in layout. The lecture halls and exhibition were fully integrated in one hall so that visitors had to walk only short distances between places. This way you couldn't miss a thing.
Editions take place one every three years and in addition to the fine networking conditions, visitors can take advantage of the accompanying congress programme. Topics of discussion range from future productions to the various new advances in industrial water management.
Who Are You Going to Meet?
There are booths belonging to exhibitors from Germany, India, Great Britain, Taiwan, Mexico, Italy, Japan, Canada, Austria, the USA and South Korea. Names include APIX Analytics, ARCA Regler, Baoji Yongshengtai Titanium Industry and Chair Man Hi-Tech among many others. They operate on every point in the supply chain like equipment, apparatus, technologies and concepts for sustainable production in the chemical and related industries.
You can see the rise in internationality and overall growth compared to the 2016 edition in Beijing. The last edition increased the number of exhibitors by 11% and the exhibition space by 15%. A clear signal AchemAsia is on a consistent trajectory to bigger and better things. As an exhibitor, you'll showcase your products to a wide-ranging audience. The trade fair attracts professionals in planning and construction, R&D, production, materials testing, consulting, sales, and information and data processing.
Visitors are predominantly in a position to make decisions and come from the world of industry, trade, sales and research. They are there to scope out the field for interesting new trends and often seek to purchase. Overall, visitors and exhibitors mark the trade fair as satisfactory in meeting their goals.
Additional Value of Attending
Sustainability remains the biggest topic of discussion at AchemAsia and this is best seen in the support programme. One of the best attended events is the AchemAsia PRAXISforum for new products and services. Each symposium had its own specific theme, which enabled visitors to find the content most relevant to their needs. Speakers covered everything from new technologies and solutions to sustainability. Some of the most interesting items were "New Products and Services" with exhibitor lectures, the CIESC Forum "Green and Intelligent Equipment" and the session on "Industrial Water Management and Resources Recovery."
When it came down to industrial water management, speakers touched upon the importance of the process and how crucial it is to not just reuse but reduce to keep the industry's carbon footprint as small as possible. Visitors could learn all about Zero Liquid Discharge (ZLD), how to achieve a higher level of efficiency as well as how to recover valuables from wastewater. The focus fell on the relevant instrumentation, digitalisation and the fantastic work done in the field of desalination.
You'd also learn how production in the chemical and pharmaceutical industry will change as we get the best out of automation, AI and digitalisation. Speakers discussed the predicted shortening of product life cycles and how that's going to impact the life cycle of processes in the chemical and pharmaceutical industry. The lectures circled around groundbreaking digital plant concepts and modular plant concepts. You're more than capable of getting the short and long view of where major trends in the industry are going to go, as well as valuable insights into the state of the market in China. The programme looks into practical advice for exhibitors looking to enter the next stage of their evolution.