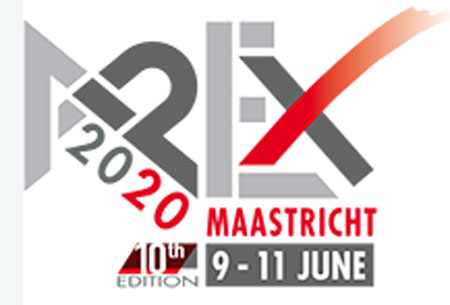 APEX
Maastricht, Netherlands
A Brief Overview of APEX
APEX is the international trade fair dedicated to the access equipment industry, which enjoys a great deal of popularity in Europe. As an exhibitor, you get to pitch your products to big companies and corporations from around the continent. The event covers every product group along the value chain from hoists and mast climbers to telematics and software solutions. Held in Maastricht, the Netherlands, it's one of the definitive platforms for deals, education, and innovation! You meet all your business needs in a friendly environment.
After you've reserved exhibition space at APEX, it's time to book hotel rooms for your stay in Maastricht. GETA ltd sends exhibitors all over the world and provides affordable accommodation for trade shows at any price point. We believe all businesses should be able to attend trade events and we supply our clients with the most affordable hotel rates for APEX. Our agents are here to consult and make your reservation within record time. Hotels, hostels and apartments – we have a large database of offers at every price point whether you want to make the most out of your budget or prefer upscale accommodation. Stay in hotels close to the MECC and have an easy time getting around the city.
GETA ltd offers travel services for every occasion! Our team helps you organise airport transfers and book meeting facilities with the right A/V equipment.
Why Your Visit Is Worth It
APEX has built itself the reputation as the definitive marketplace for access equipment. Not just in Europe, but in the world. As such, the sky's the limit when it comes to the business connections you make and the deals you close. The expenses are well worth it when it comes to gaining access to key regional markets. Although the pandemic has had its effect on APEX attendance numbers, it still proves its importance. Take a look at the most important numbers:
100+ exhibitors
4650+ visitors
20-year history and tradition
Industry Relevance
APEX, International Access Equipment Exhibition, is a highly anticipated trade fair that services the access equipment industry and takes place every three years. Founded in 1996, APEX brings together a comprehensive lineup of aerial platforms, compact construction equipment and rental IT solutions. The international trade fair is held at the MECC Maastricht Exhibition & Congress Centre, where it is co-located with the International Rental Exhibition (IRE).
APEX lives up to the promise of being the largest gathering of access equipment worldwide, while IRE serves as an excellent platform to showcase the latest advancements in battery-powered equipment, software and technology utilised by rental companies. Together, these exhibitions offer visitors the ideal opportunity to explore a wide range of products and technologies relevant to the rental industry. As an added bonus, the long pause between editions guarantees that each time the trade fair comes around, the product offering is rich, diverse and innovative.
Attendees can expect to discover cutting-edge innovations and solutions from various companies, with a particular focus on the latest advancements in battery-powered equipment and tools. A key highlight of APEX and IRE is the promotion of low-emission equipment, allowing visitors to explore the latest environmentally friendly and electric access equipment available. Here is the comprehensive list of product groups you can expect to discover on the exhibition grounds:
MEWPS
Mast Climbers
Suspended Access Systems
Hoists
Hybrid and Electric Equipment
Management
Fleet Management
Telematics
Software
Technical Solutions
Business Management
One of the key advantages of attending APEX is the opportunity for face-to-face meetings with industry contacts and suppliers. This facilitates valuable networking, enabling attendees to learn more about the offerings and forge new collaborations with key decision makers in the industry. Additionally, APEX emphasises the importance of innovation and digitalization, providing real insights into how new technologies can transform businesses and improve efficiency. As a global meeting point, APEX attracts a diverse audience of investors, entrepreneurs and delegates from around the world. Networking with industry professionals leads to fruitful partnerships in the long runs, impressive collaborations as well as building company momentum and brand recognition.
Attendees are able to fully explore various aspects of the rental and access equipment industry at their own pace, discover the latest trends and learn from experts in the field. With access to thought leaders and expert knowledge, participants can enhance their understanding of market dynamics and best practices. Furthermore, APEX serves as a platform for companies to promote projects and solutions to a global audience.
It's not an exaggeration to say that APEX stands as a highly significant event when it comes to access equipment. With its comprehensive product range, focus on innovation and digitalization, networking opportunities, and global reach, the trade fair offers visitors a unique experience.
Who Are You Going to Meet?
When it comes to the types of companies you'll see featured at APEX, you see a great selection of top-tier manufacturers and suppliers that impress every single edition. You exhibit side by side with Dingli, Genie, JLG, Haulotte, Holland Lift, Manitou, Riwal, Ruthmann, Skyjack, Snorkel, Versalift and XCMG. The presence of all these names is an undeniable reason why the trade fair enjoys the reputation and popularity it has.
There's also diversity when it comes to the types of visitors in attendance. This list features all the different professional groups that regularly attend the trade fair in search of new solutions:
Access Rental Companies
General Rental Companies
Construction Contractors
Industrial Maintenance Contractors
Public & Private Utilities
Cleaning Contractors
Structural Engineers
Heating & Ventilation Contractors
Rail & Transport Companies
Airport Authorities
Petrochemical Plants
Demolition Contractors
Fire Fighting
Ports & Shipbuilding
Outdoor Broadcasting
Government Personnel
Sign Writers
Trade visitors are mostly based in the Netherlands, but in recent years the level of internationality has been improving with countries with the highest participation being Belgium, Denmark, France and Germany. These visitors occupy senior positions in their respective organisations and take part in the decision-making process when it comes to purchasing. Their main goal is to research what's on the market, identify emerging trends and place orders.
Past editions
APEX 2023
06.06.2023 - 08.06.2023
APEX 2021
15.06.2021 - 17.06.2021
APEX 2017
02.05.2017 - 04.05.2017