Bazaar BERLIN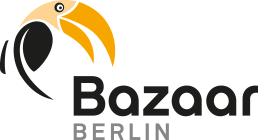 Bazaar BERLIN
Germany , Berlin
The Latest Updates on COVID
Bazaar Berlin 2022 is right on track as the major trade fair for consumer and household goods is preparing for its traditional November slot. Organisers are optimistic about the upcoming edition and say interest has been high. This a positive sign that the industry is recovering and proof that trade fairs are here to stay. The 2022 edition will run on November 2nd – November 6th at the Expo Center City. Organisers already have experience hosting a physical event during the pandemic in 2021 and have a comprehensive COVID-19 plan in place. The exhibition grounds will be fully ventilated and regularly disinfected. Contact tracing will be in full effect and visitors must wear masks at all times.
A Brief Overview of Bazaar Berlin
Whether you want to find retailers in Germany or meet with your customer base in person, Bazaar Berlin is the platform you need. The international trade fair has been going strong for sixty years now and provides exhibitors with the necessary visibility to break into the German market. Every year, Bazaar Berlin showcases the latest trend in design and material not just in the region, but the whole world.
Book hotels for Bazaar Berlin without going over budget. GETA ltd believes business travel needs to be affordable, which is why you get affordable hotel rates no matter how much you can spend. Enjoy fantastic savings and a short commute to the event. You get to stay in a comfortable hotel in the vicinity of the Expo Center City. Give us a call now to plan your entire trip to Berlin and learn all about the extra services we offer!
Why Your Visit Is Worth It
Bazaar Berlin is designed to help international brands find their distributor networks and clients in Germany. There's a great interest in creative visions from all over the world and it's a small cost to rent a booth. Even with the pandemic, visitor rates have been more than generous. Just take a look at the numbers from last edition:
• 220 international exhibitors
• 30 countries
• 19,000+ visitors total
Industry Profile
Running since 1962, Bazaar Berlin has been the main procurement platform for house and home in Germany, where international brands are placed front and centre. The international trade fair celebrates the true diversity in design and craftsmanship every year in November. Thousands of people attend the annual editions at the Expo Center City. The whole product assortment is split in the following zones - World Market, Natural Living, Fair & Social, Art & Style, and Winter at Home. There's everything you might imagine under one roof as the product assortment includes handicraft, jewellery, accessories, clothing, design products, home textiles, organic and ecological products, natural cosmetics, wellness products, season's products, decoration items and gifts, leather goods, hand bags, shoes, small furniture, rugs, porcelain, and toys.
Who Are You Going to Meet?
Bazaar Berlin has one of the most international roster of exhibitors. Among the many brands that exhibit are Ait Ougaram El Hassane, Kashmir Treasuries, Kein Schmetterling, GAZARCH Group, Gonzales Ortega Miguel, Greenpeace and Excel Arts Inc. The majority of visitors are German in nature due to the open format of the trade fair. The general public is encouraged to attend and the individual buyers are the reason for many of the sales that happen on the show floor. Of course, a good portion of all visitors are retailers of some sort. Brick-and-mortar shops, hypermarkets, store chains, online retailers, boutiques, exporters and importers all attend Bazaar Berlin in order to put down their orders for next year.
Past editions
Bazaar BERLIN 2021
03.11.2021 - 07.11.2021
BAZAAR BERLIN 2020
04.11.2020 - 08.11.2020
Cancelled because of COVID-19.
BAZAAR BERLIN 2019
06.11.2019 - 10.11.2019
16,000
SQ M of Exhibition Area
BAZAAR BERLIN 2018
07.11.2018 - 11.11.2018
16,000
SQ M of Exhibition Area
How to get to Bazaar BERLIN

On Foot
1h 45 min walking distance or 30 min with a bike from Berlin Hauptbahnhof
1h 45 min walking from Berlin-Tegel Airport or 30 min bike ride

By Car
~25 min car ride from Berlin HBF
~20 min from Berlin-Tegel Airport

By Public Transport
S-Bahn Nr 3 or 9 will get you from Berlin Central Station to S Messe Süd Station for 15 min and then you have 5 more minutes by foot
Option 1 from Berlin-Tegel Airport: bus X9 for 6 stops to Berlin Zoologischer Garten and then S3 or S9 to S Messe Süd (Berlin) ~35 min
Option 2 from Berlin-Tegel Airport: bus TXL for 2 stops to the Station on Beusselstraße OR bus X9 (2 stops to Jungfernheide Station) and then S42 to Messe Nord/ICC (Witzleben) ~40 min
Hotels
Venue