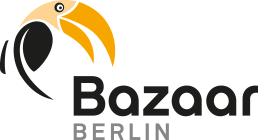 Bazaar BERLIN
Berlin, Germany
Book Hotel Online for Bazaar BERLIN
Book Now
Event Update
Bazaar BERLIN 2024 will be hosted as a live trade show between 06.11.2024 and 10.11.2024. The event will take place in the Expo Center City in Berlin. The event site will not include Covid-19 safety precautions due to the removal of the country's pandemic-related limitations.
A Brief Overview of Bazaar Berlin
Whether you want to find retailers in Germany or meet with your customer base in person, Bazaar Berlin is the platform you need. The international trade fair has been going strong for sixty years now and provides exhibitors with the necessary visibility to break into the German market. Every year, Bazaar Berlin showcases the latest trend in design and material not just in the region, but the whole world. It's the perfect platform to position your products and generate a high volume of direct sales and sales orders.
Book hotels for Bazaar Berlin without going over budget. GETA ltd believes business travel needs to be affordable, which is why you get affordable hotel rates no matter how much you can spend. Our team knows its way around Berlin and provides clients with a choice in hotels and hostels at every price point. Enjoy fantastic savings and a short commute to the event. You get to stay in a comfortable hotel in the vicinity of the Expo Center City and be a short walk away from public transport connections. Large groups are more than welcome as we have experience with working with groups of twenty people and larger.
Give us a call now to plan your entire trip to Berlin and learn all about the extra services we offer! You can come to us to arrange airport transfers, book rent-a-cars and build your exhibition stand.
Why Your Visit Is Worth It
Bazaar Berlin is designed to help international brands find their distributor networks and clients in Germany. There's a great interest in creative visions from all over the world and it's a small cost to rent a booth. Even with the pandemic, visitor rates have been more than generous. Just take a look at the numbers from last edition:
220 international exhibitors
30 countries
19,000+ visitors total
Industry Profile
Running since 1962, Bazaar Berlin has been the main procurement platform for house and home in Germany, where international brands are placed front and centre. The international trade fair celebrates the true diversity in design and craftsmanship every year in November. Thousands of people attend the annual editions at the Expo Center City. There's everything you might imagine under one roof as the product assortment includes handicraft, jewellery, accessories, clothing, design products, home textiles, organic and ecological products and toys among many more.
The whole product assortment is split in the following zones:
World Market: It's where customers come across a rich assortment of products from other cultures. Here is where you find African drums, fashion from South America, textiles from Asia, arts and crafts from Europe, jewellery from all over the world
Natural Living: products here facilitate physical and emotional wellbeing. From organic food and natural cosmetics and textiles to Ayurveda and wellness products.
Fair & Social: fair trade & socially produced goods. The mix of products is more than satisfactory with products from local workshops with a social background as well as internationally operating companies.
Art & Style: unusual design, individual fashion, jewellery and accessories
Winter at Home: it's never too early to decorate for the holiday season and this is where you find decorations, gift ideas and treats.
Who Are You Going to Meet?
Bazaar Berlin has one of the most international roster of exhibitors. Among the many brands that exhibit are Ait Ougaram El Hassane, Kashmir Treasuries, Kein Schmetterling, GAZARCH Group, Gonzales Ortega Miguel, Greenpeace and Excel Arts Inc. The majority of visitors are German in nature due to the open format of the trade fair.
The general public is encouraged to attend and the individual buyers are the reason for many of the sales that happen on the show floor. Of course, a good portion of all visitors are retailers of some sort. Brick-and-mortar shops, hypermarkets, online retailers, boutiques, exporters and importers, and store chains all attend Bazaar Berlin in order to put down their orders for next year.
Additional Value of Attending
Bazaar Berlin, known for its focus on highlighting international creators from all backgrounds, presents captivating live fashion shows that are always a delight to witness. These fashion shows serve as a platform for up-and-coming talents to showcase their creations, find due recognition and visibility, and connect with buyers from all over Europe. The fashion shows are an incredible tool to create awareness for smaller designers trying to make their debut in the industry. Plus, the live show in Berlin crowns a single winner!
The 2022 edition of Bazaar Berlin witnessed the triumph of Heang Porchhoung, whose collection 'The Masked' captured the attention and admiration of the seven-member jury. Porchhoung's collection featured bags crafted from naturally dyed hand-woven fabrics, repurposed car tires, vegan leather and intricate wood carvings by local artisans. The unique blend of materials and the artistic craftsmanship impressed the jury, leading to Porchhoung's selection as the deserving winner.
The excitement was palpable when Heang Porchhoung's bag collection was announced as the winning creation. Alongside Porchhoung, other winners of the fashion show include Mao Phyra, Roth Sreypa, Chea Simkeang, Heng Chakriya, Cheat Monysopor, and Phirum Channica Samphos, whose remarkable designs and creative vision also earned recognition.
In addition to the live fashion shows, it is important to emphasise the significance of the virtual Bazaar Berlin fashion week. Since 2017, Bazaar Berlin has been actively supporting the training of Cambodian designers through the develoPPP program, a collaboration between the DEG (German Investment and Development Company), suPPPort Ltd., and the Fashion Design Institute (FDI) in Düsseldorf. This initiative has nurtured the talents of 21 participants who have gone on to create exceptional collections of bags, accessories and clothing. In a world fashion that's looking beyond what it finds familiar, this initiative succeeds in introducing fresh points of view.
A distinguished jury comprising experts from the Fashion Design Institute Düsseldorf, suPPPort Ltd., and Bazaar Berlin will carefully evaluate the creations of the Cambodian designers. The jury's discerning eye will determine which designer will have the honour of showcasing their collection in person at the upcoming Bazaar Berlin event, adding another layer of anticipation and excitement to the vibrant fashion scene.
Past editions
Bazaar BERLIN 2023
08.11.2023 - 12.11.2023
Bazaar BERLIN 2022
02.11.2022 - 06.11.2022
90+%
of the participants were pleased with the edition
90+%
of the participants would recommend the event
Bazaar BERLIN 2021
03.11.2021 - 07.11.2021
BAZAAR BERLIN 2020
04.11.2020 - 08.11.2020
Cancelled because of COVID-19.
BAZAAR BERLIN 2019
06.11.2019 - 10.11.2019
16,000
SQ M of Exhibition Area
How to get to Bazaar BERLIN

On Foot
1h 45 min walking distance or 30 min with a bike from Berlin Hauptbahnhof
1h 45 min walking from Berlin-Tegel Airport or 30 min bike ride

By Car
~25 min car ride from Berlin HBF
~20 min from Berlin-Tegel Airport

By Public Transport
S-Bahn Nr 3 or 9 will get you from Berlin Central Station to S Messe Süd Station for 15 min and then you have 5 more minutes by foot
Option 1 from Berlin-Tegel Airport: bus X9 for 6 stops to Berlin Zoologischer Garten and then S3 or S9 to S Messe Süd (Berlin) ~35 min
Option 2 from Berlin-Tegel Airport: bus TXL for 2 stops to the Station on Beusselstraße OR bus X9 (2 stops to Jungfernheide Station) and then S42 to Messe Nord/ICC (Witzleben) ~40 min