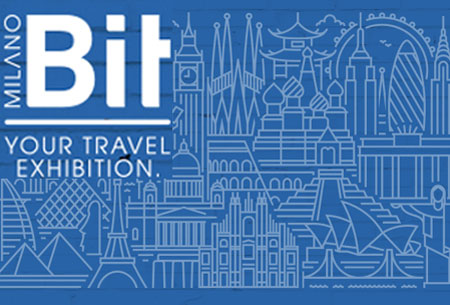 BIT - INTERNATIONAL TOURISM EXCHANGE
Milan, Italy
Book Hotel Online for BIT - INTERNATIONAL TOURISM EXCHANGE
Book Now
A Brief Overview of
BIT
In Europe, there's only one event that travel and tourism professionals make a point to attend and that's BIT. The international trade fair influences modern trends in travel and destination, and is a source of inspiration for many tour operators and travel agencies. Every edition delivers a fresh new perspective and keeps its fingers on the pulse of global trends. Plus, BIT is the main procurement platform in Italy. You're in the right place when it comes to generating sales leads.
The upcoming edition of BIT in 2024 is expected to bring in record numbers now that the travel sector is fully back online, so start early on planning your business trip. Don't have a hotel booked yet? GETA ltd shows you all the great venues in Milan, Italy and arranges your whole stay. We're flexible in our work. You'll get a great hotel that's a short distance from Allianz MiCo, whether you travel solo or in a large group. You're guaranteed excellent prices and connections to public transportation. Once you've gotten a hotel reservation for BIT, check out our other services. Do you need meeting rooms? An airport transfer? A rent-a-car? We have you covered.
Why Your Visit Is Worth It
BIT is the preferred choice for exhibitors when it comes to reaching the maximum audience for their products and services. You're ensured that you'll meet with relevant buyers positioned in all major markets worldwide. The quality of sales leads is quite high and visitors are heavily invested in making purchases. The trade show performs especially well with stellar numbers:
1700+ exhibitors

13,000+ sq m of exhibition area

27,000+ trade visitors
Industry Relevance
BIT, the International Tourism Exchange, has been the centre of major changes and transitions in the world of tourism and travel. The annual trade fair arrives early each year at the Allianz MiCo in Milan, Italy and showcases the top trends and innovations for the industry. The most remarkable thing about BIT is the fact that as an event it's meant to constantly change and adapt to the demands of the market. You get the full participation of high-profile experts, institutions, universities and major multimedia platforms, which translates to high knowledge exchange and superior sales leads for exhibitors.
Travel is always in a state of flux, and the pandemic has certainly left a deep mark on the industry – one which the tourism sector is still recovering from. Now BIT has an even bigger role to play as a platform to recuperate, compare notes and strengthen relationships.
The product portfolio covers all major product categories such as digital products, leisure, luxury travel, sports, wedding tourism and religious tourism. Exhibitors showcase everything from new business proposals, new routes, ideas for holidays and travel inspirations right down to training, infrastructures, attractions, destinations, institutions, brokers, recruitment and carriers.
Who Are You Going to Meet?
The audience in attendance represents all related intermediaries of tourism products such as travel agencies, tour operators and hotel chains. There are, of course, professional congress organisers, marketing and services for tourism and media companies. Finally, with Italy being one of the top travel destinations worldwide, BIT pulls in international buyers of Italian products and services.
The hosted buyer program secures the attendance of serious buyers from all over the world with the biggest numbers travelling from the USA, Spain, France, Canada and Germany. Exhibitors are also introduced to potential buyers from Poland, Brazil, Saudi Arabia, the United Arab Emirates and the Netherlands.
On the exhibitor side, you have associations, tourism attractions, cruise and shipping companies, destination management companies, tourist boards, Italian promotion organisations, universities, event locations, travel agency networks, accommodation facilities and transport. The exhibitor catalog features Guida Viaggi, Prosecco Hills, Varese, Alugha, Terme Catez, AMP, CIRELLI Wine Glamping, Turismo Verde, ESPERCI and AD HOC Travel.
Additional Value of Attending
To better position exhibitors and drive attention to relevant offerings and programming, BIT has three special areas:
LEISURE: This is the big area meant for networking for exhibitors and buyers via a system of pre-arranged appointments. Exhibitors are also able to connect with travel enthusiasts, who are eager to learn all about destinations and travel ideas.

BETECH: Here is where all companies that provide business & networking services with an emphasis on exclusive digital and social content.

MICE VILLAGE: This area services the needs for the events, meetings and conferences sector at large.
Perhaps the biggest reason why BIT succeeds as a procurement platform is its exceptional Buyer Program that's invite only and rewards loyal buyers with special services and perks. All the major decision makers from the Travel, BeTech and Mice sectors are encouraged to return year after year through immaculate matchmaking, B2B meetings, access to the buyer lounge and its facilities, and a curated experience.
The buyer program is aimed at companies with a significant procurement volume of travel services (such as accommodation, air tickets, tour packages) or events in several destinations outside their home country. Examples of this would be wholesalers, OLTA, outbound tour operators and travel agents, associations, MICE professionals, corporate travel and wedding planners.
The support programme impresses with its diversity and deep dives into specific challenges faced by the industry today. One big topic is the digital transformation swiping through the industry as well as the role of technology. You'll learn all about useful applications of 4.0 technologies and augmented reality. The Digital Nomads event looks at the shift in traveller philosophy, which creates new challenges for destinations now that the segment of remote professionals has blown up since the pandemic. The metaverse is also one of the many new tools considered to give perspectives on the real world through a virtual experience.
The conferences and lectures have a lot in store overall such as:
The idea and role of "useful" travellers;

The era of bleisure – now that business travellers blur the line between business trips and leisure.

Sustainable practices and digitalisation

A focus on the Made-in-Italy brand – an overview of the future of Italian tourism
Past editions
BIT - INTERNATIONAL TOURISM EXCHANGE 2023
12.02.2023 - 14.02.2023
BIT - INTERNATIONAL TOURISM EXCHANGE 2022
10.04.2022 - 12.04.2022
BIT - INTERNATIONAL TOURISM EXCHANGE 2021
09.05.2021 - 11.05.2021
Edition was held digital to prevent the fast spread of COVID-19.
How to get to BIT - INTERNATIONAL TOURISM EXCHANGE

On Foot
from Milan Central Station - too far away
from Malpensa Airport - too far away

By Car
from Milan Central Station - 38 min car ride (17.4km)
from Malpensa Airport 39 min ride

By Public Transport
from Milano Centrale Railway Station take an RV train (2024 Torino Porta Nuova) fro 9 min to Rho Fiera Milano Station and then walk another 12 min
from Malpensa Airport there is no suitable transportation