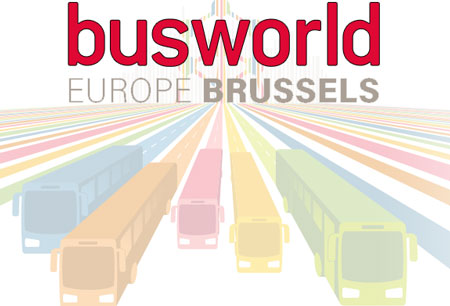 Busworld Europe
Brussels, Belgium
Book Hotel Online for Busworld Europe
Book Now
Event Update
04.10.2025 to 09.10.2025 will be busy days for Busworld Europe, as it will be marking its 51st edition as a live international trade show for bus and coach. Brussels Expo in Brussels, Belgium will be hosting the momentous event without instating the latest COVID-19 prevention protocols. This is due to the removal of the country's pandemic-related limitations.
A Brief Overview of Busworld Europe
Busworld Europe opens its doors in Brussels, Belgium to present visitors the cutting-edge concepts and solutions for the bus and coach sector. The international trade show targets the full value chain from ready automobiles to automotive parts and interiors. Open to professionals and the general public, it creates a lively atmosphere where you can build brand recognition and strengthen your positions in international markets easily.
GETA ltd specialises in hotel accommodation for exhibitions and works all over the world. We've sent thousands of exhibitors to the biggest trade shows and know how to plan the perfect business trip. A large database of hotels in Brussels ensures you always find the most affordable hotel rates during Busworld Europe. Tell us your budget and leave your hotel reservation to us! Our team is on standby to handle any request and GETA ltd offers a variety of other travel services. Whether you are travelling with a few people or in a large group, you stay in a comfortable hotel close to the Brussels Expo. Keep your commute short and your expenses to a minimum!
Why Your Visit Is Worth It
Busworld Europe makes perfect sense for any local manufacturer and service provider, who looks to enter new markets and receive attention from bigger buyers. It's the beating heart of Europe and generates strong business every single edition. All costs to rent space and travel quickly come back to you in the form of qualified leads. Plus, the change in location opened doors to a brand new chapter in the trade show. Here are the numbers from the last live edition:
511 international exhibitors from 37 countries;
39,798 international visitors from 143 countries;
300+ members of the press;
Thousands more at the 34 press conferences held during the event.
79,000 sq. metres of exhibition space
Industry Profile
Busworld Europe was first hosted back in 1971 – a fact that makes the exhibition officially the oldest in the entire world to be specifically targeted towards the coach and bus sector. Another factor contributing to the exhibition's popularity is its open door policy to both business visitors and the general public. It's important to note that the event originally ran in Kortrijk and starting in 2019 Busworld Europe moved to Brussels Expo in Brussels, Belgium. The move resulted in an even larger trade show, which allowed new-time exhibitors to join the ranks. This, in turn, led to the increase in visitors as a whole.
In terms of product categories, you're spoiled for choice since every link in the supply chain is accounted for. The exhibition halls and outdoor areas showcase the best in buses, coach minibuses, intercity buses, double-deckers, articulated buses, diesel buses, battery electric, fuel cells, engines, HVAC, chassis, windows, IT, software, interiors, transmissions and spare parts.
Busworld Europe explores how public transport can increase mobility for a lot more people all the while keeping the impact on the environment to a bare minimum. Each new edition strives towards making advancements in sustainability! As a result, the trade show charts the continuous evolution of electrification. Electric drivelines, batteries, autonomy, kWh and charging possibilities are all front and centre!
The trade show has been so successful that it has led to satellite events in key markets all over the world – India, Turkey, Russia, Central Asia, Southeast Asia, North America & Latin America.
Who Are You Going to Meet?
Each Busworld Europe edition breaks into three themes spread around the exhibition space – coach and bus builders, accessories, public transportation and tourism. This effectively means you are going to meet with manufacturers, suppliers and tourism representatives to create a fully comprehensive picture of the value chain at this moment. Exhibitors are from a variety of regions – you have companies from Turkey, Finland, Sweden, Romania, Italy, Germany, Poland and the Netherlands to name a few. In terms of names, you can expect big names like Mercedes-Benz to showcase their latest vehicles.
The audience divides itself into two. The one most relevant to exhibitors are potential buyers of buses and coaches and purchasers in the bus automotive industry. These would be bus and coach operators, public transport companies, airports and schools. They attend in order to research what's on the market and make purchases from companies like Mercedes-Benz, MAN Truck & Bus, Van Hool, Setra, Yutong and Volvo.
The other group are skilled workers and other professionals, who attend in order to learn and refine their skills. These would be engineers, R&D staff, researchers, operator federations, automotive federations, educational institutions, academics, authorities and mobility experts. They come for the excellent informational programme.
Additional Value of Attending
Yes, Busworld Europe connects supply to demand in a way that's not possible anywhere else, but that's not all. You can learn from the best experts in the world of mobility for the bus and coach industry. The International Bus Conference has been going strong since 2013 and delivers lectures and presentations from top professionals. The conference is a joint project between UITP, VIAS, ICBinstitute, Ghent University, GNVA and the American Bus Association. All sessions zoom in on autonomous buses, the implementation of Mobility as a Service and the ongoing digitalization, the way towards low and zero emission bus services and the future of SMEs. It's definitely the big highlight of Busworld Europe along with finding out the winners of the Busworld Awards for vehicles and non-vehicles.
Past editions
Busworld Europe 2023
07.10.2023 - 12.10.2023
95%
of exhibitors were pleased with the event
Busworld Europe 2019
18.10.2019 - 23.10.2019
BUSWORLD EUROPE 2017
20.10.2017 - 25.10.2017
How to get to Busworld Europe

On Foot
it is too far away from Brussel-Centraal and from the airport

By Car
from Brussel-Centraal is a 23 min drive (9km)
from Brussels Airport is a 15 min drive (15 km)

By Public Transport
from Brussel-Centraal walk to station Beurs and take train Nr 3 for 14 stops to Esplanade Station an then you have additional 11 min walk to the fairgrounds
from Brussels Airport walk 21 min to Zaventem Gebouw 9 Station and take Bus Nr 820 for 32 stops to Brussel Madelon Stop and then you have additional 9 min walk to the expo centre