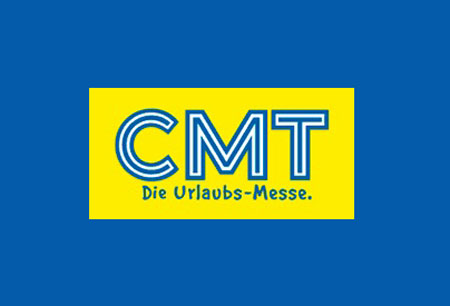 CMT
Stuttgart, Germany
The Latest News
The official dates for the 2024 edition have been selected! Get ready to fly to Stuttgart, Germany from January 13th – January 21st. Organisers have stated that in compliance with the latest government regulations, the venue will not feature Covid-19 safety measures. This is due to the removal of the country's national coronavirus restrictions.
A Brief Overview of CMT
CMT welcomes the whole world of tourism under one roof. Are you a professional looking to get insights into travel trends and grow your network? Do you want to experience an adventure outdoors and on the road? CMT is the place for you. The international trade fair takes place in Stuttgart, Germany and has a long history of defining travel trends and innovations in camping and mobile homes for over 50 years.
Book hotels for CMT in 2023 early on to take advantage of low prices. GETA ltd shows you all the best hotel deals no matter how much you've set aside for travel costs. Complete reservations on the same and enjoy a great location close to the exhibition grounds. Stay in a cosy room close to Messe Stuttgart and keep commuting to a minimum. We always place you close to public transport connections. Are you a bigger group? GETA ltd accommodates as many as twenty people! Come to us for all your travel needs. Our additional services include stand construction, booking meeting rooms and organising airport transfers.
Why Your Visit Is Worth It?
The atmosphere at CMT is unbeatable. The exhibition halls are filled with eager trade buyers and end consumers, who want to plan their next grand adventure. You're sure to get direct feedback from your target audience and generate sales leads. Plus, CMT opens the doors to the EU market in an efficient way. Have your newest products and services debut at CMT to get off to a great start. The trade show is certainly one of the biggest in the industry:
2200+ international exhibitors

300,000+ international visitors

100+ countries represented
Industry Relevance
CMT has been in operation since 1968, which makes it one of the longest-running travel fairs in Germany. This makes CMT a perfect platform to raise your profile as an exhibitor and also dive deep into the travel and tourism industry. The exhibition halls at Messe Stuttgart are dedicated to a rich product portfolio – cruisers, bicycles, towing vehicles, convertibles, offroaders, e-bikes, cars, pedelecs, segways, motor homes, caravans, caravan equipment, tents.
But that's just scratching the surface. Visitors have access to destinations and types of travel from cycling trips and golf to cruise trips! The annual trade fair gives everyone something to look forward to. For the general public, these are the live performances at the Atrium stage and the Holiday Cinema screenings. Professionals can benefit greatly from the programming at the parking space summit.
Who Are You Going to Meet?
The exhibition halls are filled with products and equipment from first-rate brands like blissmobil, Sunlight, Hymer, Concorde, GOLDSCHM TT, SARDEGNA and BAFANG. Germany leads the numbers of exhibitors, but you also have exhibitors from other major European markets – Spain, France, the Netherlands, the UK. CMT welcomes exhibitors from as far away as Jamaica, China, Japan, Indonesia and the Philippines.
The professional audience is varied. Tourist organisations, associations, spas and health resorts, tour operators and travel agencies, travel facilities, leisure facilities and accommodation facilities all send representatives to investigate and close deals. The biggest portion of the audience are private visitors, who are mostly interested in camping and the caravan lifestyle.
Additional Value of Attending
Companies that have innovative products and services they want to bring to a larger audience are welcome at CMTrend. The travel sector thrives on innovation and new creative approaches so start-ups do incredibly well at this special area. Exhibitors are more likely to get noticed in this special area and also have opportunities to pitch their products and give short talks on the concepts that will change how we travel and plan holidays in the first place. If you fall into this category, you're on the right track to form lasting partnerships, find investors and get your name out there.
Since there are so many different ways to enjoy leisure time and travel, CMT has taken steps to highlight and promote specific markets and special travel topics. Over the course of the two CMT weekends, visitors can visit three separate subsidiary shows. The first weekend is dedicated to cyclists, nature lovers and adventurers. The second weekend looks at two separate groups – golfers and lovers of sea holidays, who appreciate cruises and yachting.
Are you going to make an important announcement? Organisers have made it possible for brands to organise press conferences in the Press Center. CMT is regularly visited by over 1500 accredited journalists on average, so holding press conferences is a good strategy to get the most coverage at the event. Messe Stuttgart provides exhibitors with rooms in the Press Center; parliamentary-style seating for a maximum of 30 persons and 6 to 8 speakers; and basic technical equipment. What you have to do is issue invitations to your press conference. Organisers handle the rest of the listing when your press conference will take place. Messe Stuttgart also provides companies with the tools to successfully organise training courses and meetings.
The support programme has much to offer to both trade visitors (seminars, presentations and talks) as well as the general public. One of the events that's been a consistent hit is the CMT School Day – an educational event for school pupils, who will play and learn. The topic is their home region, Baden-Württemberg, and the event features puzzles, quests and questions. After all the excitement, pupils can enter a raffle and win terrific prizes.
German-speaking visitors can look at the rich selection of travel films. You'll see beautiful reports from both filmmakers and travellers, who give out helpful advice on how to plan a holiday and tell beautiful stories about the places they've been. Maybe you prefer a little bit of excitement and culture. Then we suggest you make your way to the Atrium, which is packed with live acts from around the world. If you're wondering where to travel next, why not get to experience their culture first through live music, shows, demonstrations, acrobatics, folklore and exotic sensations.
Past editions
CMT 2023
14.01.2023 - 22.01.2023
CMT 2021
23.01.2021 - 31.01.2021
Cancelled because of COVID 19
CMT 2020
11.01.2020 - 19.01.2020
124,000
SQ M of Exhibition Area
CMT 2019
12.01.2019 - 20.01.2019
124,000
SQ M of Exhibition Area
How to get to CMT

On Foot
Stuttgart Airport - 7 mins via Flughafenstrasse
Stuttgart Hbf – not advisable

By Car
Stuttgart Airport - 1 min via Flughafenentlastungsstraße
Stuttgart Hbf – 20 mins via B27

By Public Transport
Stuttgart Airport - not available
Stuttgart Hbf - 40 mins via S-Bahn S2 or S3