CMT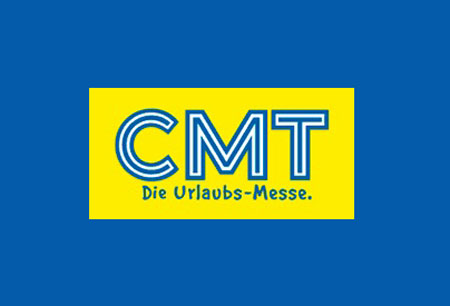 CMT
Germany, Stuttgart
A Brief Overview of CMT
CMT welcomes the whole world of tourism under one roof. Are you a professional looking to get insights into travel trends and grow your network? Do you want to experience an adventure outdoors and on the road? CMT is the place for you. The international trade fair takes place in Stuttgart, Germany and has a long history of defining travel trends and innovations in camping and mobile homes for over 50 years.
GETA ltd makes sure you find the right hotel for CMT. We're experts in accommodation for trade fairs and have all the contacts in Stuttgart, Germany. It takes one consultation and you'll have the best deals in town at your fingertips. Tell us your budget. Tell us how many rooms you need. We handle the rest. You can have your hotel booking close to Messe Stuttgart within a single business day and make savings.
Why Your Visit Is Worth It
Whatever your goals may be, CMT makes for an ideal opportunity to achieve them. The trade fair is at the heart of the European travel market, so you have access to markets in the EU. You're also in a perfect position to reach a wide audience. The statistics are more than great:
• 2200+ international exhibitors
• 300,000+ international visitors
• 100+ countries represented
Industry Relevance
CMT has been in operation since 1968, which makes it one of the longest-running travel fairs in Germany. This makes CMT a perfect platform to raise your profile as an exhibitor and also dive deep into the travel and tourism industry. The exhibition halls at Messe Stuttgart are dedicated to a rich product portfolio – cruisers, bicycles, towing vehicles, convertibles, offroaders, e-bikes, cars, pedelecs, segways, motor homes, caravans, caravan equipment, tents. But that's just scratching the surface. Visitors have access to destinations and types of travel ranging from cycling trips and golf to cruise trips! The annual trade fair gives everyone something to look forward to. For the general public, these are the live performances at the Atrium stage and the Holiday Cinema screenings. Professionals can benefit greatly from the programming at the parking space summit.
Who Are You Going to Meet?
The exhibition halls are filled with products and equipment from first-rate brands like blissmobil, Sunlight, Hymer, Concorde, GOLDSCHM TT, SARDEGNA and BAFANG. Germany leads the numbers of exhibitors, but you also have exhibitors from other major European markets – Spain, France, the Netherlands, the UK. CMT welcomes exhibitors from as far away as Jamaica, China, Japan, Indonesia and the Philippines. The professional audience is varied. Tourist organisations, associations, spas and health resorts, tour operators and travel agencies, travel facilities, leisure facilities and accommodation facilities all send representatives to investigate and close deals. The biggest portion of the audience are private visitors, who are mostly interested in camping and the caravan lifestyle.
The Latest News on COVID
Landesmesse Stuttgart GmbH is happy to announce that CMT is returning as a physical edition at Messe Stuttgart in 2022. The international trade fair had to run as a digital event in 2021, which was successful in keeping the conversation going, but now is the time to reboot the industry with a live event. The official dates have been selected! Get ready to fly to Stuttgart, Germany on January 15th – January 23rd. Organisers have finalized their COVID-19 hygiene concept for the fair and promise cutting-edge protective measures in place. Health and safety come before all else. Visitor compliance is expected!
Past editions
CMT 2021
23.01.2021 - 31.01.2021
Cancelled because of COVID 19
CMT 2020
11.01.2020 - 19.01.2020
124,000
SQ M of Exhibition Area
CMT 2019
12.01.2019 - 20.01.2019
124,000
SQ M of Exhibition Area
How to get to CMT

On Foot
Stuttgart Airport - 7 mins via Flughafenstrasse
Stuttgart Hbf – not advisable

By Car
Stuttgart Airport - 1 min via Flughafenentlastungsstraße
Stuttgart Hbf – 20 mins via B27

By Public Transport
Stuttgart Airport - not available
Stuttgart Hbf - 40 mins via S-Bahn S2 or S3
Hotels
Venue