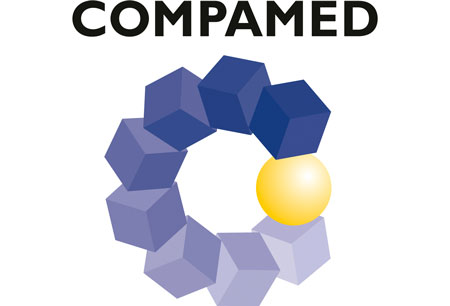 COMPAMED
Düsseldorf, Germany
Event and Venue Setting Update
COMPAMED's 2024 edition will occur as a live exposition at Messe Düsseldorf. It will coincide with MEDICA's 2024 edition that will take place between 11.11.2024 and 14.11.2024. The venue will not feature the latest COVID-19 prevention measures due to the removal of the country's pandemic-related limitations.
A Brief Overview of Messe Düsseldorf
Messe Düsseldorf is an exhibition centre that was founded in 1947. It is relocated to its present-day location in 1971. It has a total hall capacity of 248,000 m2 and hosts 23 main trade fairs including MEDICA and COMPAMED. Messe Düsseldorf received over 1,500,000 visitors on an annual basis.
Industry Relevance
COMPAMED is among the medical technology industry's leading events. It takes place every year and coincides with MEDICA. The trade fair occurs in Düsseldorf at Messe Düsseldorf. Founded in 1992, COMPAMED is among the central stages for debuting medical technology innovations. Many professionals additionally visit the trade fair to discuss the newest challenges. Medical product developers, suppliers, and manufacturers attend COMPAMED. So do professionals visiting the coinciding MEDICA.
Why Your Visit Is Worth It?
COMPAMED receives a diverse group of participants during its annual events. It is also among the trade fairs that feature high participation numbers. For instance, its 2020 edition received more than 1,500 exhibitors and over 45,000 trade visitors. Likewise, its 2021 edition featured over 46,000 trade visitors and over 3,500 exhibitors. The number of attending nations is 169. The visiting countries include:
UK

Czech Republic

China

Greece

Albania

South Africa

Russia

Finland

Pakistan

Singapore

Italy

Taiwan

Puerto Rico

Indonesia

Spain

Belgium

Slovenia

Mexico

Croatia

Malaysia

Thailand

Germany

Canada

Ireland

Hungary

UAE

Belarus

Netherlands

Saudi Arabia

Portugal

Romania

Poland

France

Japan

Egypt

San Marino

Iran

Ukraine

Slovakia

Sri Lanka

Algeria

Lebanon

Estonia

Monaco

Sweden

New Zealand

India

Kazakhstan

Tunisia

Argentina

Colombia

Austria

Bosnia and Herzegovina

Israel

Serbia

Bulgaria

Turkey

Denmark

Lithuania

Georgia

Latvia

Peru

South Korea

Luxembourg

Norway

Australia

Switzerland

Norway
Participants of the trade show include medical technology professionals. This includes representatives from sectors such as:
medicine

dental medicine

ophthalmic optics

health.
Who Are You Going to Meet?
COMPAMED features a diverse participant group. Among the attending are production and technical procurement managers. Attendees also include packaging specialists and medical technology exhibitors from the coinciding MEDICA. Engineers, technicians, and heads of R&D departments also attend. So do design engineers, packaging/qualification/validation specialists. Examples of attending companies include AB Medical Co and Aalto Bio Reagents Ltd.
What is Included in the Event Programme?
By attending COMPAMED medical technology professionals can complete a variety of business goals. Such include expanding their specialist knowledge and networking. Furthermore, the fair enables companies to raise brand awareness and gain recognition. COMPAMED is also among the medical technology industry's central procurement and business platforms. Because of this, attendees can conduct business, including closing important deals.
Attendees can complete such goals through a variety of sub-events. Such include conferences, forums, matchmaking/networking events and an exhibition. The exhibition is one of COMPAMED's leading sub-events. It is the presentation stage for leading companies and innovative start-ups. The exposition features the latest manufacturing tools, raw materials, components, and services. It is also the central showcase stage for the newest software, hardware, and nanotechnology solutions. The exhibition features several product categories. These are:
Component Manufacturing services

End product services and manufacturing

Equipment for manufacturing

OEM equipment, components, and modules

Microtechnology, electrical and electronic components

Adhesives and raw materials

IT and software
The sub-event can provide professionals with opportunities to complete vital business goals. Such include networking, closing procurement deals and gaining recognition. Learning about the latest trends is furthermore among the goals professionals can achieve. For the task, attendees can observe the presented innovations.
The networking and matchmaking events enable professionals to gain recognition and network. They also provide the means for specialists to expand their knowledge. Among the sub-events that grant such opportunities are various informative forums. These include the High-Tech Forum, the Suppliers Forum, and the Innovation Forum. The High-Tech Forum is the central learning platform for medical manufacturing suppliers. It is where specialists can learn about manufacturing supplies and small equipment. This includes topics related to new materials, microsystems and nanotechnologies. Production techniques are also among the discussion subjects. Topics include smart sensor solutions, printed electronics, laser, and photonics applications. They additionally include micro-precision, processing and manufacturing. Also, the discussion subjects include microfluidic solutions related to diagnostic challenges. The High-Tech Forum features a series of micro-events. Such include pitches from innovative companies, often followed by networking sessions. Also, it features Q&A sessions that discuss challenges, solutions, and markets. Expert panel discussions are also among the High-Tech Forum's micro-events. Speakers at the Forum include experts such as Dr Thomas Dietrich.
The Supplier Forum is among the leading sub-events in COMPAMED's support programme. It serves as the meeting location for process chain manufacturers. Such include materials, electronic components, additives, and other such specialists. The discussion topics include manufacturing processes, innovative materials and design or usability aspects. They also feature new markets, mechanical and electronic components, additive manufacturing and cybersecurity. Discussion topics additionally include wearables and regulatory affairs. The Innovation Forum is an essential sub-event for medical technology companies. It serves as the central presentation stage where such companies can learn about the latest challenges and innovations. The Forum also allows professionals to network with high-tech medical technology developers. The Forum discusses topics related to the motto of its current edition. For instance, the 2021 maxim was "Microfluidics for Mobile Diagnostics". The topics of discussion included microfluidic platforms and flow control management strategies. The Innovation Forum consists of a series of discussions. Each session features an expert such as Dr Holger Becker initiating a debate. During such sessions, challenges are addressed and identified. Attendees can also learn about or suggest solutions to them.
For various medical technology professionals, COMPAMED is invaluable. Such include manufacturers working in the industry and its related sectors. Such sectors include medicine, dental medicine, ophthalmic optics, and health. Packaging, qualification and validation experts should also consider attending. Additionally, production and technical procurement managers should opt to visit. Likewise, design, R&D, and production department engineers ought to consider attending. It also applies to R&D or production technicians and the heads of such divisions.
Your Hotel Accommodation in Düsseldorf
GETA ltd takes charge of your business travel accommodation, so you can save time. All we need to find you the best hotel deals is a price range, hotel type and preferences. We work with all manner of hotels in Düsseldorf from luxury brands to affordable bed-and-breakfasts. Whether you are travelling with a few people or in a larger group, we can book you a hotel for COMPAMED that minimises expenses and delivers the comfort you deserve!
Event times and City Logistics
COMPAMED's hosting location is Messe Düsseldorf. The trade fair occurs once per year and coincides with MEDICA. The fair takes place for four days. Partners such as IVAM and DeviceMed aid in the organisation of sub-events. During all four days of the fair, the visiting hours are between 10 am and 6 pm.
Messe Düsseldorf is among the city of Düsseldorf's leading exhibition centres. It is a trade show location that is easy to access from different city districts. This is due to the site's extensive public transport connections. These enable reaching the site with ease. Such links include public transports such as taxis, buses, metros, and trains. The travelling times from your location to the venue can vary. For instance, you will access the site in 18 minutes when travelling by bus from Dusseldorf Airport. The same route has a travelling time of 11 minutes when using a taxi or car. The metro commuting time from the central railway station to the venue is 25 minutes. The same distance has a travelling time of 20 minutes when commuting via taxi. Travelling from cities close to Düsseldorf to the venue also saves time. For instance, the travelling time from Cologne to the site via car or train is 60 minutes. Likewise, should you opt to travel from Neuss, the commuting time via bus and metro will be 40 minutes.
Düsseldorf is among Germany's popular tourist destinations. This is due to the metropolis' importance as a historical centre and vital trade fair location. Because of its importance, the city features diverse dining and accommodation options. Many city districts, for instance, offer hotels, hostels, guest houses and apartments. Such a variety enables you to choose the accommodation that will suit your needs. Likewise, Düsseldorf has many restaurants, beer gardens, and nightclubs. You can also opt to dine at bars, breweries, cafés, bakeries, market stalls, and teahouses. Neighbourhoods worth consideration are Hafen, Flingern and Oberbilk. They also include Friedrichstadt, Pempelfort and Kaiserswerth.
Past editions
COMPAMED 2023
13.11.2023 - 16.11.2023
75%
of visitors were from abriad
80%
of visitors were executives
COMPAMED 2022
14.11.2022 - 17.11.2022
75%
of visitors were from abroad
COMPAMED 2021
15.11.2021 - 18.11.2021
COMPAMED 2020
16.11.2020 - 19.11.2020
Edition was held digital to prevent the fast spread of COVID-19.
18,300+
Exhibited Innovative Products
300
Participants at the peak of Web Sessions
45,000+
Professional Visitors
78%
Were international Trade visitors
430
Conference Area Speakers
360
Individual Programme Points
COMPAMED 2019
18.11.2019 - 21.11.2019
11,000+
SQ M of Exhibition Area
How to get to COMPAMED

On Foot
from Dusseldorf Hbf is 1h 30 min walk or 30 min with a bicycle
1h 5 min with a walk or 25 min with a bike

By Car
from Dusseldorf Hauptbahnhof the ride will take you 30 min (~9 km)
from the airport there are only 15 to 20 min (~9km)

By Public Transport
From the Dusseldorf Central Station U-Bahn Nr U78 will get you there for 26 min
From Dusseldorf International Airport to Messeplatz you need to change transport with either of this 3 options:
- From Airpot Terminals A/B/C: 6 stops with Bus 760 to Freiligrathplatz and then U78 to MERKUR SPIEL-ARENA/Messe Nord and within 7 min walking distance you will reach the Messe*
- SB51 from Flughafen Terminal A/B/C to Theodor-Heuss-Brücke and then with U78 to MERKUR SPIEL-ARENA/Messe Nord and within walking distance you will reach the Messe*
- from Terminals A/B/C take bus 721 for 6 stops to 'Am Hain', transfer to bus 722 for another 4 stops to Messe Congress Center and within walking distance you will reach the Messe*
* every choice will take you from 30 to 40 min