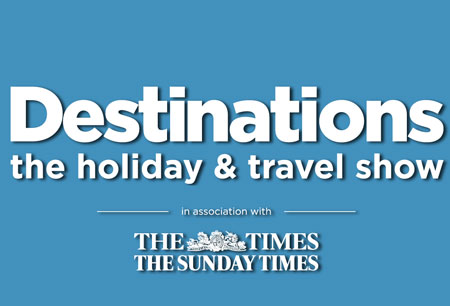 Destinations Manchester
Manchester, UK
Book Hotel Online for Destinations Manchester
Book Now
Event Update
Destinations Manchester 2024 will be hosted as a face-to-face exhibition between the dates of 11.01.2024 and 14.01.2024. The hosting location will be the Royal Geographical Society in London. At present, there are no safety precautions will have to adhere to during their participation. However, it is highly advisory that they wear face masks in indoor areas such as the exhibition halls.
A Brief Overview of Destinations Manchester
Destinations Manchester returns bigger, better and further improved to Manchester, UK to show a passionate audience the latest and best in destinations around the world. This international tourism fair is the definitive stop for eager travellers looking to craft perfect holiday and travel plans and discover what gems around the world are worth visiting. Destinations Manchester opens doors to the world of travel and connects travel brands to a thriving, ever-growing community invested in having a great time abroad. If you want to carve out a niche for your own services, this is where to do it with great results.
GETA ltd ensures you get the best hotel booking for Destinations Manchester ahead of everyone else. We save you time, effort and money in providing you quality accommodation for trade shows. For over a decade we have sent thousands all over the world and we have a large database of hotels, apartments and hostels in Manchester. Give us a budget and leave the rest to us. You'll be able to discover the most affordable prices for hotels close to EventCity Exhibition Centre and complete your reservation within hours. It will take you minutes to reach the exhibition centre. Plus, you'll be located near public transport connections.
GETA ltd has developed a whole portfolio of travel services to create the perfect business trip. See our rates for stand construction, airport transfers and rent-a-cars.
Why Your Visit Is Worth It
International travel is an industry that never sleeps and today, there's more to see, experience and appreciate all over the world. Now that the travel restrictions have been dropped post-COVID, the interest in tourism has skyrocketed as people are making up for lost time. Destinations Manchester provides the space for all relevant players and decision makers to stay in touch.
As an exhibitor, you tap into new markets and network freely with travellers. Invest in a fair booth and return home with a boost in sales. The numbers are more than excellent:
200+ independent travel brands

30+ tourist boards

75,000+ international visitors (Destinations Manchester and Destinations London together)
Industry Relevance
Destinations Manchester, held annually at the EventCity Exhibition Centre in the vibrant city of Manchester, UK, is Great Britain's largest and most established tourism fair. As a premier event for travel enthusiasts and holidaymakers, it offers consumers the perfect platform to make informed decisions about their upcoming travel plans and holidays. With a wide range of exhibitors, including tour operators, travel agents, airlines, tourist information organisations and places of special interest, visitors have the opportunity to explore an extensive array of destinations and travel options.
Destinations, in association with The Times & The Sunday Times, has a rich history as a tourism benchmark. For over a quarter of a century, it has earned the trust of travellers and established itself as a leading consumer event in the travel market. It successfully branched off with a sister event in London. Together, both shows attract over 75,000 active, affluent travellers each year.
Exhibiting at Destinations Manchester provides businesses with direct access to a large and diverse customer base actively planning and booking their journeys for the year ahead and beyond. It presents an excellent opportunity to generate bookings on site during the fair and in the post-show period. Additionally, participating in the show enables businesses to build brand awareness, align with prestigious travel publications like The Times and The Sunday Times, and benefit from the extensive marketing campaign promoting the event.
Whether visitors are looking for adventure, relaxation, cultural experiences, or beach getaways, Destinations Manchester caters to every taste and preference. The event showcases tourist boards, tour operators, travel agents, and airlines, providing ample opportunities for visitors to research, plan, and find inspiration for their dream holidays. Here's what visitors can discover:
Activity & Adventure

Caravan & Motorhome hire

City break

Cruise

Culture & Arts

Escorted tours

Exclusive resorts & hotels

Family

Gastronomy

Holiday homes

Nature & Outdoor

Overlanding

Publications

Rail

Relaxation & Beach

Safari & Wildlife

Ski & Snow

Solo travel

Spa & Wellbeing

Sustainable & Ethical travel

Tailormade

Tour operators

Tourist boards

Walking, Trekking & Hiking
The show not only features travel experts but also welcomes celebrities, travel photographers and explorers. All share their tales and expertise to inspire the audience's next adventure. Visitors can tap into the in-depth knowledge of professionals to tailor and book their ideal getaways.
Who Are You Going to Meet?
Destinations Manchester attracts a diverse and affluent audience of travel enthusiasts, who tend to be financially stable and ready to spend money on their outings no matter where they travel next. The average age of the visitors falls within the range of 58 to 71 years, representing a demographic with a wealth of life experiences and ample free time to embark on longer, more substantial trips.
Attendees are dedicated to planning and investing in their dream holidays, which you can directly trace on the amount of money spent during their visit. On average, each visitor plans to spend a significant £6,684 on vacations per person in the coming year. The total estimated spend on travel by Destinations Manchester visitors in 2023 amounts to an impressive £207 million, further highlighting the significant economic impact of the event on the travel industry.
Destinations Manchester's audience represents a segment of society characterised by their affluence and financial prosperity. A substantial 86% of visitors fall within the top 3 ACORN categories, namely Affluent Achievers, Rising Prosperity and Comfortable Communities.
The show's influence on purchasing decisions is not to be ignored as 82% of visitors express that they attend the fair with the explicit intent of buying from the brands they meet at Destinations Manchester. Furthermore, 91% of attendees are inclined to recommend the brands they encounter to friends and family. Satisfaction rates are also impressive with 88% of visitors confirming that they will return to Destinations Manchester in early 2024. The high level of satisfaction speaks to the power of the fair as a superior market and economic engine in the travel industry in the UK.
Past editions
Destinations Manchester 2023
12.01.2023 - 15.01.2023
Destinations Manchester 2021
14.01.2021 - 17.01.2021
How to get to Destinations Manchester

On Foot
Manchester Airport – not advisable
Manchester Piccadilly Station – not advisable

By Car
Manchester Airport – 15 mins via M60
Manchester Piccadilly Station – 16 mins via A56

By Public Transport
Manchester Airport – 1hr10mins via Transpennine Express and 250
Manchester Piccadilly Station – 47 mins via 250