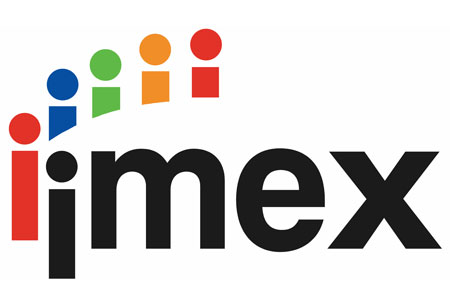 IMEX
Frankfurt am Main, Germany
Event Update
IMEX's 2024 edition will take place as a live event between the dates of 14.05.2024 and 16.05.2024 at the Messe Frankfurt in Frankfurt, Germany. The venue will not feature safety measures related to Covid-19 due to Germany removing its related domestic regulations in April 2022. Participants will be encouraged to adhere to safety guidelines, such as performing regular hand sanitation. Currently, Germany does not have a 3G travel limitation in place.

A Brief Overview of IMEX
IMEX continues the proud tradition of sharing the latest emerging trends worldwide and reporting the hottest developments in the exhibition industry and convention industry. The international exhibition industry has chosen Frankfurt, Germany, as its new stage for a three-day run. Organisers expect thousands of trade visitors to learn all there is to learn about incentive travel, meetings and events, and conduct business in a conductive environment.
GETA ltd chooses hotels that are tailored for your needs – save on your travel expenses, position you close to the exhibition centre and cut down on your commute. Business travel becomes easy to plan when you have us to deliver your hotel reservation for IMEX. Once we're sure to get you the optimal prices, we make sure your hotel booking online is well connected to underground lines and bus stops. It will take you minutes to arrive at Messe Frankfurt.
Why Your Visit Is Worth It?
Business and further education go hand in hand at IMEX. You can grow your client list as easily as you can sit down to take in all the relevant industry information as part of the support program. We bring you data from the last edition to illustrate our point that IMEX is the go-to meeting point for the exhibition industry:
9000+ total participants including exhibitors;
2800+ hosted buyers and visitor buyers;
42,000+ appointments made on average;
160+ countries represented;
250+ educational sessions;
10 tracks
Industry Relevance
IMEX has dedicated itself to always existing at the forefront of creative approaches to hosting fairs and events, all the while serving as the launch pad for the latest technologies. It's this mixture of functions that makes it an authority in the field. Held every single year, there's an IMEX held in May in Frankfurt and an autumn edition that takes place in Las Vegas, Nevada, USA in October.
The product range and topics at IMEX extend to incentive travel, presentation equipment, event planning, event management, event technology, car hire, catering services, conference centres, exhibition centres, flights, accommodation and transport services. The educational tracks offer all visitors seminars, workshops, campfires and bite-sized show-floor education. It's the surest way to stay relevant in the industry.
Who Are You Going to Meet?
The IMEX held in Germany predominantly functions as a meeting point for professionals in the industry located within Europe and the surrounding regions. As far as the structural background is concerned, exhibitors often are providers that align themselves somewhere along the value chain – hotels, incentive and event agencies, convention centres, meeting and conference planners, event companies and the list goes on. As an exhibitor, you're more interested in finding out who you'll be able to strike partnerships with. IMEX draws professionals in different capacities be they senior business travel managers and marketing managers or event planners from agencies.
Additional Value of Attending
If you have a ticket to IMEX, you have a ticket to the impressive education programme. There are hundreds of seminars, research and practical workshops, campfire sessions and partner education. No matter what event you attend you'll get a good dose of new ideas, plentiful inspiration, insight and innovation. The four major events here are She Means Business, Agency Directors Forum, Association Focus and Exclusively Corporate. These specialist forums cover the entire breadth of subject matter covering the entire value chain.
The Agency Directors Forum: The forum targets small to mid-size agencies and is meant to provide smaller players with necessary strategic advice to address business challenges. You're able to attend by invitation only and after the event, you'll have a chance to meet with corporate executives from Exclusively Corporate for a reception before heading to another networking event.
She Means Business: The forum has three pillars - diversity, gender equality and female empowerment. Far from women-only, the forum welcomes everyone in order to achieve true gender parity in the workplace. The attached Inspiration Hub puts participants in contact with inspiring speakers on crucial issues facing women today.
Exclusively Corporate: This forum provides education and networking exclusively to corporate executives working outside the events industry. The target audience is professionals who organise meetings and events in their respective companies. Programming aims to give participants the skills and knowledge to excel in their job through case study-led education, peer-to-peer discussion and networking.
Association Focus: The final forum in this list targets association leaders or association events professionals, who have to service their respective association in the context of the pandemic. The conditions are less than ideal and current challenges are unprecedented. Of course, programming covers education and business networking events for association professionals. You'll get practical instructions on how to deliver events in a hybrid world.
A big-ticket event during IMEX is the Future Leaders Forum, which is organised in conjunction with MPI and MCI. The purpose of the forum is to guide talented students into a career in the event and meetings industry. The forum is open to hospitality, event or tourism management students in their final course year. Students are able to see what a career in the industry looks like and speak to inspirational industry experts. For the over 100 students in attendance, this is their first form of networking and since 2003, the Future Leaders Forum has launched many successful careers.
The programme is spread over two days and features roundtable discussions with experts, practical advice on how to enter the industry, advice on networking skills and access to the show floor for individual study and findings. All in all, students go through a professional boot camp to get them ready for the professional world after graduation.
IMEX continues to be a source of valuable information and insights even during its off season via the IMEXfiles. This newsletter is your direct line to the community and everything that's taking place between editions. Over 50,000 global meetings industry professionals are getting updates on the newest trends and hot topics, upcoming events for your calendar, business news, inspirational content, and more. You get the newsletter once every month in English and German.
Past editions
IMEX 2023
23.05.2023 - 25.05.2023
55 000
Business appointments
IMEX 2022
31.05.2022 - 02.06.2022
IMEX 2020
12.05.2020 - 14.05.2020
Cancelled because of COVID 19
IMEX 2019
21.05.2019 - 23.05.2019
IMEX 2018
15.05.2018 - 17.05.2018
How to get to IMEX

On Foot
From Hauptbahnhof - 20 min
From Frankfurt Airport – 35 min with a bike

By Car
From Frankfurt Main Station - 10 min
From Frankfurt Airport - 20 min

By Public Transport
From HBF S-Bahns with numbers 3, 4, 5 or 6 will all get you to Messe Frankfurt for 11 min
From Frankfurt Airport with ICE, S8 or S9 for 35 min to HBF and then S3, S4, S5 or S6 for 11 min