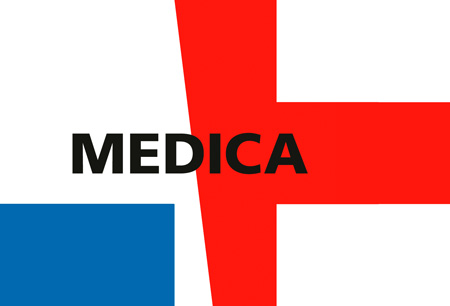 MEDICA
Düsseldorf, Germany
Event and Venue Setting Update
MEDICA 2024 will take place between 11.11.2024 and 14.11.2024. The format of the event will be face-to-face, and it will take place alongside COMPAMED 2024. The hosting location of the events will be Messe Düsseldorf. The live events will not feature strict Covid-19 safety protocols. This is due to Germany lifting its pandemic-related restrictions.
A Brief Overview of Messe Düsseldorf
Messe Düsseldorf is one of Germany's oldest event centres. It is a leading trade fair site founded in 1947. The exhibition centre relocated to its current location in 1971. The total hall capacity of the messe is 248 000 m2. Messe Düsseldorf is the hosting location of around 23 leading events. Such include events such as MEDICA. Many events focus on sectors such as medicine, fashion, trade, machinery, and leisure. Due to its popularity and location, the venue receives more than 1,500,000 visitors every year.
Industry Relevance
MEDICA is an annual trade show that occurs at Messe Düsseldorf, one of Germany's leading venues. It is among the medical industry's central events and procurement platforms. This is due to the show being among the leading trend and innovation presentation stages. Furthermore, MEDICA is often the main meeting location for the various industry sectors. Such include the pharmacy, medical technology, and health sectors. They also include dental medicine, ophthalmic optics, and sports medicine segments. Also, the fair is among the industry's leading learning and recognition-providing locations.
Why Your Visit Is Worth It
MEDICA is one of the leading events for the medical industry. Due to its significance, it tends to receive an impressive number of professionals. For instance, the 2019 edition of the fair received a total of 120 000 visitors and 6398 exhibitors. Exhibitors and visitors at the fair represent more than 60 countries. Among them are nations such as:
Italy
Belarus
Turkey
Germany
Tunisia
Serbia
Canada
Lithuania
Japan
Finland
Poland
Egypt
Brazil
Ukraine
Czech Republic
China
Singapore

Kazakhstan
Hungary
Russia
Croatia
Portugal
Thailand
Spain
France
USA
Belgium
San Marino
UK
Israel
Iran
Pakistan
Romania
South Korea

Luxembourg
Taiwan
Bulgaria
Switzerland
Sweden
United Arab Emirates
Slovenia
India
Bosnia and Herzegovina
Netherlands
Estonia
Denmark
Puerto Rico
Austria
Slovakia
Norway
Greece
As mentioned, several medical industry sectors attend MEDICA. Among them are medicine, dental medicine, sports medicine, and medical technology. They also include the ophthalmic optics, health, and pharmacy industries.
Who Are You Going to Meet?
MEDICA is an international trade fair that receives an impressive number of participants. Such include professionals such as:
General practitioners
Cost unit experts
Hospital doctors
Nursing staff
Medical specialised traders
R&D specialists
Medical institutes
Professional medical associations
Medical industry manufacturers
Medical industry service providers
Medical Industry distributors
Anaesthesiologists
Pharmacy technicians

Dermatologists
Massage therapists
Hearing aid specialists and dealers
Speech/occupational therapy staff
Emergency medical specialists and staff
Radiologists
Neurology specialists
Substance abuse service providers
Chiropractors and acupuncture specialists
Health service providers
Nursing home staff

Ambulatory health service providers
Wholesale drug distributors
Laboratory managers
OEMs
Hospital and technical managers
Medical assistants
Legislators
Universities, colleges, vocational schools
Dentists, orthodontists, periodontists
Athletic trainers

Optometricians
Physiotherapist practitioners
Care Centres
Science and research experts
Oncologists
Vocational rehabilitators
Pharmaceutical specialists, including manufacturers
Opticians
Surgeons
Home health aides
Health and Personal care store owners/managers
Exhibiting companies include Ace Medical Devices Pvt Ltd and Summus Medical Laser LLC. They additionally include Blue Ocean Robotics ApS and GPC Medical Ltd. Likewise, attending companies feature Beijing Aeonmed Co., Ltd. CLINIMED LLC and H-Robotics also attend as exhibitors. So does the Fraunhofer Project Center for Stem Cell Process Engineering.
What is Included in the Event Programme?
MEDICA is a fair that enables professionals to complete several vital business aims. This includes expanding their specialist knowledge. This includes learning about the latest industry developments and innovations. Additionally, the fair allows experts to gain recognition by presenting innovative products. MEDICA is also an event that promotes networking and overviewing the attending industries. This includes meeting potential partners/customers and observing competitors.
MEDICA is an international trade fair that features a comprehensive support programme. This includes a series of five conferences and three conferences. These allow professionals to expand their specialist knowledge, network and gain recognition. Each of the forums and conferences features leading experts as speakers. This includes specialists such as Dr Markus Leyck Dieken. Also, each of the sub-events focuses on a different aspect of the medical industry. Each focus aspect features a sub-set of subjects. The five Forums are Health IT, Connected Healthcare, LabMed, ECON and Tech Forum.
The Connected Healthcare Forum attracts professionals interested in connected and mobile healthcare. This includes innovators, leading companies, key investors and R&D institutes. At the Forum, professionals learn about novel mobile and connected healthcare technologies. This includes the presentation of innovations created by start-ups, scale-ups and leading companies. The Forum features a series of sub-events. The sub-events include 2 competitions, the Forum, and the MEDICA Disrupt.
The featured 2 competitions are MEDICA Start-up Competition and the Healthcare Innovation Cup. The MEDICA Start-up Competition enables start-ups or scale-ups to gain recognition. It is a championship that commends innovations of many types. Such include:
Health apps
Diagnostic approaches
Advanced robotics
Healthcare data collection tools
AI-enabled analytics
The award package the Competition provides is quite comprehensive. It includes the right for winners to attend as speakers at the fair's latest edition. Also, it features access to extensive global media coverage and free-of-charge marketing packages. Additionally, winners receive monetary prizes of up to 3500 Euro. They will furthermore receive expert advice for scaling-up, go-to-market or other business aspects. The Start-up Competition can grant recognition to companies, researchers, and developers. All competitors should note that the Competition features six determining criteria. The rating criteria are Innovation level, Technological feasibility and marketing and go-to-market approach. They also include potential time to market, commercial potential and sustainability.
The Healthcare Innovation Cup resembles in some aspects the Start-up Competition. It can provide recognition to start-ups and scale-ups including companies, developers, and researchers. The award package features monetary prizes, speaker attending rights and free development kits. The evaluation criteria are the same as for the Start-up Competition. Yet, the Healthcare Innovation Cup commends innovations such as IoMT devices and wearables. It also lauds AI and big data analytics, digital prevention or diagnostics solutions. Likewise, novel health monitoring, Femtech, Welltech, Braintech and hospital solutions can take part.
The MEDICA Disrupt is among the Connected Healthcare Forum's leading sub-events. It is a series of 100 pitches during which start-ups present their solutions to investors. The Forum itself features expert speakers addressing different mobile and connected healthcare subjects. These include Robotics, Mobile Health, Digital Prevention, and Neuromedicine. They also include Planetary and Public Health, as well as the Internet of Medical Things.
The Health IT Forum is also among MEDICA's main learning and meeting sub-events. The Forum is the main gathering location for investors and digital healthcare pioneers. It is a sub-event consisting of expert panels, deep-dive sessions and tech talks. The Forum takes place for four days, with each of the days featuring a central theme. For instance, the themes of the Health IT Forum's 2021 edition were:
Fields of Innovation
Digital therapeutics & virtual care
Robotics & medical artificial intelligence
Fields of innovation
The societal aspects of a digitised healthcare
As mentioned, each central theme features a series of sub-subjects. Digital therapeutics for instance provided information about web-based and mobile healthcare. Robotics featured the current state of data-driven research in the medical industry. The Fields of innovation focused on the latest biomedical platform developments. And the Societal aspects discussed subjects such as new work ideas. Each of the lecture types features a different set of formats. This allows professionals to determine what type of lecture versions will be of help to them. For instance, the deep-dive sessions can be scientific lectures or exemplary company presentations. The expert panels can be keynotes, presentations, Q&As, or moderated panel discussions. The Health IT Forum also features an exhibition area. It is the showcasing location for universities and research institutes.
The MEDICA LabMed Forum is also among the main learning platforms of MEDICA. It gathers in one place laboratory medicine experts, health policymakers, and press members. Laboratory medicine experts include doctors, healthcare providers, laboratory assistants and others. The Forum focuses on subjects such as metagenomics & metabolomics, immunity, and vaccination. Furthermore, the discussion topics include leading laboratory medicine trends and cardiac diagnostics. Oncology liquid profiling and immune therapies are also among the discussed subjects. As are integrative/AI-driven diagnostics, immunity testing and next-generation biosensing.
Attendees of MEDICA can also take part in the ECON Forum. It is a sub-event hosted by partner Techniker Krankenkasse (TK). ECON gathers in one location professionals interested in healthcare trends and developments. It is also the networking location for medicine, politics, science and business experts. Subjects of discussion include digital supply, health policy changes, digitalisation and others. The sub-topics include electronic patient record 2.0 and others. The Tech Forum allows healthcare market experts to network with clinical practice specialists. The Forum discusses subjects such as modern clinical practise procedures and methods. The topics additionally include healthcare enterprise integration, cross-vendor networking and global healthcare markets. Professionals can also learn about subjects such as MDR implementation.
The three conferences featured in MEDICA's support programme are:
Medicine+Sports Conference
German Hospital Day
International Conference on Disaster and Military Medicine (DiMiMED)
Sports physicians, scientists, athletes, and physiotherapists attend the Medicine+Sports Conference. It presents new injury prevention, rehabilitation, and regeneration approaches. It additionally presents performance medicine and personalisation innovations. Clinic and health policy decision-makers attend the German Hospital Day. It discusses subjects related to hospital personnel & organisation management, financing, and digitalisation. It consists of practice-oriented lectures and presentations that emphasise health policy/hospital challenges. Such include optimal bed utilisation, secure collaboration in healthcare and others. DiMiMED gathers in one location around 200 military medical or public health professionals. Among them are military and civilian experts, medical planners or researchers. They also include defence and disaster policymakers. Topics included in the discussion feature emergency pre-hospital patient care.
Attendees of MEDICA can furthermore visit various special shows. Among them are MEDICA Start-up Park and the Wearable Technologies (WT) Show. They additionally feature the Matchmaking Lounges. Such special shows enable professionals to gain recognition, expand their knowledge and network. The WT Show presents the innovations of over 40 wearable technology co-exhibitors. It showcases wearable patient care, mobile monitoring, mobility problems and chronic diseases innovations. Also, co-exhibitors showcase novel rehabilitation wearables that prevent and treat injuries. Likewise, attendees of the fair can examine innovative Welltech or Femtech wearables. The WT Show additionally presents novel wearables distribution, sensors, platforms, and material solutions. The Matchmaking Lounges are among the central networking locations for professionals attending MEDICA. The Lounges consist of meeting stands where participants can organise meetings. MEDICA Start-up Park is the networking location for digital pioneers, decision-makers and experts.
MEDICA also features a comprehensive exhibition. It enables over 5000 exhibitors to gain recognition, conduct business onsite and network. It features 8 product categories for ease of product finding. The exposition is among the main procurement sources for many professionals. This is due to the comprehensive range of available wares. The categories featured at the exhibition include:
Medical services and publications
Information and communication technology
Diagnostics
Physiotherapy / Orthopaedic technolog
COMPAMED Product categories
Commodities and consumer good
Electromedical Equipment/Medical Technology/Imaging and diagnostics/medical equipment & devices
Laboratory Technology
The exhibition also features around 150 Joint Stands. These are presentation stands that allow exhibitors to showcase their electromedical wares. Often, the exhibitors represent different nations. Countries that exhibit include Germany, China, the USA, Brazil, and Italy.
Your Hotel Accommodation in Düsseldorf
GETA ltd takes charge of your business travel accommodation, so you can save time. All we need to find you the best hotel deals is a price range, hotel type and preferences. We work with all manner of hotels in Düsseldorf, from luxury brands to affordable bed and breakfasts. Whether you are travelling with a small or large group, we can book you a hotel for MEDICA that delivers comfort!
Event times and City Logistics
Messe Düsseldorf GmbH organises MEDICA at Messe Düsseldorf every year. The fair takes place for four days, with the visiting hours being from 10 am to 6 pm. Messe Düsseldorf GmbH organises MEDICA with the help of partners such as SPECTARIS.
Messe Düsseldorf is easy to reach due to its proximity to the main transport hubs. For example, you can travel to the venue by taxi, metro, or train from the airport or central station. Depending on your mode of transportation and departure location, travel times will vary. For example, when travelling from the airport by bus, you will arrive at the venue in 18 minutes. When travelling from the central station via the same modes, you will reach the messe in 25 minutes. The exhibition centre is additionally close to cities such as Neuss and Solingen. For example, the S8 and IRE13 public transport lines allow you to arrive at the venue from Neuss in 11 minutes. Likewise, the S1 metro line enables accessing the messe in 22 minutes from Solingen.
Düsseldorf is a leading exhibition city in Germany. Because of its popularity, the metropolis offers many accommodations and dining options. The lodging options include, for example, hotels, hostels, guest houses and apartments. The dining alternatives include restaurants that provide a variety of cuisines. They also feature cafés, nightclubs, bars, markets, and the venue itself. Many of the districts, such as Hafen, offer lodging and dining options. You can also choose to stay in nearby cities, such as Cologne, Neuss, or Solingen.
Past editions
MEDICA 2023
13.11.2023 - 16.11.2023
MEDICA 2022
14.11.2022 - 17.11.2022
75%
of the visitors were from a foreign country
Coincided with Compamed 2022
MEDICA 2021
15.11.2021 - 18.11.2021
MEDICA 2020
16.11.2020 - 19.11.2020
Edition was held digital to prevent the fast spread of COVID-19.
MEDICA 2019
18.11.2019 - 21.11.2019
How to get to MEDICA

On Foot
from Dusseldorf Hbf is 1h 30 min walk or 30 min with a bicycle
1h 5 min with a walk or 25 min with a bike

By Car
from Dusseldorf Hauptbahnhof the ride will take you 30 min (~9 km)
from the airport there are only 15 to 20 min (~9km)

By Public Transport
From the Dusseldorf Central Station U-Bahn Nr U78 will get you there for 26 min
From Dusseldorf International Airport to Messeplatz you need to change transport with either of this 3 options:
- From Airpot Terminals A/B/C: 6 stops with Bus 760 to Freiligrathplatz and then U78 to MERKUR SPIEL-ARENA/Messe Nord and within 7 min walking distance you will reach the Messe*
- SB51 from Flughafen Terminal A/B/C to Theodor-Heuss-Brücke and then with U78 to MERKUR SPIEL-ARENA/Messe Nord and within walking distance you will reach the Messe*
- from Terminals A/B/C take bus 721 for 6 stops to 'Am Hain', transfer to bus 722 for another 4 stops to Messe Congress Center and within walking distance you will reach the Messe*
* every choice will take you from 30 to 40 min