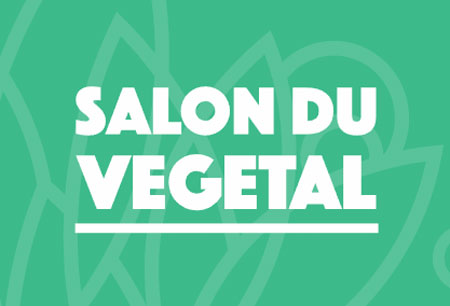 Salon du Vegetal
Angers, France
Book Hotel Online for Salon du Vegetal
Book Now
Event Update
The 2024 edition of Salon du Vegetal will be held as a face-to-face trade fair between 10.09.2024 and 12.09.2024 at the Parc des Exposition d'Angers. Due to France lifting its pandemic-related restrictions, the venue will not feature Covid-19 safety measures.
A Brief Overview of Salon du Végétal
Salon du Végétal drives the movement of centering plants and their properties across all industries starting with food & drinks going through cosmetics all the way to wellbeing and lifestyle. Held in Angers, France, the international trade fair finds itself at the heart of innovation in the vegetal market, which experiences a dramatic increase in popularity. Each edition tracks the new trends in every link in the value chain. It's the perfect blend of B2B networking, an informative programme and a social hub for plant lovers and the general public.
GETA ltd books hotel accommodation for trade shows all over the world and we know what you want for your business trip. A good price and a great location so you make excellent savings and keep commuting to the exhibition centre to just a few minutes. You can count on us to deliver the ultimate experience within your price range. Book hotels near Angers Exhibition Center and enjoy solid connections to public transport. There are great deals on hostels, hotels and apartments in Angers and we know them all.
In addition to your hotel reservation for Salon du Végétal, GETA ltd handles all other aspects of your business trip from rent-a-cars and airport transfers to hiring a team to build your stand.
Why Your Visit Is Worth It
Salon du Végétal is a procurement platform with a long history that's proven time and time again that the fair can effectively move product to international markets. It's created a highly respected professional community and now welcomes everyone that's passionate about plant life as well as its many applications. You have all the latest innovations at your fingertips, as well as access to foreign markets. Have a look at the statistics:
1000+ exhibitors

10,100+ visitors
Industry Relevance
The Salon du Végétal, organised by the Bureau Horticole Régional, has positioned itself as the go-to platform for sourcing, inspiration and innovation in the plant industry. The exhibition halls of the Angers Exhibition Center fill with seeds and adult plants and exhibitors showcase the various uses of plants in a number of sectors such as lifestyle, gardening, floristry, health, wellbeing, food and drinks, and cosmetics. Since its establishment in 1985, Salon du Végétal has continued to grow and push forward its green mission.
The three-day event attracts both national and international participants, offering an exciting and inspirational environment for professionals to gather, explore the latest innovations and network with industry leaders. Most recently, Salon du Végétal is a trade fair that has opened its doors not just to professionals, but the general public as well. Exhibitors can choose between a mixed zone or a trade-only zone based on their commercial goals, ensuring that every participant extracts the most value out of their attendance. Trade visitors and exhibitors enjoy full access to the entire exhibition, ensuring a comprehensive and inclusive experience for all involved.
The exhibition is divided into three sectors: Plants, Equipment, Materials and Inputs, and Services and Sector, presenting a comprehensive range of plant-related products and services. Within the Salon du Végétal, multiple pavilions showcase novel plant species, cutting-edge equipment and specialised services. Here are all the types of exhibitors attending:
Plant retailers & producers,

Plant breeders, seed sellers, seedling producers

Independent & franchise garden centre distribution chains

Service providers

Industry & training bodies

Suppliers of agents, substrates & equipment for selling & arranging plants
Visitors can witness live demonstrations, participate in practical workshops, and engage in networking and educational activities tailored to their specific interests. Noteworthy features of the trade show include the Pixel Garden, the Innovert Competition, and the Green Party, adding unique elements of excitement and engagement to the overall experience.
Participating in the Salon du Végétal offers numerous advantages for professionals in the industry. It provides an opportunity to connect with the entire plant community, both in terms of trade and enthusiasts. The event facilitates the establishment of new contacts and the maintenance of existing relationships with clients. Furthermore, it allows businesses to enhance their image, reputation, and brand positioning among influencers and enthusiasts. By staying up to date with industry trends, attendees can gain a deeper understanding of the market and forge valuable partnerships. Additionally, the exhibition serves as a platform to promote and strengthen industry knowledge and to showcase corporate social responsibility (CSR) policies geared towards a more vegetal and sustainable future.
Who Are You Going to Meet?
Salon du Végétal is the great showcase for French farmers, florists and horticulturists as the sheer demand and popularity of French plants has skyrocketed in the years following the pandemic and now the war in the Ukraine. France has found itself a desirable producer as the French breeds and varietal characteristics have become quite desired by the country's neighbours to the north and east. Naturally, the trade fair attracts large-scale trade structures like Floréac, Royal FloraHolland, Royal Lemkes and Landgard, who are looking to make major purchases.
Buyers are mostly interested in perennials, plants for vegetable gardens, nursery plants and certain cut flowers like anemones and peonies. Organisers have made sure to bring quality sales leads to exhibitors and secure foreign delegations of buyers, which have been curated carefully to embody a very large part of the European trade in plants and flowers. Delegations are only one type of visitor at the Salon du Végétal. Here are all visitor groups:
DISTRIBUTION: Specialist distribution, large retail, large food retail, large DIY retail, e-commerce, floristry, direct sales

ENTHUSIASTS: Informed plant-buyers, gardeners' associations, influencers

INDUSTRY: Buyers of plant materials

PRIVATE PLAYERS: Designers, landscapers, town planners, developers, planners

LOCAL & PUBLIC AUTHORITIES: Decision-makers, operators, project leaders
Additional Value of Attending
The Plant Courtyard serves as the vibrant hub and dedicated exhibition space for plants within the larger show. Positioned in the mixed zone, it welcomes both professionals and non-professional visitors, creating an inclusive environment that fosters connection, exchanges, and sharing. Designed like a lively village square, the Plant Courtyard offers a dynamic ambiance that can shift between energetic and serene moments, catering to the diverse needs and preferences of its visitors.
Past editions
Salon du Vegetal 2022
13.09.2022 - 15.09.2022
Salon du Vegetal 2021
10.02.2021 - 11.02.2021
Salon du Vegetal 2020
08.09.2020 - 10.09.2020
Edition was held digital to prevent the fast spread of COVID-19.
Salon du Vegetal 2019
10.09.2019 - 12.09.2019
SALON DU VEGETAL 2018
19.06.2018 - 21.06.2018
How to get to Salon du Vegetal

On Foot
Angers – Loire Airport (ANE) – not advisable
Gare d'Angers Saint-Laud – not advisable

By Car
Angers – Loire Airport (ANE) – 18 mins via A11
Gare d'Angers Saint-Laud – 15 mins via D523

By Public Transport
Angers – Loire Airport (ANE) – 25 mins via 402-B
Gare d'Angers Saint-Laud – 33 mins via 02