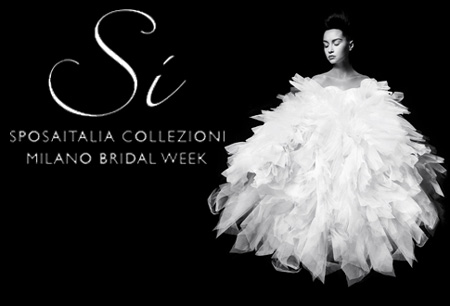 SI SPOSAITALIA COLLEZIONI
Milan, Italy
Book Hotel Online for SI SPOSAITALIA COLLEZIONI
Book Now
Event Update
The 2024 edition of SI SPOSAITALIA COLLEZIONI will be hosted as a live trade show at the Fiera Milano. The hosting dates for the event are set between 05.04.2024 and 08.04.2024. To ensure the safety of attendees, the venue will have the latest Covid-19 safety measures in place, including the newest entry policy. Attendants will have to present before entry documents such as proof of recovery. Such documentation must also be shown upon arrival in Italy due to the instated travel limitations.
A Brief Overview of Sì SposaItalia Collezioni
In the fashion capital of the world, Milan, Sì SposaItalia Collezioni delivers the definitive overview of bridal trends on the runway. Glamour, elegance and traditional tailoring techniques all meet together in an impactful show that keeps bridal professionals and fashion enthusiasts abuzz. The bridal show creates the definitive look of how weddings should look through Italian designers' unique point of view. Keep your fingers on the pulse of fashion trends that hit the runways at MiCo - Milano Congressi.
Plan the perfect trip to Milan with GETA ltd. We're your guide to the top hotels in the city and work with you to book the best accommodation for Sì SposaItalia Collezioni. Hotels close to MiCo - Milano Congressi at Fiera Milano City are always in high demand and sell out fast. Reach out to our team as soon as possible to have first pick of the best hotel deals and discounts. Business travel should not cost a small fortune. We accommodate all budgets and regularly work with groups of as many as twenty people. GETA ltd takes good care of you from the moment you land. Do you need to rent a car? Or arrange an airport transfer? You've got it.
Why Your Visit Is Worth It?
Sì SposaItalia Collezioni creates a moment in the bridal fashion market each year. One which the rest of the world watches intently. It's better to be part of the moment and conversation rather than be left out. The trade fair connects you to a tightknit professional community with a single goal in mind – discover the hottest new collection. The bridal show shines the spotlight on your brand and introduces it to the world.
The latest edition performed exceptionally well:
170 brands showcased
10,000+ international trade visitors few in
1,500,000 views across social media
Industry Relevance
Sì SposaItalia Collezioni is the big appointment for international operators in the bridal sector as a procurement platform and a continuous source of inspiration. The bridal show has breathed life into the Milan Bridal Week as its crown jewel. The trade fair scores high with professionals and retailers alike, who make the trip to Milan every single March to capture the essence of beauty and the new look of weddings. Important to both national and international buyers, Sì SposaItalia Collezioni presents exhibitors with exciting opportunities to network on a global scale.
Each exhibitor embodies talent and quality. One reason that buyers continue to attend is the quality of materials, design and tailoring that goes into each piece on display. Sì SposaItalia Collezioni captures every product group. Wedding dresses are the stars of the show, but the exhibition floors feature everything from wedding suits, formal attire, and decoration accessories. It's here that you get a good sense of what's in and what's out. Last edition's major trends were the transformist dress, the return of sleeves and the corset.
Sì SposaItalia Collezioni has opened a new chapter by introducing three new exhibition areas: Si Bridal Room (meant for boutiques to purchase from designers), Sì Italian Touch (emphasis on high-quality artisan products that are Italian made) and Sì Collections (a selection of the best international brands for the sales outlet).
Who Are You Going to Meet
Sì SposaItalia Collezioni is made all the richer by the presence of established masters in the design and creation of bridal wear – Elisabetta Polignano, My Secret, Michela Ferriero, Maison Signore, Helena, Giuseppe Papini, Enzo Miccio, Allure Bridals, Terry Ilaflà, Amelia Casablanca, Julia Kontogruni and Kigili 1939.
It's no wonder that buyers travel from all over the world. The Italian-based show is the natural go-to meeting point for boutiques and operators in Europe such as Greece, Poland, Germany, Spain, the UK and France. In recent years, Sì SposaItalia Collezioni has found itself rising in popularity with buyers from Asia, though the pandemic has shrunk their participation due to the obstacles to long-distance travel.
Additional Value of Attending
All three days of Sì SposaItalia Collezioni are jam-packed with fashion shows, which reveal the newest collections from the most exciting designers and ateliers. Each day has up to five fashion shows, which are highly effective as promotional tools and stir interest in buyers. Together, all the shows reveal the biggest trends of the year. It's also where many serious buyers take note and make purchasing decisions.
It's all part of the Buyers program, which targets international operators. Buyers get matched with relevant brands and schedule a series of B2B meetings to research new products and place orders. It's the fastest way for exhibitors to meet with potential clients, whose main mission is to form new partnerships. Hosted buyers are boutiques, distributors and department stores, which value high quality tailoring, Italian style, tradition and variety.
The fashion shows are only one tool at designers' disposal when it comes to promoting new dress designs and collections. Bride in the City takes the show out of Fiera Milano City and onto the streets of Milan. Ten models got dressed in the latest and most extravagant designs from premiere brands and took off on a customised sightseeing bus on a trip through Milan's fashion district. On each stop, the models pose for a renowned photographer in front of iconic city landmarks.
The goal of Bride in the City is to show off how brides would look in the real world and highlight the beauty of modern bridal fashion. The photographs are used for promotional materials and the ten dresses are up for display on the exhibition floor. In 2022, the brands that participated in the event were Mysecret Sposa, Giuseppe Papini, Diamond Couture, Michela Ferriero, Amelia Casablanca, Elisabetta Polignano, Luisa Sposa, Creazioni Maria Pia, Maison Signore and Dalin Italian Atelier.
In addition to bridal fashion, there were jewellery sets and accessories provided from HOMI Fashion&Jewels, Ultima Edizione, Carlo Zini, Venticelesti Bijoux and Ornella Bijoux. It's a truly unique experience and way to experience the assortment of fashions on display.
Past editions
SI SPOSAITALIA COLLEZIONI 2023
14.04.2023 - 17.04.2023
SI SPOSAITALIA COLLEZIONI 2022
01.04.2022 - 04.04.2022
20%
Foreign Exhibitor Participation
SI SPOSAITALIA COLLEZIONI 2021
25.06.2021 - 27.06.2021
How to get to SI SPOSAITALIA COLLEZIONI

On Foot
from Milan Central Station is an hour and 15 mibn walk (6km)

By Car
from Milan Central Station is an 20 min drive (5.8 km)
from Malpensa Airport = 34 min (46.2km)

By Public Transport
from Milan Central Station take M2 fro 3 stops to Garibaldi FS then change to M5 for another 6 stops to Portello Station
from Malpensa Airport walk 11 min to the nearest Station "Aéroport de Milan Malpensa T1" and take train R28 for 7 stops to Stazione Milano Porta Garibaldi woch will take you about 42 min total. From here go to the metro station Garibaldi FS and take M5 for 6 stops to Portello Station