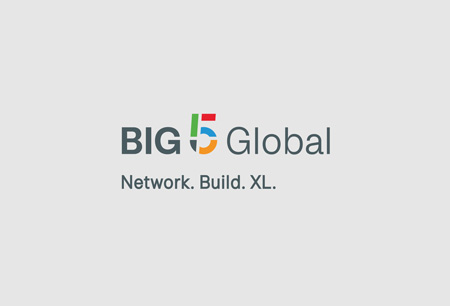 The Big 5 Show
Dubai, UAE
Book Hotel Online for The Big 5 Show
Book Now
A Brief Overview of The Big 5 Show
The Big 5 Show is a successful international trade show in the MENA region dedicated to the building and construction industries, which sees a strong participation from the biggest companies in the world. You have a strong draw from neighbours close to Dubai, UAE, where the show takes place, and senior decision makers from all over the world make it a point to attend the event. It's a major cross-border procurement platform, and attendance can only elevate your brand.
It's a challenge to find suitable The Big 5 Show hotels on your own and GETA ltd has a large database of hotels in Dubai, which meet your criteria and save you on your travel expenses. We can organise your business travel booking in one single day and place you in any area of the city from close to the exhibition centre to hotels near the best cultural landmarks. No matter where you stay, you'll have access to adequate public transport.
Why Your Visit Is Worth It
The MENA region has proven itself a hotbed for innovation and an economy that's quickly gaining its footing among world powers, so it comes as no surprise that The Big 5 Show is the perfect entry point to significant sales opportunities and investments. Take a look at last edition's statistics:
2200+ international exhibitors showcased at the event;
68,000+ international visitors from 140+ countries made the trip;
110,000+ square metres of exhibition space used.
Industry Relevance
The Big 5 Show emerged in the early 1970s as soon as the Dubai World Trade Centre reached completion and five other specialist trade shows came together to form this event. The brand has been so successful as to feature satellite events in Saudi Arabia, East Africa (Kenya), Morocco, Egypt and now Nigeria as well, launching in 2019.
That alone should be proof as to how this show is relevant to your interest to gain a larger client base and increase sales leads from high-profile companies. The exhibition space is divided into five thematic areas - MEP Services, Building Interiors & Finishes, Building Envelope & Special Construction, Construction Tools & Building Materials, and Construct Technologies & Building Automation.
Who Are You Going to Meet?
The Big 5 Show favours big business, but also opens its doors to the general public. In regards to what professionals visit the annual show, we're confident in saying everyone. Trade visitors are a varied group – engineers, distributors, architects, consultants, project managers, contractors, c-level leaders and procurement professionals. This gives you the breadth of contacts you need not just in the short term to generate sales and direct orders, but raise brand awareness and earn you social prestige.
Additional Value of Attending
If you're trying to disrupt the construction world, then this feature will be of great interest to you. Experience exponential growth in the construction industry by embracing innovation, efficiency, sustainability and cost-effectiveness with Start-up City at Big 5 Global. This dynamic platform provides start-ups in the fields of contech, proptech, infratech, and earthtech with the opportunity to showcase their cutting-edge solutions to key stakeholders in the construction sector.
Building upon the established reputation of Big 5 Global, which spans over 40 years, Start-up City offers a superior platform to propel your business forward and validate your innovative ideas on a global scale. Are you ready to launch your start-up to new heights?
Exhibiting at Start-up City opens doors to targeted leads and fresh business opportunities. It allows you to connect and network with partners, investors and industry influencers from around the world. Forge connections with global partners, expanding your reach and creating opportunities for international growth. Gain valuable insights into the rapidly expanding construction industries in the Middle East, Africa, and South Asia, and stay ahead of the curve.
Start-up City focuses on targeted product sectors that provide the brand exposure your start-up deserves. These sectors include smart cities and mobility, AI, IoT, and robotics, digital engineering and BIM, modular construction and 3D printing, virtual reality and geospatial technology, as well as sustainability and smart grids.
As an added bonus, all exhibiting start-ups are encouraged to participate in the highly competitive Start-up City Pitch Competition. This competition puts you in front of elite experts and leaders in the industry today in order to test the mettle of your products. You get to pitch in front of a jury, receive feedback and potentially win a marketing package valued at $25,000. Either way, the pitch competition increases your brand recognition and strengthens your growth hacking plan.
Join the vibrant and forward-thinking community at Start-up City, where innovation meets opportunity. The Big 5 Global exhibition provides the ideal environment for start-ups to thrive, with a global audience eager to embrace groundbreaking solutions. Don't miss your chance to make a lasting impact on the construction industry and catapult your start-up to new heights of success.
Since we're on the subject of innovation, it's important to highlight the event that highlights the groundbreaking work being done and recognise impressive contributions. The Big 5 Global Impact Awards are the way the industry rewards consistent work being done in sustainable development, technological advancements, and digital achievements within the construction industry. These awards aim to celebrate and showcase projects and initiatives that go beyond traditional measures of project delivery, inspiring the construction industry in the Middle East, Africa, and South Asia to strive for higher standards and achieve new goals.
With 19 comprehensive categories, the Big 5 Global Impact Awards cover a wide range of areas that are transforming the construction industry. These categories recognise companies and organisations that are at the forefront of creating smart communities of the future, utilising technology and digitalisation to enable more sustainable construction practices, and driving initiatives focused on inclusion and diversity.
The awards are open to a diverse range of participants, including project owners, construction consultants, contractors, project management companies, engineering firms, developers and architecture firms. An independent panel of recognised industry experts will serve as judges, carefully evaluating the entries and selecting the winners based on their innovation, impact, and contribution to the industry.
Past editions
The Big 5 Show 2022
05.12.2022 - 08.12.2022
$766
Million generated via on-site business
The Big 5 Show 2021
12.09.2021 - 15.09.2021
36,386
business professionals
The Big 5 Show 2020
23.11.2020 - 26.11.2020
Cancelled because of COVID 19
The Big 5 Show 2019
25.11.2019 - 28.11.2019
110,000
SQ M of Exhibition Area
THE BIG 5 SHOW 2018
26.11.2018 - 29.11.2018
110,000
SQ M of Exhibition Area
How to get to The Big 5 Show

On Foot
Dubai Airport – not advisable
Global Village 1 Station – not advisable

By Car
Dubai Airport – 10 mins via Sheikh Rashid Rd/E11
Global Village 1 Station – 20 mins via Sheikh Mohammed Bin Zayed Rd/E311 and Al Ain - Dubai Rd/E66

By Public Transport
Dubai Airport – 15 mins via transport MRed
Global Village 1 Station – not available