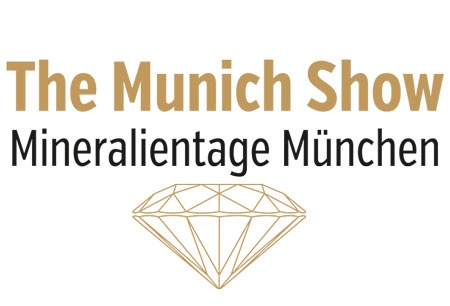 The Munich Show - Mineralientage
Munich, Germany
Book Hotel Online for The Munich Show - Mineralientage
Book Now
Update
The Munich Show – Mineralientage 2024 will be returning with a live trade fair at Messe Munich in Munich, Germany. The hosting dates are set between 24.10.2024 and 27.10.2024. Participants will be able to buy and sell a wide array of nature's mineral wonders in the absence of Covid-19 safety measures for the time being. This is due to the removal of the related pandemic restrictions.
A Brief Overview of the Munich Show
All the richness and diversity of the vast mineral world is showcased at the MUNICH SHOW. It's a double feature event with an area open for the public and trade fair areas for buyers. The MINERALIENTAGE area targets fossils and minerals, and the access-restricted GEMWORLD is meant for buyers in the gem, jewellery, and watch industry. The international trade fair manages to display all the wonders of the natural world as well as fine pieces of craft items. It's an incredible international exhibition that's geared towards introducing supply to demand, which is why it should not be missed. You get to meet senior buyers from all over the world and increase your brand awareness.
Book affordable hotels for the MUNICH SHOW without spending unnecessary time and energy. GETA ltd is an experienced provider of hotel accommodation for exhibitions and works with a big network of hotels, hostels and apartments in Munich. No matter where you want to stay, we'll get you a booking close to public transport. Enjoy rooms close to Messe München and reach the show grounds in minutes. We tailor a unique experience for every trip, and easily accommodate large groups as many as twenty people and over. Complement your reservation for the MUNICH SHOW with many of our other travel services!
Why Your Visit Is Worth It
The MUNICH SHOW holds the special distinction of being the largest mineral show in Europe, which guarantees not just the full scope of exhibits, but also the entire professional community in one room. An excellent prospect for exhibitors as they can hope to match up with potential buyers easily and boost visibility. Before the pandemic, the MUNICH SHOW generated the following numbers:
1250+ international exhibitors from 60+ countries showcased at the event;

40,000+ international trade visitors and members of general public made the trip;

50,000 square metres of exhibition space used.
Industry Relevance
The MUNICH SHOW has been going strong since 1964 and editions are held every single year at Messe München. The way editions typically break down is that there's one day reserved for trade visitors (Friday) and two days, where the general public can come and see the rich assortment of gems and minerals (Saturday and Sunday).
The product categories on display are quite numerous with collector's minerals & high-end mineral specimens, rough stones & cutting material (wholesale), gemstones, jewellery, decoration and interior design with stones, stone art and extraordinary gemstone carvings, fossils and fossilised wood. These are organised within the MINERALIENTAGE and GEMWORLD areas respectively.
What's more every single edition has its own specific theme and numerous special areas like the Young Designers Corner or Collector's cabinets.
The trade fair continues to evolve every year and the pandemic has given organisers the necessary time to plan something special. For 2022, this means the special show "Magic of Stones". The main focus for the show is to display unique cultural treasures and top specimens. Right now, 900 exhibitors have been confirmed to participate and populate an area of 50,000 square metres with everything you could ever imagine. The show will feature cultural historians and come with its very own lecture programme for the curious.
Some of the treasures at the show include an exact replica of the Vienna Imperial Crown from the private collection of Albert Ruppenthal in Idar-Oberstein, a chlorite cup with inlays of shell and carnelian from the Djiroft culture, a Greek ointment vessel made of glass and a sphinx necklace from the Egyptian Pharaonic culture.
Who Are You Going to Meet?
In stark contrast to other shows, the MUNICH SHOW skews towards the general public – families, enthusiasts, amateur jewellers. The show's framework opens you up to a varied crowd of end consumers. Organisers have included a lot of activities for children, and a certain amount of the programming focuses on making your own jewellery. Although in a much smaller way, you still get to make direct sales to a receptive audience. Outside this circle, there are professional collectors who will exhibit their own collections, and possibly scout for brand-new additions.
GEMWORLD, in particular, caters to the needs of visitors from the watch, jewellery and gemstone industries. The show takes place right before the big Christmas season and attracts manufacturers and dealers in great numbers in order to prepare for the holiday shopping period. A new addition to the show is the launch of GEMWORLD CONNECT, which will help carry conversations from the show floor to your mobile device.
Additional Value of Attendance
Outside of minerals and gems, the MUNICH SHOW has also a dedicated audience interested in fossils. Of course, you will discover a lot of vendors selling fossils, but the main attraction is the special Dinosaur area that does a lot of work educating the public. For 2022, the show organised a special fossil show "Dinosaur Isle Museum". Plus, you get impressive skeletons on display as well as a lot of lectures on the topics of dinosaurs. Dino Camp has invited top paleontologists to talk in depth about recent findings and answer audience questions.
Past editions
The Munich Show - Mineralientage 2023
26.10.2023 - 29.10.2023
The Munich Show - Mineralientage 2022
30.09.2022 - 02.10.2022
The Munich Show - Mineralientage 2021
22.10.2021 - 24.10.2021
800+
International exhibitors
How to get to The Munich Show - Mineralientage

On Foot
45 min Bike ride from HBF

By Car
From Munich HBF ~30 min
From Munich International Aiport - 30 min

By Public Transport
From Munich HBF with U2 (13 stops) for 23 min to Station Messestadt West
From Munich International Aiport - S8 to Munich Daglfing Station /1 min transfer to Daglfing Bahnhof Ost/ and then with bus 183 to Messestadt West ~ 55 min