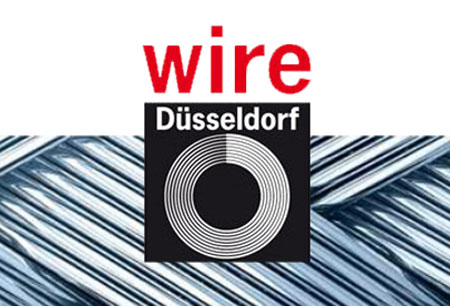 wire
Düsseldorf, Germany
Event Update
Wire industry professionals will have to wait a while longer for the return of Wire. The major international trade fair will be hosted alongside Tube 2024. Messe Düsseldorf will welcome participants between April 15th—April 19th, 2024. Currently, Germany does not have travel restrictions or national Covid-19-related regulations in place. This is due to the improved epidemiological situation. Attendees will not be required to adhere to safety protocols, such as presenting 3G entry documents upon arrival in the country or at the venue.
A Brief Overview of wire
wire concerns itself with the challenges faced by the wire and cable industry, but also celebrates the successes and offers an in-depth view of the entire value chain with multiple presentations on the latest technological innovations on the market. The international exhibition lasts for a grand total of five days, which takes place in Düsseldorf, Germany. This highly specialist event boasts a good turnout as a cross-border procurement platform and is an excellent avenue to seek new market reach.
GETA ltd understands what you need when looking for hotel accommodation for trade fairs and gives you options that both meet your needs and exceed your expectations. You book a hotel room that spares your budget and offers you good access to public transport. Tell us a price range, and we will send you a list of suitable hotels close to the Messe Düsseldorf GmbH. All you have to do is make a selection. Organising business travel can be as simple as that.
Why Your Visit Is Worth It?
Although an incredibly specialist event, wire commands international power as a meeting point between supply and demand. The great relevance of It?and cables to numerous other light and heavy industries boosts the appeal and importance of wire. If you're looking to increase sales numbers, this is where you have to come. Don't believe us?
1400+ international exhibitors from 50+ countries showcased at the event;

42,000+ international trade visitors from 80+ countries made the trip;

105,000+ square metres of exhibition space used.
The numbers we've pulled are from the last live edition prior to the pandemic. In 2022, there are 1000 companies registered to attend wire – a strong sign the industry is ready to recover and that wire is worth all the travel and expenses.
Industry Relevance
wire emerged on the scene in 1986 and remains the go-to destination for exhibitors and suppliers of wires and cables. The exhibition takes place in Messe Düsseldorf with editions spaced out every two years, which are also held in conjunction with tube. This pairing only strengthens the brand and attracts the potential for cross sales. wire has been so successful that it has successfully been adapted in Russia, Thailand and China.
What can you hope to see on display? Everything on the processing chain – cable materials, wire materials, auxiliary materials, control units, controllers, industrial tools, processing machines, manufacturing machines, measuring instruments, and end products. Accompanying the products exhibit is an excellent matchmaking service that facilitates the setting of business meetings.
Right now, the biggest trend making waves in the cable and wire industry is e-mobility. Customers want electric cars and as a result, there's a high demand for high-voltage cables. There's quite a lot happening in the automotive industry, which creates pockets of opportunity for cable and wire manufacturers. Whether it's automating the processing of complex, multi-core cables or automatic quality control, there's an emergent niche for manufacturers. Since 2019, the number of electric vehicles sold in Europe has tripled and the market is only picking up speed. In the upcoming years, wire is only going to become more and more relevant for business networking.
Who Are You Going to Meet?
Since wire is all about fostering business contacts, you want to know where you can extend your direct influence and we're happy to say you can get deep into every major related industry. Apart from the obvious wire and cable industry circles, you get to meet with representatives with senior management positions and purchasing responsibilities from the automotive supply industry; iron, steel and non-ferrous metal industry; electrical industry, construction industry, trade, technical specialist retail trade; skilled trades and chemical industry. wire also happens to be a global event with exhibitors coming all the way from Italy, Belgium, India, China, France, Finland, Spain, the Netherlands, the United Kingdom, the United States, Switzerland and Mexico.
Additional Value of Attending
A lot of the technological shifts and major trends will be discussed further in a series of lectures as part of the Expert Meeting. This event extends to both wire and tube and centers on the cutting-edge achievements of companies at the forefront.
You'll hear from experts working at SMS Group GmbH, Wirtschaftsvereinigung Stahlrohre e.V., Benteler Steel/Tube GmbH, Voß Edelstahlhandel GmbH + Co. KG, Salzgitter AG, thyssenkrupp Steel, thyssenkrupp Material Services Processing, ArcelorMittal, the Heine + Beisswenger Group, Klöckner + Co SE, the Swiss Steel Group, as well as the Federal Association of Energy Storage Systems and Stahlmarkt Consult. They have all the knowledge on what's currently going on with the wire, cable, tube and tube processing industry.
"The steel industry is forging ahead with the green transformation" has been selected as the official motto for the expert meeting.
Past editions
wire 2022
20.06.2022 - 24.06.2022
Coinincided with METAV 2022 and Tube 2022
70%
of particpants confirmed their next-rendition attendance
70%
of visitors were from abroad
75%
of visitors were decision-makeing executives
WIRE 2018
16.04.2018 - 20.04.2018
110.900
SQ M of Exhibition Area
WIRE 2016
04.04.2016 - 08.04.2016
110.900
SQ M of Exhibition Area
How to get to wire

On Foot
from Dusseldorf Hbf is 1h 30 min walk or 30 min with a bicycle
1h 5 min with a walk or 25 min with a bike

By Car
from Dusseldorf Hauptbahnhof the ride will take you 30 min (~9 km)
from the airport there are only 15 to 20 min (~9km)

By Public Transport
From the Dusseldorf Central Station U-Bahn Nr U78 will get you there for 26 min
From Dusseldorf International Airport to Messeplatz you need to change transport with either of this 3 options:
- From Airpot Terminals A/B/C: 6 stops with Bus 760 to Freiligrathplatz and then U78 to MERKUR SPIEL-ARENA/Messe Nord and within 7 min walking distance you will reach the Messe*
- SB51 from Flughafen Terminal A/B/C to Theodor-Heuss-Brücke and then with U78 to MERKUR SPIEL-ARENA/Messe Nord and within walking distance you will reach the Messe*
- from Terminals A/B/C take bus 721 for 6 stops to 'Am Hain', transfer to bus 722 for another 4 stops to Messe Congress Center and within walking distance you will reach the Messe*
* every choice will take you from 30 to 40 min