AHR Expo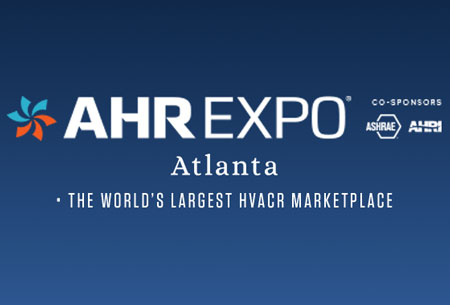 AHR Expo
USA , Atlanta
Covid-19 Update
AHR Expo 2023 will take place from 06.02.2023 to 08.02.2023. The Georgia World Congress Center in the United States will host the face-to-face trade show. For the edition, the hosting venue will put in place the newest Covid-19 preventative measures. This will include policies such as requiring the use of face masks in enclosed areas. Due to recently implemented travel bans, attendees must present 3G papers upon arrival in the USA. Examples of such documents include negative test results and immunisation passports.
A Brief Overview of AHR Expo
The AHR Expo serves as the main meeting ground between manufacturers and buyers in heating, ventilation, air conditioning and refrigeration in the USA. The trade show has a long history and is a guarantee for companies to sell products and make exciting announcements. It's the first place where most of the newest equipment and technologies enter the market. This cements AHR Expo's reputation as a centre for innovation and knowledge.
The upcoming AHR Expo 2023 in Atlanta will be the biggest one yet. Get affordable hotel rates as early as possible. GETA ltd knows where to look to find you the perfect deal located close to the Georgia World Congress Center. You won't have to commute long and you get to cut expenses. From luxury suites to modest singles, GETA ltd satisfies every preference and works with every budget size. Book excellent hotels for AHR Expo with just one phone call.
Why Your Visit Is Worth It
As AHR Expo is at the centre of the American HVACR industry, a booth at the show is a smart investment in terms of better contact and larger orders overall. The trade show creates the perfect environment to generate quality sales leads. Just take a look at the statistics:
• 50,000+ international trade visitors
• 11,000+ first-time visitors
• 1650 exhibitors
• 300 international companies
• 112 countries
Industry Relevance
AHR Expo is an annual event, which normally takes place either in January or February. As with most conventions and trade shows in America, this event travels from city to city—Orlando, Las Vegas, Chicago, and Atlanta. Right now, it is going to be held at the Georgia World Congress Center. AHR Expo also has a sister event based in Mexico. First held in 1930, AHR Expo is a marketplace for the entire value chain. Discover the best in tools & instruments, building automation, cooling, sustainable solutions, heating, indoor air quality, plumbing, refrigeration, software, and ventilation. Aside from its business opportunities, you can sink your teeth into information-packed educational sessions held by top experts talking about everything from environmental protection to strategies in sales!
Who Are You Going to Meet?
The brands you are most likely to encounter include Carhartt Company Gears, Mestek Machinery, Smart Fog Manufacturing, Magnation Water Technologies, Hurst Boiler & Welding Co., Lennox International Inc. and many more. With such prestigious names, you have an incredible crowd of professionals from all related fields. Your booth will receive attention from contractors, consulting engineers, architects, wholesalers, importers and exporters, public utilities, government agencies, distributors, and OEM Designers & engineers. AHR Expo is first and foremost an American show. All 50 states are present at each edition. However, the number of international visitors has been rising steadily over the years. Canada and Mexico have the most visitors, but the show is of interest to European, South American and Asian markets as well.
Previous Editions of AHR Expo
2022 Rendition
AHR Expo 2022 was hosted as a live exhibition at the Las Vegas Convention Center between 31.02.2022 and 02.02.2022. The event featured the latest Covid-19 safety measures, such as a strict 3G entry policy. According to this regulation, attendees had to show before receiving access to the venue documents such as negative test results. Despite the pandemic, the rendition featured 30,678 attendees with 1,573 of them being exhibitors.
Past editions
AHR Expo 2022
31.01.2022 - 02.02.2022
AHR Expo 2021
15.03.2021 - 17.03.2021
Cancelled because of COVID 19
AHR Expo 2020
03.02.2020 - 05.02.2020
How to get to AHR Expo

On Foot

By Car

By Public Transport
Hotels
Venue