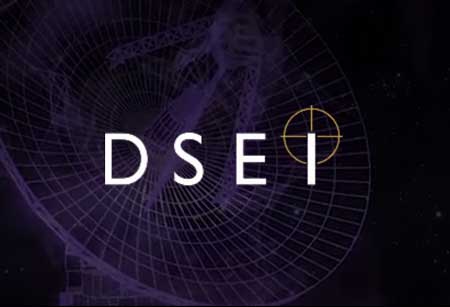 DSEI
London, UK
Event Update
The future of defence systems will be defined at the 2025 edition of DSEI, which will take place with no delays from September 9th until September 12th, 2025 at ExCeL London in London, UK. Organisers have stated that due to the removal of the country's pandemic-related limitations, the venue will not have robust Covid-19 health and safety measures in place.

A Brief Overview of DSEI
The international defence and security sectors congregate in London, UK to oversee new policies as well as buy the latest products and technical innovations. DSEI, as an international exhibition, is quite comprehensive in its product representation, covering the finer aspects of military tech and safety technology. Not only that, but you get to interact with government officials at all levels.
It's simply the place to be and thousands make the journey from all over Europe. That's why you need to book your hotel room for DSEI early and enjoy special discounts and deals. GETA ltd has worked in London for over a decade and knows all the great spots close to ExCeL London. Stay on budget and reduce the time you spend commuting every day. Hotels, hostels and apartments – we have it all! GETA ltd accommodates groups of all sizes. Give us a call and get your booking within one business day. In addition to hotel accommodation during DSEI, GETA ltd offers you a variety of bonus services.
Why Your Visit Is Worth It
DSEI has established a strong reputation within military and defence circles. The fact it's held in London is another point to its credibility and popularity. London is known as a massive economic and business centre, which attracts top tier buyers from key markets. This shows in its attendance numbers:
1600 international exhibitors to showcase and demonstrate equipment and tech;
35,000 international visitors from all levels in the industry set to arrive;
300 world-class speakers will prepare to give talks;
40 international pavilions to experience.
Industry Relevance
Compared to other exhibitions regardless of industry, DSEI is a young one. Having been first held in 1999, the exhibition has entered its second decade, but that doesn't mean it's underdeveloped. The exhibition space is dedicated to over 60 product categories that run the entire spectrum from what's expected (weapons, tactical equipment and ammunitions) to auxiliary needs (emergency equipment, first aid equipment, infrared systems and radar equipment).
Occurring once every two years, the exhibition keeps in step with new frontiers on which war is being fought – electronic warfare, telecommunication systems and high-tech surveillance.
Who Are You Going to Meet?
It's important to know how DSEI functions. As seen above, there's a lot of interest from people in the proceedings and to manage the flow of people the exhibition is sectioned off into the following themed zones — Aerospace, Naval, Land, Security and Joint Zones. This gives you an inkling as to who you're going to meet. First guess would be military personnel, national delegations and other government officials. However, border control, organized crime, trafficking and terrorism are also the subjects of an ever-growing private sector, which is why among the visitors there are going to be influencers, decision makers, military buyers and a whole line-up of VIP guests from public and private sectors that are going to collectively influence the whole industry.
Speaking of top tier buyers, exhibitors have a chance to establish contacts with representatives from Nammo, Qinetiq, Babcock, MBDA, BAE Systems, THALES, FUJITSU, VOLVO, Patria, Chemring Group and Fincantieri.
Additional Value of Attending
DSEI marries showmanship with technological innovations effortlessly. The exhibition puts in a lot of effort in its programming and opening ceremonies. In the past, DSEI opened with the aerial demonstrations from the Royal Air Force Aerobatic Team, the Red Arrows. Another highlight that attendees have come to expect is the appearance of visiting ships. Some are from the Royal Navy and others are international visiting ships, all of which come to showcase upgrades, equipment and perform live demos.
Aside from the five core zones that have been the backbone since the very beginning, DSEI invests in exploring the vast potential of new technologies across a variety of fields. Current editions also feature four groundbreaking hubs – Future Tech (Cyber Security, Networks & Communications, AI, Digitalisation), Manufacturing (supply chain support), Medical (latest life-saving equipment) and Space (space and communications technology).
Technology aside, the support programme is not to be missed! All theatres, forums and sessions follow key guiding themes, which change from edition to edition and trace the latest in technology overall. Themes include Industry Engagement & Acquisition, Future Operational Requirements, Obtaining & Retaining Skills, and Information Exploitation.
Each specific zone had its own highly specialised forum that explores the sector-specific issues and challenges. Each forum runs for a total of three days at the start of the exhibition with the generous support of the UK MoD Working Groups. DSEI forums keep things fresh and dynamic through a variety of featured keynotes, case studies, panel discussions and interviews.
The quality of speakers is the highest in the world as you'll get to hear from the UK Minister for Defence Procurement, Commander of the UK Strategic Command, Second Permanent Secretary for Defence at the UK MoD, Deputy Chief of Staff of the United States Army, CIO at the CIA and the Chief of the General Staff at the British Army just to name a few. You won't discover such a concentration of top leaders and commanders anywhere else in the world.
The other major branch of the support program comes in the face of the DSEI Hub Theatres. There are three theatres for medical technology, manufacturing and space technology, whose mission is to provide knowledge towards practical application. Product launches and demonstrations are part of what you can expect.
Past editions
DSEI 2023
12.09.2023 - 15.09.2023
DSEI 2021
14.09.2021 - 17.09.2021
64
National trade delegations and organisations attended
DSEI 2019
10.09.2019 - 13.09.2019
DSEI 2017
12.09.2017 - 15.09.2017
How to get to DSEI

On Foot
from London City Airport is 20 min walk
from the Central Station on 37 Wharfdale Rd - N/A

By Car
from London City Airport is only 7 min car ride
from the Central Station on 37 Wharfdale Rd is 41 min drive to the venue

By Public Transport
from London City Airport (Stop J) tale bus 473 for 2 stops to Prince Regent Bus Station (Stop T) = 9 min total
from the King's Cross St. Pancras Underground Station take the yellow line in direction Edgware Road to Tower Hill station. From there walk to Tower Gateway station and take the green line in direction Beckton for 10 stops to Prince Regent station. In 3 min walk you will arrive at Olympia London. (total = 51 min)