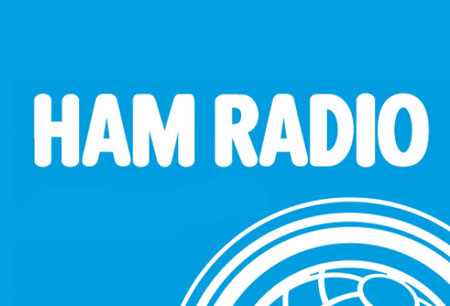 HAM RADIO
Friedrichshafen, Germany
Book Hotel Online for HAM RADIO
Book Now
Event Update
The 2024 edition of HAM RADIO will be hosted as a live trade show between 28.06.2024 and 30.06.2024. The hosting location will be Messe Friedrichshafen and the venue will not include Covid-19 safety precautions. This is due to the removal of the country's pandemic-related limitations.
A Brief Overview of HAM RADIO
HAM RADIO keeps the love for amateur radio alive and well. The international fair has cultivated a loyal following in Friedrichshafen, Germany and sees attendance in the thousands to see the full breadth of radio models, services, and parts available. Commercial exhibitors join radio enthusiasts together to connect with their target audience and generate sales. It's the best possible place to get brand recognition and ensure steady sales.
Business trips are costly and time-consuming to plan on your own. The upcoming HAM RADIO in 2023 promises to be a return to form and bring thousands to Friedrichshafen. Rooms during the trade fair are already in high demand and the clock is ticking. There's no sense in waiting. Give GETA ltd a call to book the perfect hotel accommodation during HAM RADIO today! We have helped thousands of exhibitors have a productive business trip no matter where their work takes them next. Enjoy hotels close to Messe Friedrichshafen, which are connected to public transport.
In addition to hotel reservations, you can count on us for airport transfers, stand construction and rent-a-cars! All at excellent prices.
Why Your Visit Is Worth It
One reason to attend HAM RADIO is the sheer volume of information and line-up of products that are going to be on display. It's easily the most effective platform to make purchases in the sector, which gives exhibitors an advantage when it comes to sales. You're sure to earn back every expense as the audience attends in order to make purchases.
The pandemic forced a two-year pause, but HAM RADIO 2022 made a fantastic return, proving the event's relevance within professional circles. Check out the most important numbers from the previous edition:
129 commercial exhibitors and associations
265 flea market exhibitors from 27 countries
10,200 people interested in amateur radio from 52 countries
Industry Relevance
Every year, amateur radio enthusiasts and professionals travel from near and far to Friedrichshafen in order to attend HAM RADIO, where they participate in the oldest, most beloved communication technology. Since its establishment in 1976, HAM RADIO has played a pivotal role in connecting people through the fascinating world of amateur radio. This event serves as a global platform where radio amateurs from all corners of the world converge to exchange knowledge, showcase their expertise and explore the latest advancements in the field.
One of the best aspects of HAM RADIO is its emphasis on keeping the passion for radio burning through engaging young talent. The exhibition features special events and activities designed to introduce young people to the captivating realm of amateur radio. By nurturing the next generation of radio operators, HAM RADIO ensures the continuity and vibrancy of this unique hobby. The event provides a crucial commercial hub for exhibitors, enabling them to establish connections and secure business deals.
HAM RADIO offers a comprehensive exhibition that caters to the many needs of radio enthusiasts. From radios and antennas to accessories, hardware, software, and measuring equipment, attendees can find everything they require to enhance their amateur radio setups. The event stands out for its international scope with exhibitors and network organisations participating from various countries. Exhibitors come from 27 countries, which further cements HAM RADIO's reputation as Europe's largest radio market. It's why you should consider adding the trade fair to your business calendar every single June!
Beyond its role as a marketplace, HAM RADIO also offers three days of captivating additional events. The educational program for teachers is particularly popular, providing valuable insights into integrating amateur radio into the curriculum. Meanwhile, the Ham Rally and HamCamp cater to the interests and aspirations of the next generation of radio operators. These activities aim to foster a passion for mathematics, computer science, natural sciences, and technology (MINT), highlighting the exciting opportunities that amateur radio presents in this innovative economic sector.
Who Are You Going to Meet?
HAM RADIO serves as a meeting place for radio enthusiasts, professionals, and newcomers alike. As such, exhibitors have a wide base of visitors they can network with and share experiences in a friendly atmosphere. Amateur radio is considered a professional qualification for the fields of engineering, computer science, electrical engineering and communication technology. Given the initiatives to foster new talent, you're guaranteed to talk to the old veterans and their children or grandchildren. It's a truly inter-generational experience.
The exhibitor list includes names like Hilberling, CJ-Elektronik, Funktechnik Dathe, and Joachims HF & EDVberatungs.
Additional Value of Attending
HAM RADIO offers a wide range of activities that cater to the diverse interests and aspirations of attendees. Emphasising the importance of early scientific education always sits at the heart of the trade fair and the upcoming edition held under the motto "Early practice is good practice" solidifies that commitment. Young radio amateurs have the opportunity to step into the world of computer science, mathematics, natural sciences and technology in practical and age-appropriate ways. You see Morse code exercises, technical quizzes, and telecommunications experiments are just some of the things to do at Ham Camp and Ham Rally.
For those who have already developed a deeper understanding of amateur radio and are considering a professional path, the career days are the natural next step. Attendees explore various courses of study, career choices and job opportunities in the technology and communication sectors. If you're wondering where to carve out a thriving career, this space is where you get all the tools to make informed decisions.
HAM RADIO offers outdoor activities that add an element of excitement to the event. Attendees witness live radio contacts from a flying zeppelin as well as the launch of a stratospheric balloon. It's certainly a one-of-a-kind experience that sets HAM RADIO apart from any other radio event. These demonstrations showcase the capabilities and possibilities of amateur radio in an engaging and memorable way.
The exhibition's lectures, seminars and outdoor activities ensure that visitors have the opportunity to expand their knowledge, explore new technologies and form lasting partnerships and friendships with radio enthusiasts in what can be described as a warm setting.
Past editions
HAM RADIO 2023
23.06.2023 - 25.06.2023
+/- 140
Attending teachers
HAM RADIO 2022
24.06.2022 - 26.06.2022
HAM RADIO 2020
26.06.2020 - 28.06.2020
Cancelled because of COVID-19.
HAM RADIO 2019
21.06.2019 - 23.06.2019
10,000
SQ M of Exhibition Area
HAM RADIO 2018
01.06.2018 - 03.06.2018
10,000
SQ M of Exhibition Area
How to get to HAM RADIO

On Foot
from Bahnhofplatz - 52 min or 20 min with a bike
From Bodensee Airport Friedrichshafen - 45 min walking or 12 min with a bike

By Car
from Bahnhofplatz - 11 min
From Bodensee Airport Friedrichshafen it is just 7 min

By Public Transport
no suitable public transportation from from Bahnhofplatz, nor from the nearest airport to messe