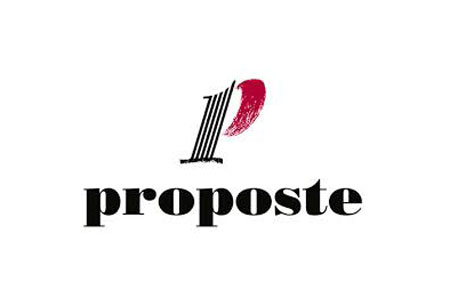 Proposte
Cernobbio, Italy
Event Update
The 2024 edition of Proposte will be held as a live trade show in Villa Erba. The event site will not include Covid-19 safety precautions because of the removal of the country's pandemic-related limitations. The hosting dates are set between 02.05.2024 and 04.05.2024.
A Brief Overview of Proposte
Proposte is the one and only exclusive trade fair reserved for the Made-in-Italy manufacturers of furnishing and curtain fabrics. The trade fair does double duty as a showcase for first-class offers from high-end Italian brands and a procurement platform that celebrates the achievements of Made in Europe brands. Exhibitors have all they need to make an impact, create strong brand visibility and connect with as many top buyers as possible.
Have you booked exhibition space for Proposte? It's time to make hotel reservations in Como as early as possible to enjoy low rates and an excellent location. GETA ltd is a veteran in the business travel sector and we know how to plan the perfect business trip. When it comes to accommodation, destination matters. You pay preferred prices on hotels close to Villa Erba in Cernobbio. Make a lot of savings without having to stay far away from the heart of the event. GETA ltd accommodates large groups of over twenty people and provides bookings at every price point. You're always welcome. Additional services include an airport transfer, rent-a-car and booth construction.
Why Your Visit Is Worth It
Proposte firmly places itself as a driving force of creativity and business across the entire textile production industry. You're guaranteed excellent results when it comes to launching new products and pitching to trade visitors. The overall atmosphere is one of collaboration and forming new lasting partnerships.
Not everyone gets to exhibit at Proposte. Last edition saw 69 exhibitors present new collections to an exclusive audience. The Italian Trade Agency ICE organised the participation of 33 operators and 7 foreign trade press journalists. The intimate nature of the trade fair ensures you have a true personal connection with each potential buyer.
Industry Relevance
Proposte is a highly anticipated annual event that brings together some of the most qualified Italian furnishing textiles industrialists under one roof. The fair was first introduced in 1993, with the aim of showcasing the quality and professionalism of MADE IN ITALY. It was established as a highly specialised and selective fair, exclusively featuring direct producers of furnishing and curtain fabrics.
The event is held once a year in April, at the picturesque Villa Erba in Cernobbio, and attracts a diverse audience of interior designers, architects, retailers, and textile enthusiasts from all over the world. Proposte has gained a reputation for being a platform that highlights the latest research and experimentation in the field of aesthetics and technology, while also fostering professional fairness among its exhibitors. It continues to be a prominent event in the industry, showcasing the best of MADE IN ITALY and Europe.
What makes Proposte so exceptional is its strict selection of exhibitors. In order to be an exhibitor, a company must have the proper qualification, display utmost professionalism, and be committed to research and experimentation in the field of aesthetics and technologies. Only the best of the best earn their spot at the trade fair.
Who Are You Going to Meet?
Proposte demonstrates its relevance and place in the industry with its attendance numbers. The last edition in 2022 saw an uptick in participation (+30% compared to 2021) and the number of foreign companies jumped by over 45%.
The trade fair is a meeting place for textile editors, upholstered furniture manufacturers, major retail chains, converters, wholesalers, contract industry professionals. Proposte maintains a high level of internationality - 70% were foreign visitors compared to the 30% Italian visitors. You have a chance to showcase and pitch products to potential buyers from Argentina, Denmark, France, Germany, Japan, India, Lebanon, Mexico, New Zealand, Slovenia, Spain, Turkey, Uruguay, USA, United Kingdom, South Africa, and Hungary.
Additional Value of Attending
Proposte creates the definitive style bible for furnishing textiles, showcasing the latest trends and innovations in materials, designs, and colours. Visitors receive a detailed preview of what's on the rise and the overarching trend sees a focus on natural influences and sustainability.
One of the most notable trends observed at Proposte was the extensive use of yarns made from vegetable fibers, with several experiments in the use of unusual types and blends. The colour palette was dominated by warm earth tones, green, and blue shades, with off-white and neutral colours also featuring prominently in new fibres and designs.
Prints featured mainly animal and botanical motifs, adding a touch of nature to the fabric designs. Bouclé and slub yarns were used to create heft and irregular textures in fabrics, while metallic yarns and laminated finishes were also experimented with in both curtains and furnishings.
Sustainability is a continuously explored theme with a growing popularity in the use of recycled materials. Exhibitors highlight their commitment to reducing their carbon footprint, with an emphasis on eco-friendly materials and production processes. Overall, Proposte displays a rich tapestry of textile trends and innovations.
Past editions
Proposte 2023
18.04.2023 - 20.04.2023
Proposte 2022
26.04.2022 - 28.04.2022
Proposte 2021
07.09.2021 - 09.09.2021
Proposte 2020
23.09.2020 - 25.09.2020
Cancelled because of COVID 19
PROPOSTE 2019
15.04.2019 - 17.04.2019
How to get to Proposte

On Foot
Milan Linate Airport – not advisable
Stazione di Como San Giovanni – 52 mins via Via Per Cernobbio

By Car
Milan Linate Airport – 55 mins via A9/E35
Stazione di Como San Giovanni – 15 mins via Via Per Cernobbio

By Public Transport
Milan Linate Airport – not advisable
Stazione di Como San Giovanni – 16 mins via C20