Take a Look at Our Blog for Latest News
and Topics About Exhibit Travel
The Biggest Trade Fairs That Define Taste & Innovation in the Food Industry
23 Sep 2022
Taste is the easiest way to transport yourself to every corner of the world. Food unites us all and the current advancements in logistics and manufacturing technology has allowed us to experience world cuisine like never before. The trade fairs we share today are the forefront of innovation in their respective sectors, and a tastemaker. The companies, who choose to exhibit here, are leading conversations about trends, tastes, inspiration and sustainability.
There's no ranking system for this list, as each trade fair contributes something truly important to the food and beverage industry as a whole.
IBA in Munich, Germany
First entry is IBA located in Munich, Germany. The international trade fair is a chief purchasing platform for all involved in confectionery, baking and snacks. A unique feature of the show is that IBA runs for almost a week only once every three years, which makes attendance low cost for the smaller exhibitors. Not to mention that it gives ample time for technologies, services and solutions to evolve enough, so that each edition is a source of innovation from over 1300 exhibitors.
The turnover is solid as past editions have reached 77,000 trade visitors, who span the entirety of Europe. Their main goal is to research products and make purchases. IBA brings in a lot of fun and excitement to the audience. It's home to the German Championship of Master Bakers, the IBA-UIBC-Cup of Bakers, and the UIBC Junior Championship of World Confectioners. You'll see top talent from all over the world.
IBA 2023 is a highly anticipated return after the pandemic despite it being postponed once and now scheduled outside its regular slot. Early registration numbers point towards a very successful edition.
Picture: IBA
ProSweets in Cologne, Germany
Adding a counter point to IBA, there's ProSweets in Cologne, Germany, which focuses a lot more on the sweets and confectionary sector. The trade show appeals to manufacturers, buyers and tastemakers, because of its robust matchmaking platform and rich product portfolio. Koelnmesse welcomes the best of the best, and even the pandemic couldn't slow down this event. ProSweets 2022 attracted over 200 exhibitors and 6000 trade visitors. All in all, 60 countries participated.
ProSweets consolidates the entire processing chain for the confectionary industry, which means you'll discover the best from raw materials all the way to refrigeration and air-conditioning technology, food safety and quality management. Add on top a stellar information programme with a brand new forum: '#CONNECT2030 – The Future Summit for Sweets and Snacks – in transition'.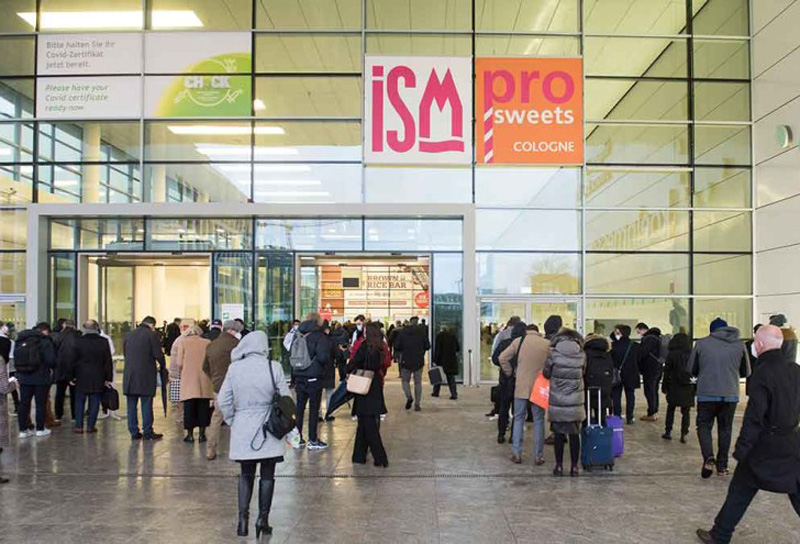 Picture: ISM
BrauBeviale in Nuremberg, Germany
Now let's lean into the beverage industry with BrauBeviale – the trade show for the production and marketing of beer and soft drinks. It's an essential European show with a broad appeal and a dedication to innovation, tradition and quality. Every year, the trade shows a crowd of over 40,000 professionals the newest and best in beverage production and bottling technology from as many as 1000 exhibitors.
BrauBeviale is the launch pad for new brews, new labels and new breweries to enter the market. It's even home to the European Beer Star; a competition unlike any other. Each year breweries from all over the world compete in 70 categories to get a coveted trophy.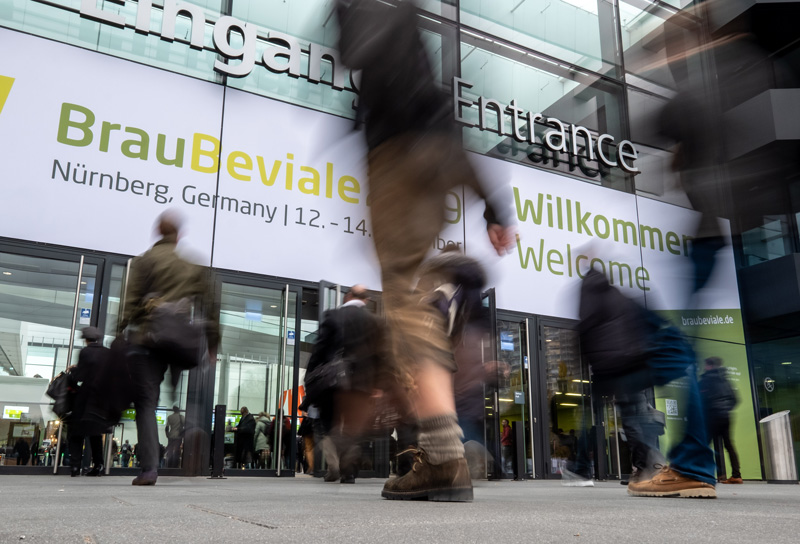 Picture: NuernbergMesse / Thomas Geiger
Gulfood Exhibition in Dubai, UAE
Gulfood Exhibition sits at the very top for the food business and hospitality industry sectors. This annual trade show breathes life to the art of cooking and hospitality, which naturally translates to over 90,000 visitors (trade visitors and general public). There are more than 4000 exhibitors at the Dubai World Trade Centre giving you every single flavour, texture and smell under the sky. The exhibition halls are populated by 120 country pavilions for the quintessential tour of the world.
In addition to the wide profile of foods, ingredients and beverages, Gulfood Exhibition is also the major sourcing platform for kitchen equipment, packaging technology and marketing strategies. This well-rounded approach is what makes this trade fair unmissable. Plus, Gulfood Exhibition 2022 introduced the Gulfood YouthX – a platform with resources and practical instruction for new culinary talent.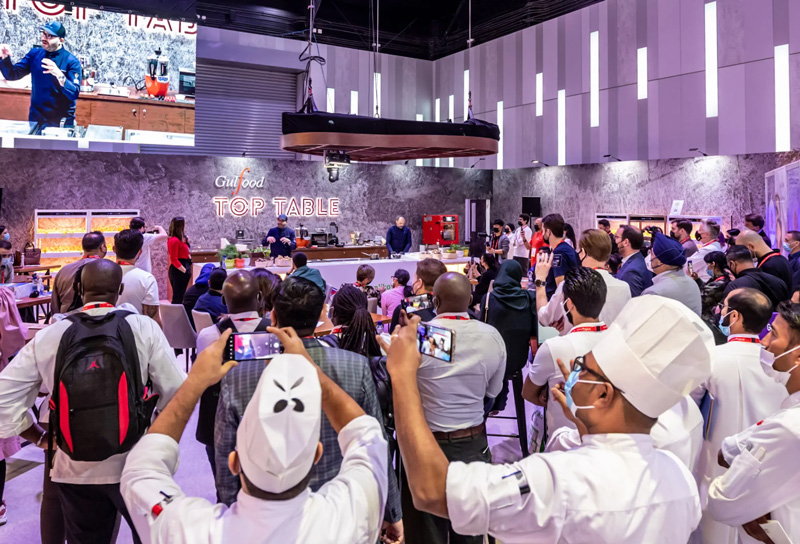 Picture: Gulfood
Fi Europe & Hi all across Europe
Back in Europe we take a look at Fi Europe & Hi. It's one of the few travelling shows, which gets staged in different European cities every year. Frankfurt, Germany is its most recent stop. The fair takes a more specialised look at only the ingredients sector (herbs, amino acids, collagen, colours, encapsulation, fat replacers) as showcased by 710 international exhibitors.
The audience remains at 13,000 trade visitors across different editions, which makes Fi Europe & Hi a solid, stable environment to reconnect with existing customers and establish partnerships with new buyers. Every year there are fresh faces and new contacts to be made. The trade fair also comes with a well-regarded conference.
drinktec in Munich, Germany
drinktec serves the needs of the international beverage and liquid food industry. It's an unskippable trade fair, because it takes place only once every four years. The long pauses give exhibitors time to develop and release groundbreaking technology, each edition covering everything from process automation technology and food additives to PET technology, beverage processing plants.
The numbers are terrific with 1750 exhibitors from 80 countries and 76,000 trade visitors from 170 countries. It's not an exaggeration to say that the entire world gathers under one roof. There's been a lot of focus in recent years to stay on top of Industry 4.0. and green trends. The last edition had four core topics: Digital Solutions & Digital Transformation, Water & Water Management, Consumer Landscape & Product Design, and Sustainable Production & Packaging.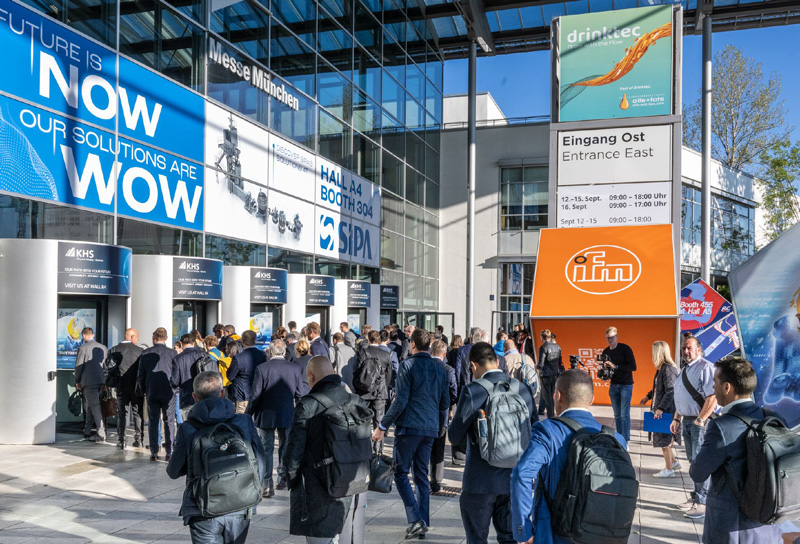 Picture: Messe München GmbH
IFE in London, UK
IFE prides itself as being a bridge between drinks, ingredients & delicacies, and retail, foodservice, wholesale, distribution and import. The biennial trade fair does incredibly well each edition and IFE 2022 made a remarkable comeback since its postponement since the pandemic. More than 760 exhibitors were distributed across 8 food & drink zones for an audience of over 25,000 visitors.
IFE pairs up with Pro2Pac, which is the trade fair for food & drink processing & packaging. Both create wonderful synergy that attracts senior buyers, looking to make the most out of their visit. An exhibition booth here guarantees generous sales leads.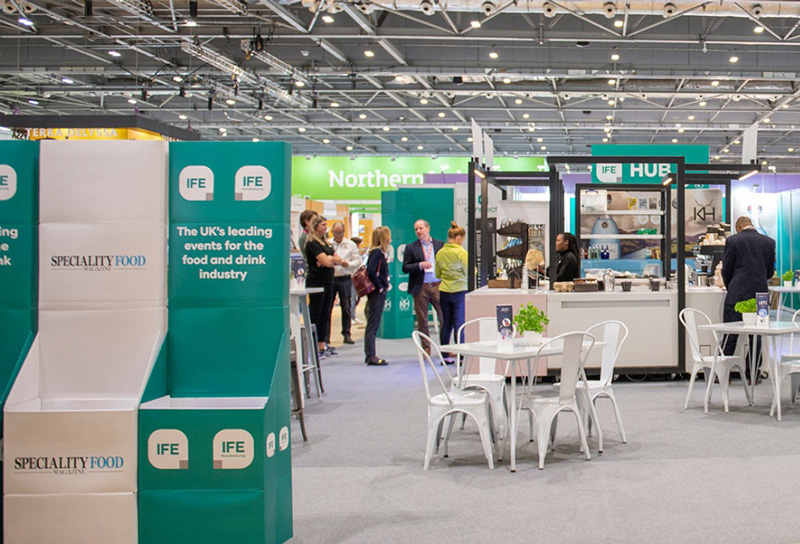 Picture: IFE
ProWein in Dusseldorf
The wine and viniculture industries are heavy hitters in the beverage world, as wine remains one of the most widely enjoyed alcohols around the world. ProWein reflects that interest and potential with remarkable numbers – 61,500 trade visitors and 6,900 exhibitors. You get to connect with experts and peers from 142 countries.
Attending the trade fair easily opens channels to faraway regions. Where else will you come face to face with senior representatives from the wholesale, retail, import & export, catering, trade, services, and hospitality industries? Alongside the stellar networking opportunities, ProWein gives you a tour of all the great vintages through immersive tastings. Visitors also benefit from a first-rate forum and a series of masterclasses, which brings a new depth of knowledge and appreciation of wine.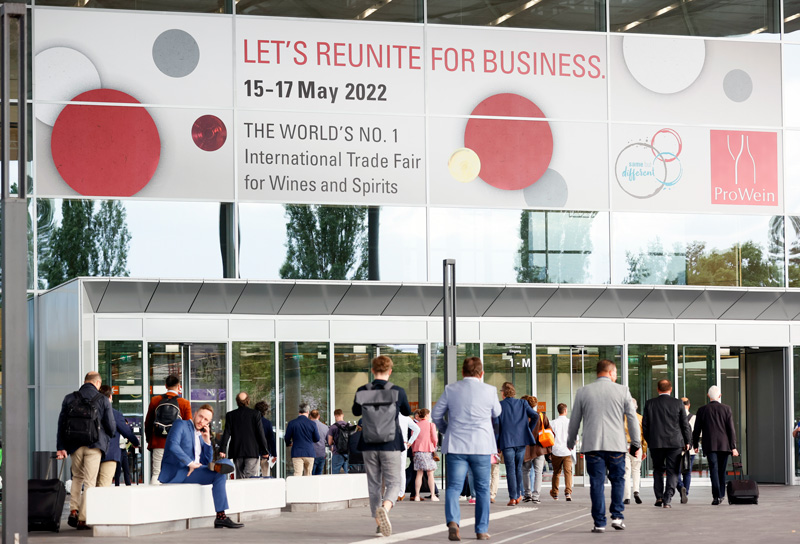 Picture: Messe Düsseldorf, Constanze Tillmann
Vitafoods Europe & Finished Products Expo in Geneva, Switzerland
Dietary supplements have entered the mainstream in a big way in recent years, which makes trade fairs like Vitafoods Europe & Finished Products Expo all the more relevant and influential. This annual trade fair updates over 22,000 international trade visitors on the latest and best in raw materials and ingredients, branded finished products, contract manufacturing and private label, services, and equipment.
The entire supply chain is embodied by 658 exhibitors as of the last live edition, representing the top brands and newcomers alike. The show layout is organised around four Live Stages, where most of the content and support events are shown. Vitafoods Europe & Finished Products Expo boasts a robust information programme with a solid lineup of speakers across all product categories. The one place you can't pass is the Tasting Centre for fresh, inventive retail-ready foods and beverages.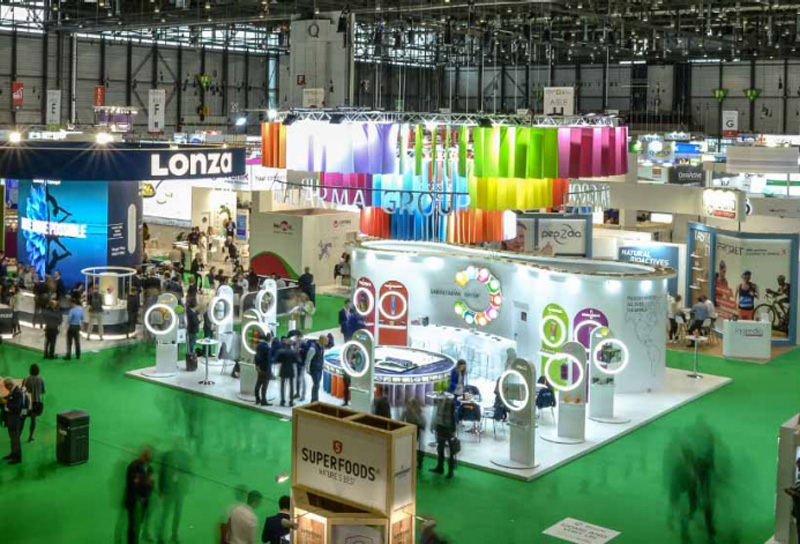 Picture: Vitafoods Europe & Finished Products Expo
Anuga in Cologne, Germany
Anuga is a big ticket event in the food and beverages world. Anuga 2021 did incredibly well during the pandemic with 4600 exhibitors and 70,000 trade visitors. Some 169 countries participated in the show, which makes Anuga the definitive meeting point for all involved in food and beverage. The scale is unimaginable and every relevant category explored to its fullest potential – Fine Food, Frozen Food, Meat, Chilled & Fresh Food, Dairy, Bread, Bakery, Hot Beverages, Drinks, Organic, Food Service and RetailTec.
Anuga arrives in Koelnmesse every two years and each edition brings something new. Right now, the newest additions have been the special Anuga Organic Market and Anuga Halal Market, which boost the visibility of all organic and halal food manufacturers. Demand for both organic and halal foods has created potent emerging markets, which the trade show highlights. Speaking of what's new and fresh, you definitely have to check out the Anuga Taste Innovation Show and Newtrition X innovation summit to experience the future.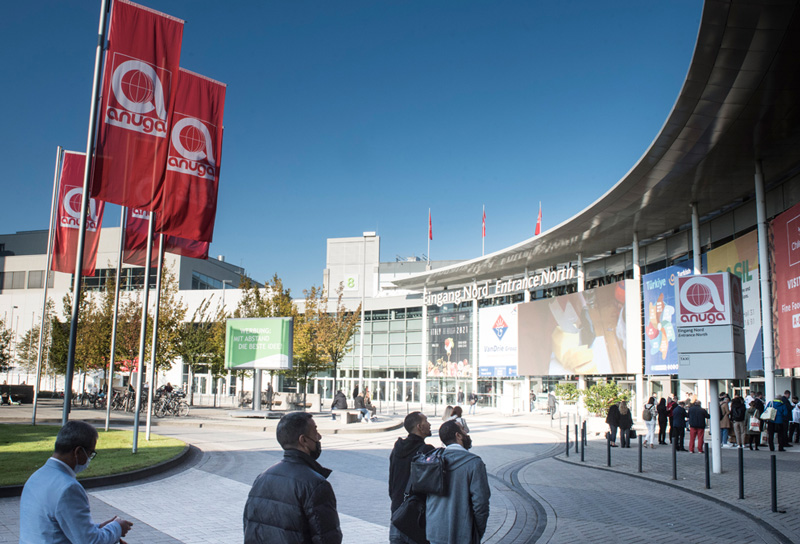 Picture: Anuga
Seafood Expo Global in Barcelona, Spain
Narrowing down the scope and focus is Seafood Expo Global, which remains at the top of the food chain in regards to seafood products. In fact, this trade fair has entered into a brand new chapter – a move from Brussels to Barcelona. Seafood Expo Global 2022 entered the post-pandemic world with a new look, new mission and new location. Out with the old and in with the new. Reception was favourable as 1550 exhibitors from 76 countries and 26,000 international buyers attended. A solid confirmation that all is going to be well with the trade fair!
The product portfolio leaves no stone unturned as buyers have access to fresh fish and seafood, frozen fish and seafood, value-added seafood, processed and packaged fish and seafood, freight forwarders and logistical services, and processing and packaging equipment. Seafood Expo Global is truly a one-stop shop for everyone involved. Throw in the conference track with 20 educational sessions and you gain deep insights into the industry at this time. The 2022 edition played a really important role for visitors and exhibitors alike as it explored Aquaculture, Seafood Business & Leadership, Seafood Sustainability and the Impacts of the COVID-19 pandemic on the global seafood trade.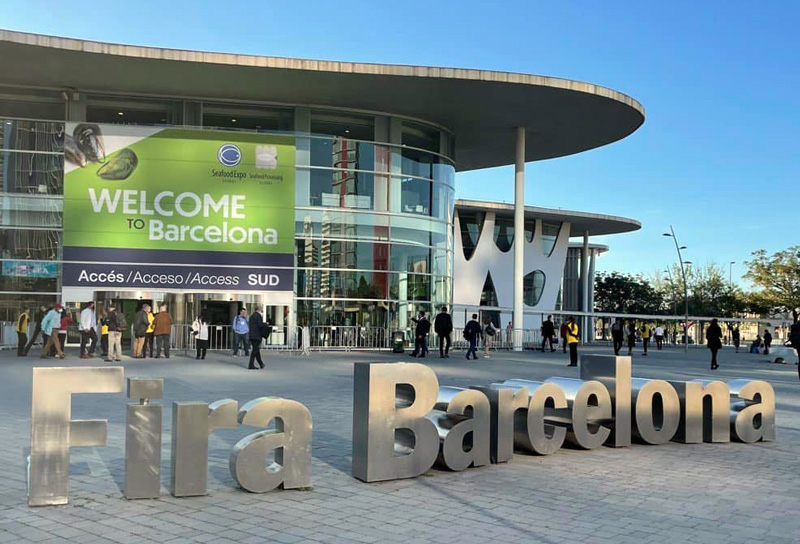 Picture: Seafood Expo Global
SIAL in Paris, France
No list is complete without a stop to France – the country with the most influence on cuisine and culinary tastes in the world. Every two years, SIAL gives its visitors a comprehensive overview of the biggest trends and innovations in food and beverage. In fact, SIAL 2022 broadened the scope of its FUTURE LAB feature. The visitor favourite, this special area presents how automation and AI are influencing the industry from digital mapping and artificial intelligence in the kitchen to the rising trend of personalised products.
This trade show is perhaps the biggest of its kind with over 7200 exhibitors and 310,000 trade visitors in attendance. You're able to tap into new markets with ease and return home with a boost in direct sales and professional contacts. The live kitchens bring the experience to a whole new level, and you can complement the networking with a consistently great lineup of lectures and presentations at the Alternative Food Forum.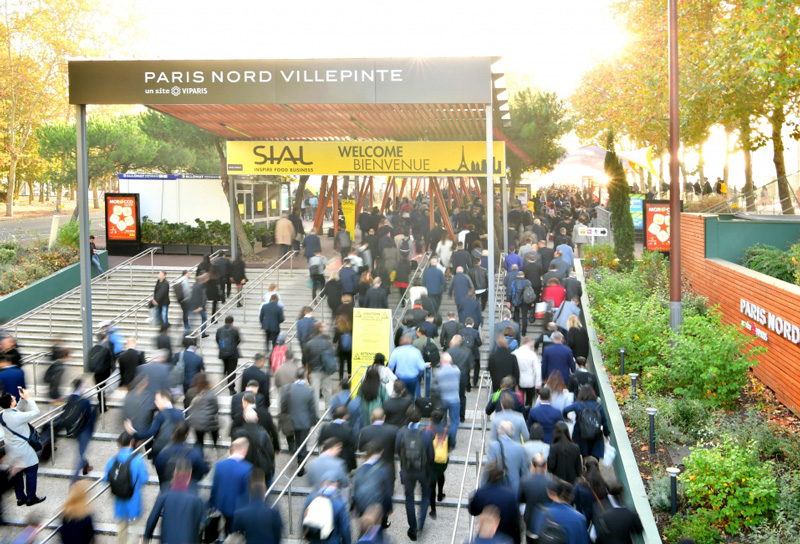 Picture: SIAL
BIOFACH in Nuremberg, Germany
As part of a pair with VIVANESS, the annual BIOFACH services the needs of the organic foods industry – a market that has seen unprecedented growth in the last decade. On average, editions pull more than 50,000 trade visitors. Enough reason to make the trip and position yourself in front of the right buyers. The trade fair is an essential sourcing platform for premium organic, raw materials and supplies, grocery products, fresh and frozen foods, and technology and equipment.
Plus, you can't overstate the importance of the support programming. The six specialist forums and a key congress ensure you stay on top of key topics regarding your specific line of work. Then there is the Young Innovative Companies Pavilion that allows for newcomers and startups to get the most out of their visit to BIOFACH.
Picture: BIOFACH
Bordeaux Wine Week in Bordeaux, France
Freshly rebranded and reinvented, the annual trade show commands respect and forges new, strong partnerships between the most influential players in the wine and viniculture scene. All major wine making regions in Europe and the world are highlighted by 1700 international exhibitors and the audience reaches over 46,000 trade visitors, who come to research new vintages and labels and also learn about emerging technologies.
It's not just business at the Bordeaux Wine Week 2022. The edition introduced a bigger and better Bordeaux Wine Festival that shows off Bordeaux and New Aquitaine region wines along the very scenic quayside. Full of flavour and atmosphere, the festival is an unmissable part of the event.
GET A FREE QUOTE
Looking for a hotel accommodation for particular trade show or exhibition.
Send us a general enquiry and we will find the best options for you